It's Diwali Saree Shopping time in Chennai!
The Mylapore Saree Trail
Now that Diwali (Diwali, the festival of Lights, is pronounced De in South India) is fast approaching, there is a great shopping frenzy in Chennai to buy the latest sarees. Firstly,it is a tradition to wear new clothes on Diwali and ethnic sarees are a hot favourite. Diwali is an occasion to purchase local silk sarees, which are the Kanjivaram pattu sarees, in Tamilnadu.
Kanjivaram Silk Sarees
Kancheepuram /Kanjivaram is a small temple town in the State of Tamil Nadu in South India, famous for its traditional silk saris. Silk is purchased from Bangalore and woven in Kancheepuram.
Shops are busy advertising their new saree collections in new designs .The print medium and the online medium are abuzz with colourful advertisements. Movie stars and celebrities are roped in by the shops to advertise their wares. The radio is also one of the channels used to attract people in the remote areas. Chennai shopping for the latest designer sarees is the oft repeated slogan in all the channels.
T Nagar Shopping Market
Until recently, the T Nagar shopping market was the much sought after market that one would typically go to for saree purchases. It was an obvious choice . The "Nalli " shop was the definitive shop for pattu saris in the newest designs in Chennai. There was a perpetual traffic jam in front of the Nalli store . Other popular shops for silk sarees such as Kumaran Silks, Kumaran Weavers, RMKV , Sundari Silks & Pothys, all near the Nalli shop , added to the frenzy. Blaring horns, cycle rickshaws , autos, pedestrians all was an everyday affair at this time .
Buying that silk saree was mandatory for the south Indian women and there was no other Chennai shopping market with such a variety of shops. Hence ,there was no choice.
Introducing 'The silk trail' in the Mylapore shopping Market in Chennai.
The Mylapore shopping Market now offers a choice for women
There are about 7 popular Chennai saree shops in a small stretch of road near the Nageswara Rao Park in Chennai. It is a relatively quiet residential area. It is about 1.5 km long. Furthermore, the range of sarees available here is quite amazing .
It will take you about 1 or 2 hours to visit all the 7 shops. Sarees in beautiful colours and beautiful designs are truly exciting. It is roadside parking. But go there on a weekday .
1. Let us begin our exploratory visit with Sreenivas Silks
While this shop is not exactly in the Nageswara Rao Park stretch, it is about 1/2 km ahead, towards Luz. This is a small shop in the Luz Market, opposite to the Luz train station. But step into this shop for an amazing collection of silk & cotton sarees. Light weight silk sarees in the most beautiful colours and designs at modest prices are available here. The collection is not vast, however it is wonderful and the prices are very reasonable .
2. A little further down is a branch of the famous Nalli shop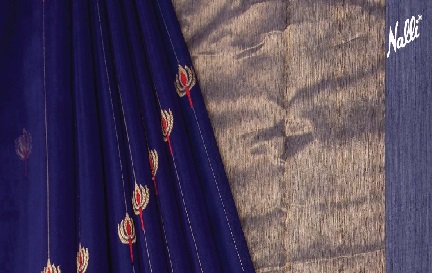 It is in the quiet corner in Luz. You don't have to scramble to go to T Nagar in Chennai to visit the Nalli store anymore. Just walk into the spacious ground floor. Silk sarees in a variety of colours and price range is made available . The basement has furnishings as also ready made pavadais for babies.
3. Next stop is the Rangachari Cloth Store
Rangachari cloth store is a 70 year old store. The store is well known for cotton sungudi saris, Venketagiri sarees from Andhra Pradesh and Mangalagiri sarees .
4. Kanchi Weavers –
Shop for some stylish Kanchi cotton sarees and pattu sarees. Pattu sarees in pure & tested zari is available. This is a small shop . While the choice is limited, the selection is good. It could probably help you to make quick decision.
5. Next is Palam Silks
Palam silks has some cotton and jute sarees in the ground floor. Head to the first floor for the pure kanjivaram designer sarees. They are unique and you will not find similar ones elsewhere. Unusual shades and designs. Choice is limited.
6. Tulsi Silks
We can assure you that you will not return empty handed from this shop. 3 floors of gorgeous saris and courteous service await you. Silk cotton sarees, sarees with cutwork borders, Benarsi sarees, georgette and crepe saris with sari work are all available here. But the best saris are on the top floor. Silk sarees in most unusual designs and unusual colour combinations. Pure zari sarees and also the non zari sarees are all available for a price.
7. Vara Mahalakshmi Silks

They started their showroom in Kancheepuram. Their connect with Kancheepuram is very strong. Sarees in a various price ranges in cotton and pattu are available here.
So what is stopping you now from picking up the beautiful Kanjivaram saree for this Diwali? It cannot be the maddening traffic & noise in the T.Nagar Shopping Market definitely. So , go ahead and get that saree shopping going!