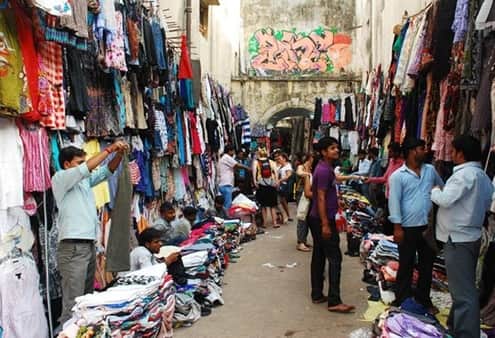 Sarojini Nagar Market
If we could sum up the shopping experience at Delhi\'s popular Sarojini Nagar market for you, it\'s about scoring branded outfits at budget-friendly prices. The market will make you feel good even after you shop and return home .This is...Read more
Other markets
If we could sum up the shopping experience at Delhi's popular Sarojini Nagar market for you, it's about scoring branded outfits at budget-friendly prices. The market will make you feel good even after you shop and return home .This is because everyone gets a good deal here.
There is a certain level of quality assured .Above all you know what you are buying and are under no illusions. Clothes, crockery, household décor, furnishings, footwear, fruits and vegetables, grocery, stationery, meat, fish. As a matter of fact, you will find them all at reasonable prices, though not always cheap.
The Sarojini Nagar Market or SN, in common parlance, is a fashionable family shopping destination – despite the crowds. It was initially designed to serve government employees who live in government-built flats in Sarojini Nagar. It has been around since the 1950s, though it was called Vinay Nagar until 1970. The inspiration behind the new name is the freedom fighter, Sarojini Naidu.
Market for Chic Apparel
The layout of the market is circular—you realize that when you return where you started! Through the shopping trip you will negotiate four notional markets – Babu Market, Subzi (vegetables) market, Central market and the Mandir (temple) side market. At the rear, is also the main attraction—an export surplus bazaar which sells chic apparel. With 90 per cent of the shops being family-owned, you will find shops with names like Lalaji ki Dukaan, Chacha Sarees, Keval ki Toy Shop.
Further down, the vegetable vendors create quite a din and one wonders why they take the trouble. The vegetables and fruits on display at the Subzi market are so fresh that no one can resist the temptation to buy. Even if you are there to buy a pair of shoes, you will also pick up a kilo of carrots!
A recalcitrant cow or two invariably enters this area and makes away with some fresh greens. If you visit a couple of times, you will certainly witness such a scene!
Don't Forget the Grocery Shopping
The Central Market encircles the place with a string of shops that are open on both sides. Collect spices and groceries from Alpana Traders, Kalpana Traders, and General Store and so on. There are some furniture houses and many apparel outlets. Local brands and non-branded clothes vie with economy apparel brands like Koutons, John Players, Cotton County and Charlie Outlaw to gain your attention. A bakery, a confectionery, a pharmacy, a dry-cleaner, a photo studio, milk dairy, an atta chakki (flour mill), an electronics store, an optician and this market seems to have a sampling of all things in life.
Footwear Shopping in Sarojini Nagar Market
Finally to the North, is a row of shops selling footwear of every make, price-range, colour and style. Om Boot House, Paul Shoes, Woodland Shoes, Reebok, Bata, Liberty, just walk in, try them out and get yourself a pair of sandals or shoes.
The main highlight of this Delhi shopping market however is the presence of the street-side vendors. They light up the area with hurricane lamps, kerosene and gas lamps, towards evening and call out to customers to buy their wares. Many of them are very creative and humorous. They sing songs, concoct rhymes and limericks, imitate heroes and villains of Bollywood thrillers and generally bring some comic relief to the over-crowded atmosphere.
Bargain, Bargain, Bargain in Sarojini Nagar Market
Do not forget to check out the export surplus clothes behind the market. You will find very trendy and modern clothes here. Go ahead and bargain with gusto, but beware that street hawkers can get quite aggressive and demand you seal a deal at the end of the haggling process. This is the best place for street shopping in Delhi.
Sarojini Nagar market is a fairly cheap place to go shopping in Delhi.
Check out reviews of other Delhi markets here.
Closed on Monday
Nearest Metro Station :- Sarojini Nagar Bus Stop/INA Metro Station on yellow line.
Read the blog
---
179 views