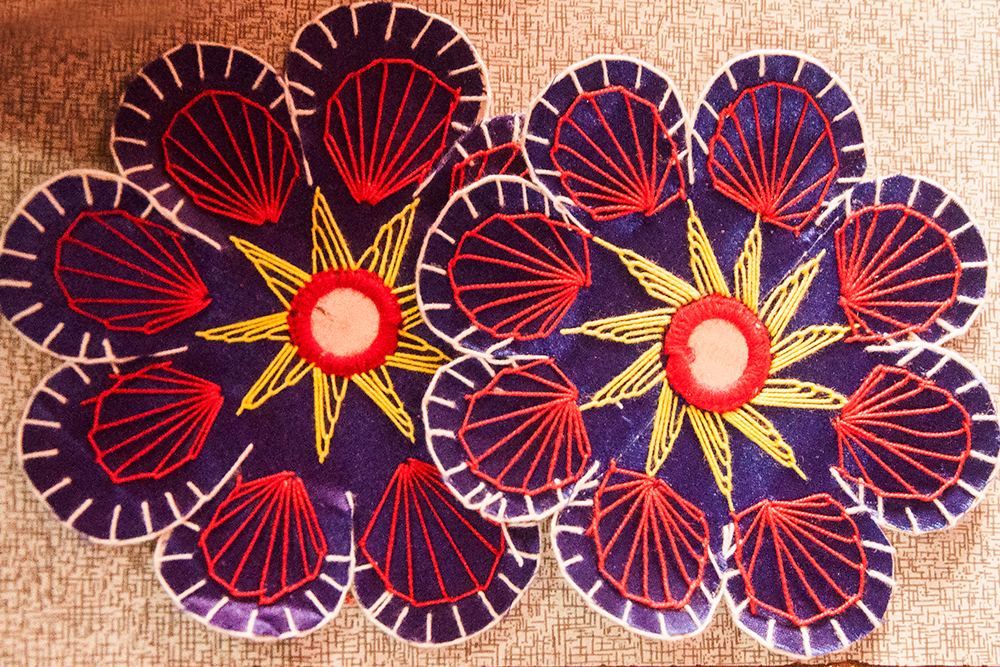 Applique Work
Applique Work is a type of ornamental needlework that employs fabrics cut in different shapes and sizes to be applied onto a larger base fabric. Above all,  one may call it as one piece of fabric in its totality. Applique has its origins in the French culture where it implies 'something applied'.
This technique involves hand embroidery or machine embroidery. It is basically used for creating different designs as well as abstract patterns. However, it is different from 'patch work' in which small pieces of cut fabrics are stitched side by side to make a large piece of fabric.
Shops in Bangalore :- Sakhi,  Show Off Fashion Coulture,  Sterling House 
Available at Chennai :- Kalpa Druma Handicraft
Shops in Delhi :- Gurjari, Ushnak Mal Mool Chand, L'affaire, Ravissant, Siva Oriental Rugs , Dilli haat
Available at Jaipur :- Rana's, Jaipur , Saffron by Nidhi Tholia 
 Shops in  Kolkata :- Sunshine
Available at Mumbai :- Neeta Lulla
The Origins
There is no specific history of this type of embroidery. This art form is believed to have discovered first when ripped clothes required fixing to make them appear wearable.
Varieties of Applique Work
By and large, Applique Work is used in quilting to give them a rick look. It is also used to beautify sarees with vibrant and elaborate borders.
Straight stitch or running stitch are among the most common stitches used on the fabric's outline edges. Satin stitch is used for the purpose of overlapping the fabric edges and then fixing it to the base fabric. Other types include single layer appliqué, raw edge appliqué, multi hoop appliqué, and reverse appliqué.
Check our videos
SIGN UP FOR NEWSLETTER
Be the First to Know. Sign up to newsletter today
4 views