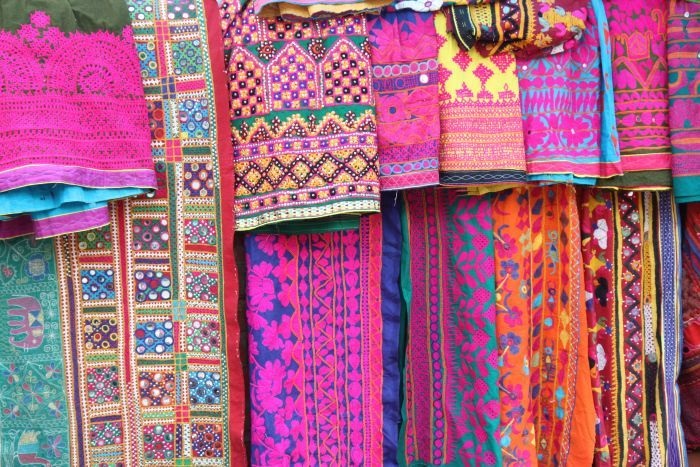 India is known around the world for its clothing, clothes  and textiles – from its rich vibrant silks to block print designs on the softest cotton and muslin, and everything in between. Navigating this vast and fascinating world can send one through multiple rabbit holes, making it hard to know where to begin and stop.
Understanding this rich diversity is hard enough, much less knowing what to choose and where to find it. We know how to guide you on a journey to discover the best places to find all that is on offer!!!
Click to explore sarees, salwar sets, lehengas,…along with techniques unique to different regions of India
Clothing,Clothes Fabrics and Techniques
From modern fabrics and prints to unique traditional offerings from indigenous tribal communities, there's a wealth of riches to explore. In addition, each of the 28 states boast their own special designs on fabrics and workmanship evocative of that region.
South India is popular for Kanjivaram silks, Gadwal, Mangalgiri, Vanketagiri and Pochampally Ikaat textiles.
East India has Tussar, Sambalpuri, Dhakai Jamdani fabrics of Inida .
North India is popular for Kota, Leheriya, Bandhej, chikankari and Phukari Fabrics.
West India is well known for Paithani, Patola and Chanderi fabrics of India.
Embroidery on Clothes
The techniques and embroidery work found in Indian wear is unsurpassed
Kantha Embroidery
Chikankari is a unique embroidery
Mirror work
Ikaat, Patola, leheriya and bandhini are a variety of tie-dye methods on fabrics in distinct designs.
Types of Clothing
The types of clothing available also is wide-ranging
Sarees (typically favored in the south and east)
Lehengas (typically favored in the west)
Salwar Kameez (typically favored in the north)
Kurtis, Jackets, skirts, dresses….
Bridal Wear Clothes in India
The Indian wedding market is a $50 Billion industry, encompassing clothing, jewellery, accessories etc. While the accessories the Indian bride wears are an industry in themselves, the clothing adorning Indian brides is something else altogether.
The bridal trousseau can take your breath away – dazzling you with
the colors
the exquisite materials (silks, zardozi, Banarasi…)
the heavy and intricate workmanship
Top markets for bridal wear
Western Wear
While most folks wear Indian wear, there is an increasing market for Western wear as well. Especially among young working women, who prefer to wear something more comfortable to the workplace.
Several international brands (Zara, Marks& Spencer, Uniqlo, Vero Moda &H&M…) have opened stores in various malls in India.
While it is fascinating and exciting to learn about all this rich heritage and the vastness of different offerings, knowing where to find some of these treasures can be a daunting task. We have done the legwork to provide you with all you would need before you step out to do your shopping!! Check out some samples here.
Kantha embroidery work (in Kolkata at Darbari, Weavers Studio, RMGC Basak, Sanskriti, Sash; Bangalore Yuvathy)
Ptta work (in Delhi at Frontier Raas, UM Moolchand; in Chennai at Kay, Moksha)