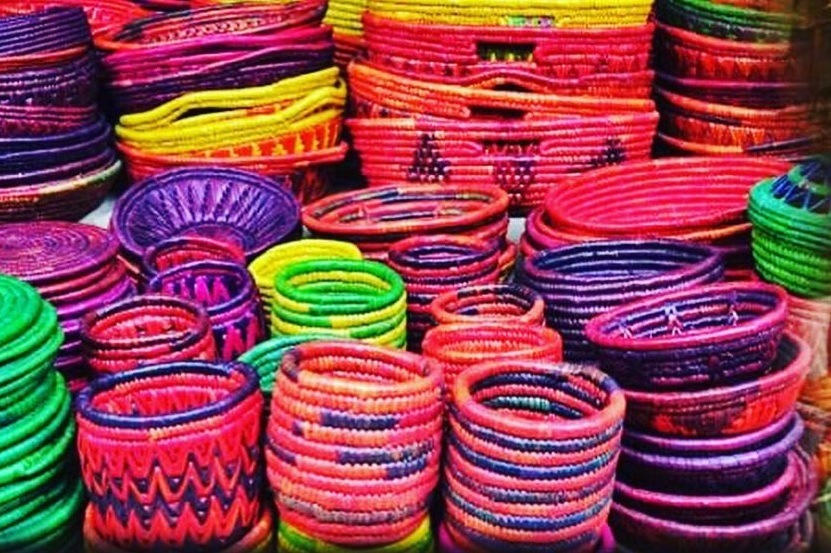 Bhadohi Woven Basket
Badohi woven Basket
Bhadohi is a village in the State of Uttar Pradesh. The sarpat grass that grows near the river is the raw material for making  baskets. Badohi woven Basket in this village are made from this grass.  Further, these eco-friendly baskets are traditionally created by the women folk in rural India.
Available at Delhi:– Dilli haat(Delhi)
Gangotri ,UP Government Emporium
The grass is dyed with natural colours and  beautiful products are made from it. Colourful baskets in a variety of colours and shapes is made with this grass. As a matter of fact, different communities across the world practice the art of basket weaving. They employ a host of raw materials.
Bhadohi Basket- Uses
For instance, the Badohi woven Basket are used to store fruits, grains and breads in the villages. In addition, you can use it to store jewellery, makeup  and several other items too.
Uttar Pradesh, West Bengal, Tamil Nadu, Bihar, Karnataka, and the North-East states are popular for the Badohi woven Basket.
Bhadohi Woven Basket
Bhadohi, Allahabad, Gorakhpur and Behraich in Uttar Pradesh are the areas where baskets are made out of Moonj (a monsoon grass) also. It grows wild in the river banks. It is used for the purpose of basket weaving once it is completely dried out. After that, the grass becomes lighter in colour making it easy to take on other colours as well.
Check our videos
SIGN UP FOR NEWSLETTER
Be the First to Know. Sign up to newsletter today