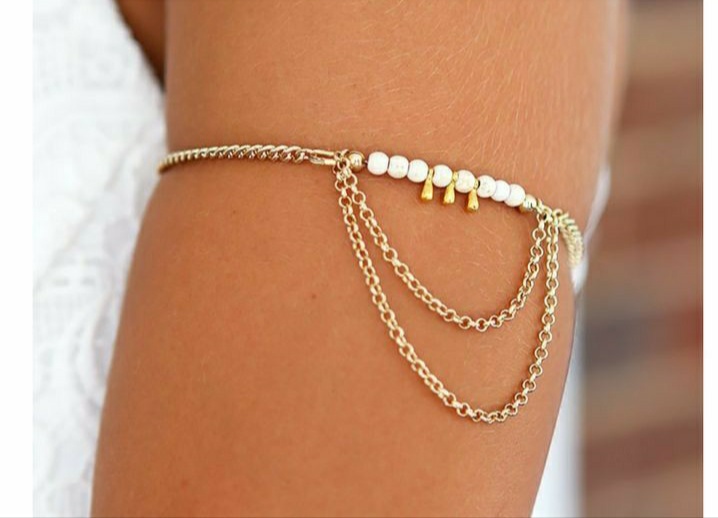 Armlet is also known as 'Bajuband, 'Ananta', 'Angada' and 'Vanki' in South India. It is an essential element of 'Solah Shringar' (16 traditional ornaments worn by women) of a traditional Indian bride. It is a type of an upper arm bracelet. Originally, men and women from rural regions in India wore armlets in pairs. With the passage of time, what became more popular among women were single bajuband.
Bajuband are usually carved out of metals. They come in different shapes and designs.
Available at Chennai:- Vummudi, Khazana(Chennai), Shanthi Tailors, Sukra
Available at Bangalore:- GRT, Bhima
History of armlet
The India cultural narrative of armlets goes back to the Bharatnatyam dancers in the Dravidian region. Dancers even today, sport a vanki.
The ancient Indian history is also witness to warriors adorning this accessory as part of their war wear (comprising of leg-pieces, helmet and shield). These sturdy-looking armlets had a more masculine touch to them.
 Bajuband Style
While in earlier days, armlets made with gold and silver were more popular, women of today prefer to wear vanki made of oxidized silver and other imitation metals. Armlets with shapes of snakes and crocodiles make perfect jewellery pieces for an exotic wear.
One may also come across bajuband studded with precious stones like rubies, emeralds, or even diamonds. They make a perfect accessory for special occasions such as weddings and theme parties.
Check our videos
SIGN UP FOR NEWSLETTER
Be the First to Know. Sign up to newsletter today