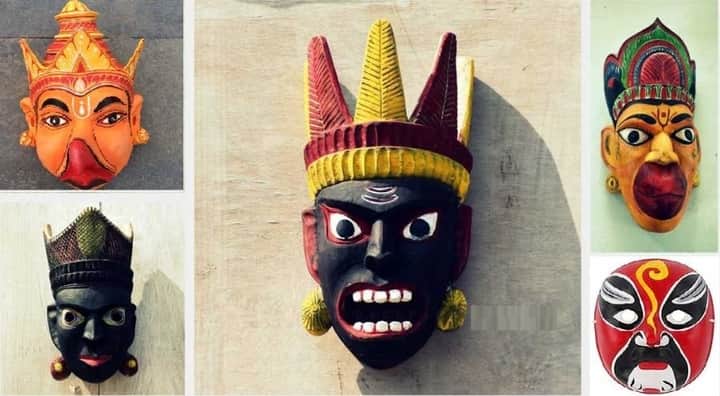 Mukha (Mask)
Masks of Assam or Buddhist Mask
The origin of  Mukha (Mask), goes back to Majuli, the Assamese repository of Vaishnav cultural heritage.
What makes them enigmatic is the use of aesthetics and colors aside from the magnitude of their size.
Characters such as Ravana, Bali, and Jatayu are depicted through this art form. Further, It takes around 10-15 days to make these masks from materials like bamboo, clay, cloth and vegetable dyes.
Available at Delhi:- Assam, Janpath street shopping
History
Firstly,Sri Shankardeva, the great Vaishnava saint, is the primary name behind the culture of mukha. In the 15-16th century, he conceived the Ankiya Naat plays which were deeply embedded in the Bhakti movement. These plays depicted Lord Vishnu along with his different incarnations, especially Rama and Krishna, through a great blend of musical narrative, dance, dialogue and mask-making.
Finally,Mukha played a crucial role in the way it helped made the entire play look so delightful and spectacular.
Current Scenario
Nowadays, Kamalabari and Chamuguri Satras in Majuli are involved in the making of this creative art form. Chamaguri Satra is popular for making exquisite masks for religious purposes.
The effect of commercialisation can be seen in this sphere too. Not just Majuli but individual craftsmen today are engaged in making mukhas.
Check our videos
SIGN UP FOR NEWSLETTER
Be the First to Know. Sign up to newsletter today