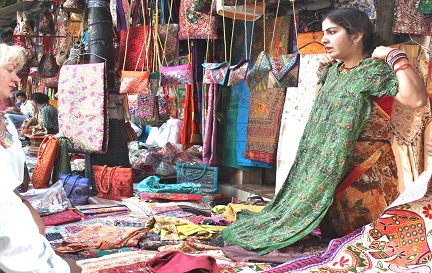 Janpath Market
Located just off Connaught Place, Delhi\'s Janpath Market is not only famous for its affordable goods but also for its exuberance. You can shop here for products ranging from handicrafts, decor items, antiques, souvenirs, hippy clothing, shoes, paintings, brassware, and...Read more
Located just off Connaught Place, Delhi's Janpath Market is not only famous for its affordable goods but also for its exuberance. You can shop here for products ranging from handicrafts, decor items, antiques, souvenirs, hippy clothing, shoes, paintings, brassware, and Indian artifacts to leather work and imitation jewelry.
A must do when you visit Delhi, don't miss the walk down People's Path (Jan Path). Janpath was originally called the Queen's way. It is an integral part of Lutyen's Delhi with stately buildings.
The Imperial Hotel, the Central Cottage Industries Emporium, the Janpath street shopping market for tops & skirts, imitation jewellery, bags, Gujarati handicrafts and Tibetan masks are all on this road.
Janpath Market – Street Shops
Firstly, this is a lane with about 50 small shacks and aggressive salesmen. The shacks are shops that sell, tops, plazzo pants, capris, tees and shorts.
Shop for the cheapest deals in trendy and colourful cotton tops, skirts and evening wear. There is a new collection that appears every month. Check out the collection in a few shops and then make your purchase.
If you know how to bargain, you can bring down the prices to more than half of what were initially quoted! You will typically see foreigners on a buying spree.
Prices start from Rs. 100/piece. Export surplus of European retailers are available here.Therefore, young women love to shop here.
Take a look at the video link:
Street Shopping in Janpath Market New Delhi | Shopkhoj
Imitation Jewellery
In addition, there is plenty of silver and imitation jewellery -made of white metal, oxidized metal, and beads in Janpath.
Colourful necklaces, earrings, bracelets, danglers and hoops are all available here in plenty. This is where college girls shop for imitation jewellery. Prices start from Rs. 100/piece.
Take a look at the video link:
Imitation Jewellery Stores in Janpath Market, Delhi
Gujarati Handicrafts
You can also bargain for the heavily embellished patchwork covers, vegetable-dye and batik paintings, kutch embroidered hobo bags, Banjara cloth bags, Mukha (mask), potli bags, clutches, colourful appliqué worked and mirror worked table covers, sequinned bed covers, quilts, patch work umbrellas, saree borders and embroidered patches for dresses. Most noteworthy is the fact that the salesmen & women are from Gujarat. The products are genuine.
Take a look at the video link:
Gujarati Handicrafts in Janpath, New Delhi | Shopkhoj
Janpath Market – Tibetan Market
Venture further ahead towards Imperial Hotel and you will see the Tibetan market. Serious artifact shopping is done by foreigners here .Tibetan masks, prayer beads, gongs, prayer bowls and miscellaneous artifacts are available here.
There are interesting restaurants in Janpath. Cafe Coffee Day, Pizza Hut and Sarvana Bhavan, the South Indian restaurant are a few.
Imperial Hotel has fine dining restaurants such as The Spice Route for Indian cuisine, Sam Gimignano for Italian cuisine, Daniel's Tavern, The Atrium, the Tea Lounge, 1911 bar, Patiala Peg bar and LaBaguette, the party shop.
Take a look at the video link:
Street Shopping At Tibetan Market Janpath, New Delhi
---
88 views