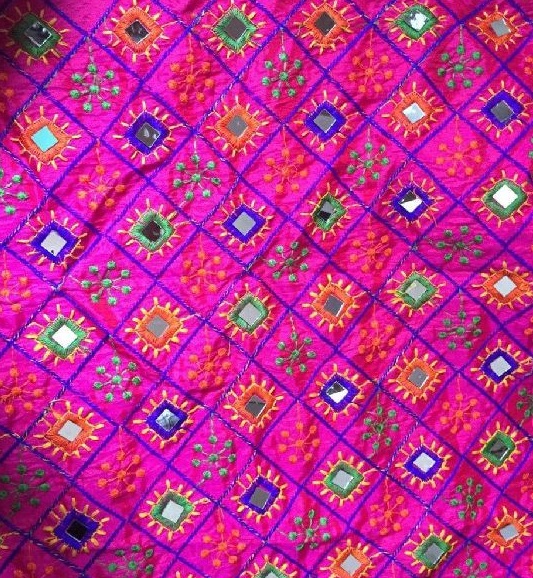 Mirror Work
What is a Mirror Work?
Mirror work or "Sheesha" or "Abhala Bharat" embroidery is a traditional Indian handicraft in which artisans attach mirrors of different shapes and sizes onto the fabric by special cross-stitched embroidery to make it look attractive.
With circular one being the popular shape of the mirror of all time, other shapes like square, triangular, hexagonal and polygonal are also otherwise used for embroidery. In present day scenario, reflective luminescent metal pieces have replaced mirrors, especially on apparel.
Mirror work is used to enhance sarees, skirts, chaniya-cholis, bags, bedspreads, cushion covers, wall hangings and many such items. Furthermore, fabrics ranges from georgette to crepe to silk to cotton to chiffon.
Available at Delhi:- Rajasthali, Gurjari(Delhi), Kinari Bazaar
Available at Bangalore:- Yuvathi, Sakhi
Shop in Jaipur at:- Johari Bazar(Jaipur), Riddhi Siddhi Textiles
Available at Mumbai:- Seasons Santacruz, Aishwarya Design Studio, Samrat
Origins
With its origins in Iran in the 17th century, the mirror work was first introduced to the Indian culture through different travelers during the Mughal reign. It is interesting to note here that the Mughals never wore clothes beautified with mirrors. As a matter of fact, they used mirror work for decor only.
The locals soon caught up with the trend, embracing this art form as part of their traditional dresses. The Lambada gypsy tribes of Andhra Pradesh, for example, use mirrors and beads as part of the traditional Banjara embroidery.
Major Hubs of Mirror Work in India
Rajasthan, Madhya Pradesh, Gujarat and Haryana in India are the major centers for mirror work in India. Each state can be distinguished by its own evolved style of mirror work. To cite an example, the Jats of Banni are known for using variegated mirrors to beautify their fabric. On the other hand, artists fix mirrors on eyes in animal faces or the middle of a flower as part of Gujarat's Kathi embroidery.
Check our videos
SIGN UP FOR NEWSLETTER
Be the First to Know. Sign up to newsletter today
3 views