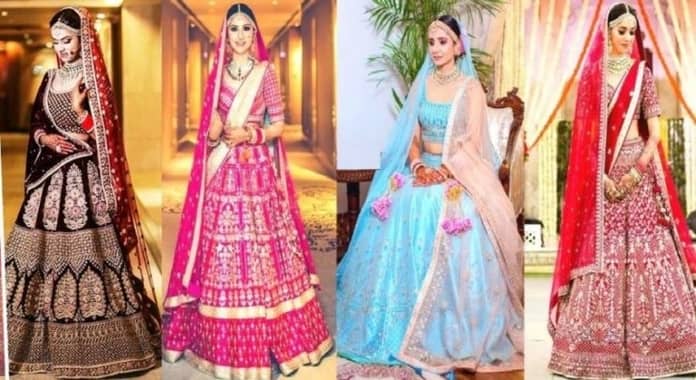 The Ultimate Guide: Bridal Lehenga Online shopping
Monika Chauhan
13220 views
add comment
A bride dreams about living her wedding day queen-size even before the wedding preparations begin. After all, it's going to be a keepsake of her wedding day memories for years to come. And there is a reason we love browsing through bridal wear shops in Delhi. From heavily sequined and embroidered bridal wear to elegant ones, the markets in Delhi offer a great selection of wedding outfits. Check out the best lehenga markets in Delhi with Shopkhoj. Bridal lehenga online shopping is the current trend. However, it is always better to check out physical stores before you buy your bridal lehenga
1. Ritu Kumar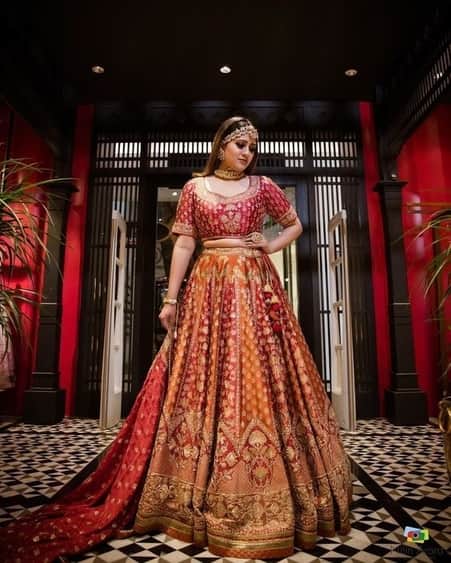 Ritu Kumar
One of the most popular designer wear brands in India, Ritu Kumar is known for its distinctive use of colors, quality of fabrics, and a gloriously rich Indian aesthetic. No wonder almost every bride dreams of draping a Ritu Kumar saree or lehenga on her special day! Interestingly, Ritu is the first woman to kick off the 'boutique' culture in India with the launch of her first store in 1960s in Delhi.
Their South Extension II store offers exclusively designed bridal lehengas in pretty pink, sky blue and emerald. We certainly recommend you to pick one of Ritu Kumar's creations for its elegance and innovative use of traditional craft. She usually prefers to work with fabrics like cotton and silk while her clothes reflect the rich prints and embroidery heritage of India. Ritu kumar's bridal lehenga online shopping is definitely an option.
Price: Starting at Rs. 50,000/piece
Address: M/4, South Extension, Block M, South Extension II, New Delhi 110049
2 Anita Dongre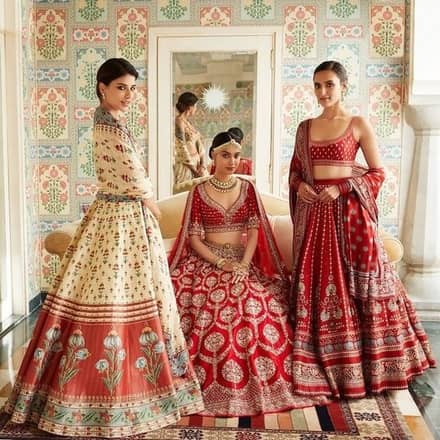 One of India's leading fashion designers, Anita Dongre has something to offer to all the brides-to-be out there. Their Khan Market store stocks stunning bridal lehengas along with handwoven Banarasi sarees in interesting designs and hues.
Anita Dongre's signature style is a reflection of indigenous craft tradition coupled with a modern aesthetic. In its ethnic wear collection, the brand uses fabrics such as Banarasi silk, brocade, georgette and chiffon with embroidery, hand painted work, Ikat work from Andhra Pradesh and Chikankari work from Lucknow. Check out anita Dongre's bridal lehenga online shopping option.
Price: Starting at Rs. 75,000/piece
Address: Flat 7, 1st Floor, Khan Market, New Delhi 110003
3. OP Jawahar Lal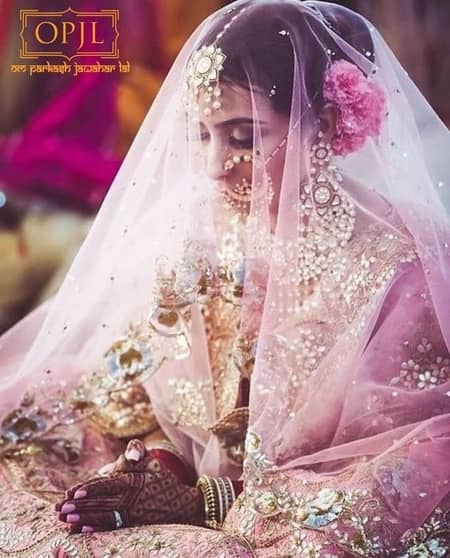 Check out their gorgeous range of lehengas, sarees, anarkalis, along with Indo-western outfits. They are definitely worth every bit of your time and money. They do not have a bridal lehega online shopping option.
Price: Starting at Rs. 70,000/piece
Address: 354, Naya Katra, Ist floor, Chandni Chowk, Delhi 110006
4. Frontier Raas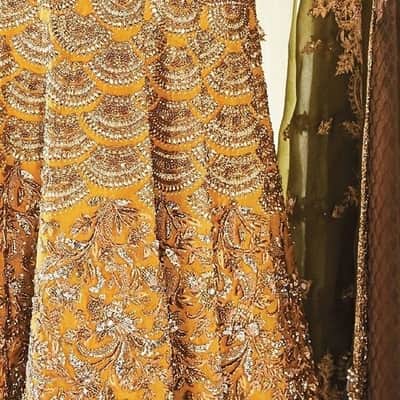 If you are looking for an exclusive bridal wear which is "modern in character" and has a "soul rich in tradition", this popular label is a pure gem. With its flagship store in South Extension-II, Frontier Raas boasts of finely crafted Indian ensembles in a host of designs.
Anil Kumar Batra is at the helm of this family-run business of designer outfits, artificial jewellery and accessories. The store offers everything from unstitched suits and custom-made attire to ready-to-wear bridal collection and much more. This store is definitely one of the best lehenga shops in Delhi. Check out their bridal lehanga online shopping.
Price: Starting at Rs. 30,000/piece
Address: D-3, Main Market, South Extension-2, New Delhi – 110049
5. Ekaya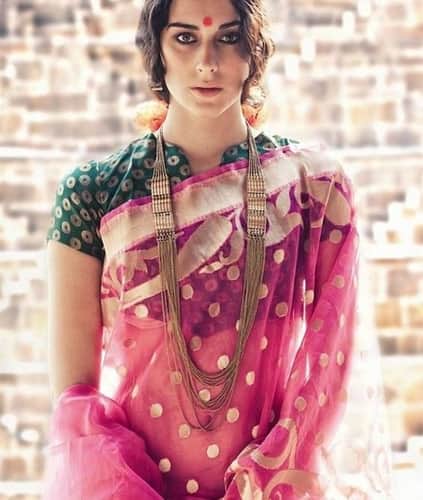 If you are a bride-to-be and feel an elegant banarasi saree MUST be a part of your bridal trousseau, look no further. This popular boutique is known for "reinterpreting and redefining traditional weaves and motifs" with an India-modern vision. Located in Defence Colony—one of Delhi's poshest markets, Ekaya specializes in beautiful hand-woven Banarasi sarees.
Additionally, the store also stocks embroidered sarees, printed saris, bridal lehengas, suits and fabrics. Gorgeous to the dot, the colours and designs on the fabrics are contemporary and exciting too.
Price: Starting at Rs. 10,000/piece
Address: D7, Defence Colony, New Delhi-110024
6. Meena Bazaar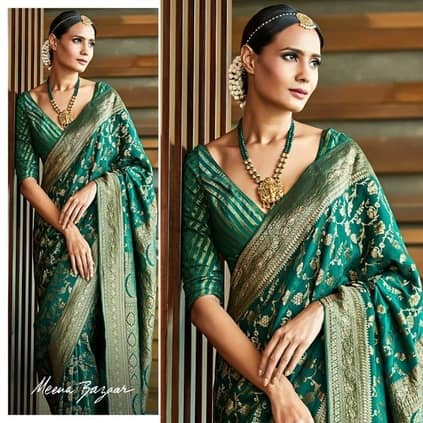 Does this premium Indian brand need any introduction? What started as a small saree shop in Chandni Chowk way back in 1970 is now an internationally acclaimed designer boutique. Meena Bazaar is simply loved for its exquisite range of ethnic Indian wear. Their stock includes lehengas, sarees, kurtis as well as accessories.
Boasting an in-house designers team, the brand specialises in Gotta Patti thread work. Besides gorgeous Banarasi, Kanjivaram sarees and georgette sarees, Meena Bazaar also has an array of embroidered lehenga pieces in red, pink, maroon and other pastel shades.  Meena Bazar has a pan India presence. Check out Meens Bazar's bridal lehenga online shopping
Price: Starting at Rs. 15,000/piece
Address: E-19, South Extension, South Extension-2, 110049
7. Frontier Bazar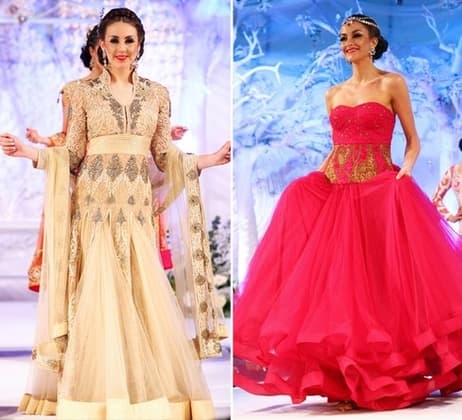 If you are looking for elegance and extravagance combined in your bridal wear, you definitely need to explore this designer store in Karol Bagh. Frontier Bazar offers a wide range of eye-catching lehengas with bespoke designs in flashy pinks, parrot greens, saffron and yellow. These glamorous wedding outfits come with a lot of glitter and sequins work.
Offering a perfect blend of international trends and traditional techniques, their collection also includes heavily worked salwar kameez as well as sarees with zardosi and sequins work.
Price: Starting at Rs. 10,000/piece
Address: 5/71, Padam Singh Road, WEA, Karol Bagh, New Delhi, 110005
8. Bombay Selections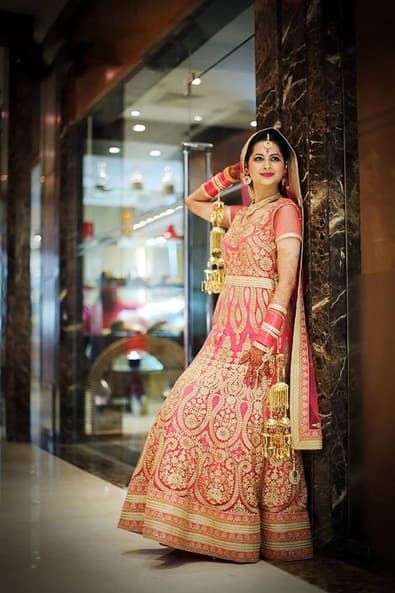 Launched in 1993, Bombay Selections makes stunning designs and craftsmanship visible in their collections through and through. Browse through their seasoned catalogue not only for the brides-to-be but also for the bridesmaids and the family.
They offer an amazing variety of lehengas in vivid colours, contemporary designs and a lot of glitter. We definitely love their sarees in georgette, crepe and chiffon crafted beautifully with a lot of zardosi, stone and sequence work.
Price: Starting at Rs. 17,000/piece
Address: 13/6, Padam Singh Road, Karol Bagh, New Delhi 110005
9. Couple Cut Couture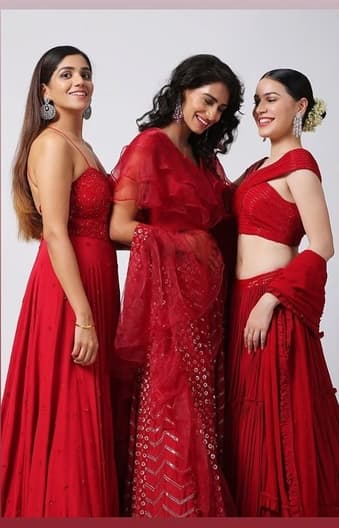 The breathtaking selection of wedding trousseau available at Couple Cut Couture clubbed with personalized style advice makes it one of our favorite one-stop bridal shops in Delhi.
What attracts you to this boutique is its elegant range of contemporary fusion dresses for your special day. It stocks an exclusive collection of lehengas with designer blouses. You can also shop here for trendy gararas, shararas, dhoti pants, anarkali salwars and drape lehengas.
This fashion retail store mostly curates pastel colors with hand embedded work and hand embroidery work. They offer interesting dresses for sangeet, mehandi and other wedding functions as well.
Price: Starting at Rs. 10,000/piece
Address: Shop No.128, Shahpur Jat, Siri Fort, Delhi 110049
10. Lehza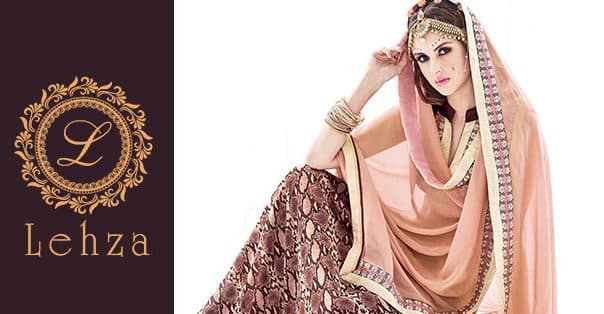 Founded in 2015, Lehza is an affordable  bridal wear shop. At their Sarojini Nagar store, you can choose from an array of lehengas in trendy designs and styles. Bling enthusiasts are sure to find a gorgeous range of designer bridal lehengas, sarees as well as gowns.
Their exclusive collection has been procured from different states of India as per specialties of the regions. For instance, they offer silk sarees from South India, banarasi silk sarees from Varanasi, chanderi silks from Madhya Pradesh and many more. You also have an option to get a bridal lehenga stitched here as well as per your budget and requirement.
Price: Starting at Rs. 12,000/piece
Address: 91, Sarojini Nagar Market, Delhi 110023
11. Chhabra 555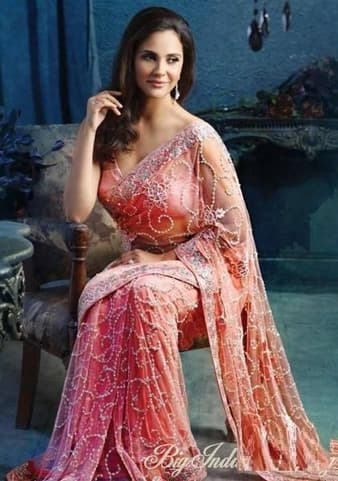 When we are talking about the traditional outfits for soon-to-be-brides, we certainly can't miss out on the mesmerising selection of lehengas and designer sarees from Chhabra 555. The popular store in Chandni Chowk is where you can explore a sea of beautiful shades for special occasions. They have heavily embellished sarees with semi-precious stones, precious stones, mirrors, crystals, glass, wood and beads.
They also stock an alluring range of Anarkali suits, from a bright one with metallic details to the elegant one with an embroidered neckline. Both ready-made garments and ready-to-stitch pieces are stocked here. You may also check out their collection of lehenga sarees. These include a pre-draped dupatta on it and come with a matching blouse piece.
Price: Starting at Rs. 12,000/piece
Address: Shop 555, Katra Asharafi, Chandni Chowk, Delhi-110006
DLF Emporio Mall & Defence Colony Market
If you happen to enter the wedding season as the ravishing bride, it's time to look out for a one-stop luxury destination to have your special shopping sorted! DLF Emporio Mall in Vasant Kunj is home to some of India's top fashion designers. You can easily select one from an array of eclectic and inspiring ensembles to make you resplendent on your big day. Tarun Tahiliani, Suneet Varma, Satya Paul, Rajesh Pratap Singh, Raghavendra Rathore, Manish Malhotra, Malini Ramani, Abu Jani, and Sandeep Khosla, are among the best in the fashion world that are also available at DLF Emporio Mall.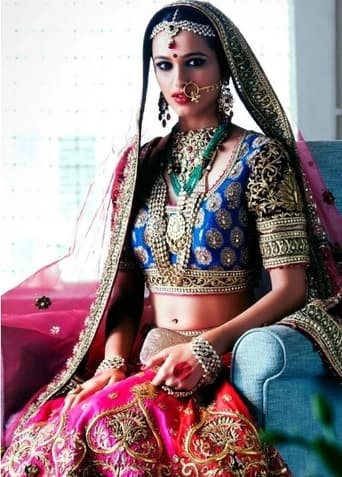 Your trousseau shopping is also incomplete without a visit to Delhi's Defence Colony market. This luxury shopping destination boasts of some of the great labels that are very sought after, especially when it comes to bridal wear. You are sure to get spoiled for choice thanks to the numerous designer store options that surround you in this market. These include Ekaya, Shantanu & Nikhil, as well as Rohit Bal.
Are you a bride-to-be? Do visit one of these bridal wear shops in Delhi for the ultimate shopping experience.
Check out the best lehenga markets and we hope you get your dream outfit.
Also, we would love to hear from you if we have missed out on a great option for soon-to-be brides. Feel free to share it in the Comments Section below.
Also read, The Complete Guide To Wedding Shopping In Delhi's South Ex Market
---
View our videos
SIGN UP FOR NEWSLETTER
Be the First to Know. Sign up to newsletter today