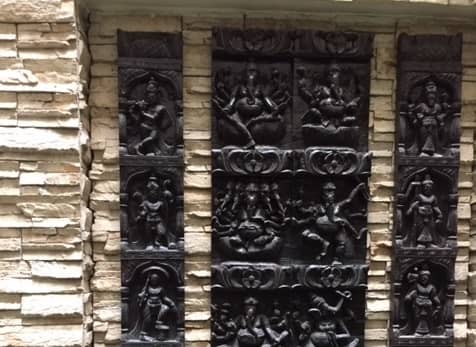 Wood Carving
Wood Carving in Ancient Egypt
Firstly, did you know this timeless art goes as far back as ancient Egypt era? The best example to cite is a statue of a man displayed in the Museum of Cairo in Egypt. It possibly dates back to 4,000 BC . This reflects the long tradition of wood carving appreciated all over the world. Carving of panels & wood carving for the main door are popular in India.
Available at Bangalore:- Central Cottage Industries
Available at Chennai:- The Museum Company
Shops in Delhi:- Cauvery Karnataka State Arts and Crafts Emporium, Poonam Backliwal, Utkalika, Poompuhar (Tamil Nadu State Govt undertaking), Dilli Haat
Available at Mumbai:- The Bombay Store, Amber
Wood Work in India
Further, India is naturally blessed with both soft and hard woods.  Above all, the country boasts a rich history of carved wood art.  For instance ,the diversity in culture and religion has long been reflected through the incredible handicrafts of India from different regions. For example, Assam takes pride in 'namghar' or 'kirtanghar' which are carved thrones in peacock's shape. Further, in Gujarat, we see huge chests called 'pataras'. Artisans dextrously carve them out of rosewood, teak or sandalwood as part of wedding trousseau.
  Carving in in Tamil Nadu
Tamil Nadu, on the other hand, takes inspiration from themes like animals, birds, mythical creatures and dance forms. Artisans skilfully depict different gods and goddesses riding their chariots; the most popular being Lord Shiva, Lord Ganesha, and Vishnu's Dashavtara idols. Wood carving for main door is very popular in South India.
Wooden panels with mythology themes are very popular in Tamil Nadu & Andhra Pradesh.
Check our videos
SIGN UP FOR NEWSLETTER
Be the First to Know. Sign up to newsletter today