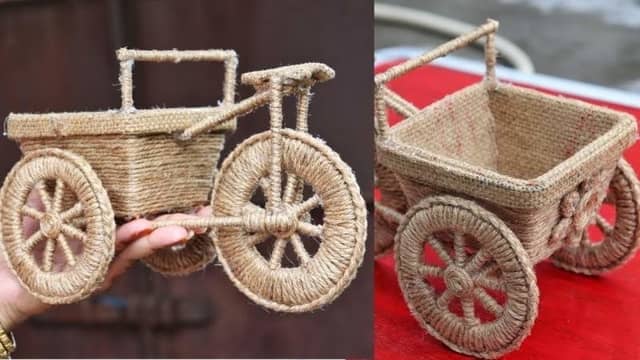 Jute Craft
Jute and Jute Bags
Jute, a strong and eco-friendly natural fibre, is also known as the "Golden Fibre" in India. It is due to its shiny outward form. It is also among the most common raw materials used in exquisite artifacts, handicrafts & in jute bags. Thanks to scores of skilful artisans, India is the world's largest producer of jute as well as jute products. Mostly, farmers grow jute in the eastern state of India, West Bengal. The eco-friendly jute crafts are available in a host of designs, shapes and colors.
Available at Delhi:- Assam Emporium, Dilli Haat, Central cottage industries
Available at Bangalore:- Central Cottage Industries
Varieties of Jute Crafts
Craftsmen usually make  products as per the demands of a particular buyer. These include rugs, handbags, chappals, carpets, footwear, baskets, wall hangings, jewellery, coasters, showpieces, table mats, lamp shades, flower vases, phone covers, jewellery and decorative articles.
These handmade  items are in huge demand in both the national and the international markets too. Low-cost gunny bags are also made from this fabric, though of the lowest quality. They come in handy for transporting items like pulses, rice, cement, vegetables etc.
A Walk Down The History Lane
Ancient Indian scriptures namely, Manu Samhita and Mahabharata mention the utilization of Jute as a raw material. According to Ain-e-Akbari, a 16th century historical document by Abul Fazal, Indian villagers used to wear clothes made of this fabric.
In the year 1856, the first  mill kicked off production in Bengal. In a span of 13 years, a total of five mills started operating with 950 looms. Moreover, the industry continued to impress with speedy growth. By 1910, 38 companies had begun operations with 30,685 looms.
Later, countries like France, Germany, America, Belgium, Russia, Italy and Austria also grew to become manufacturers. Interestingly, this industry continues to be a source of livelihood to 250,000 mill workers along with 4 million farmers' families in India alone.
Check our videos
SIGN UP FOR NEWSLETTER
Be the First to Know. Sign up to newsletter today