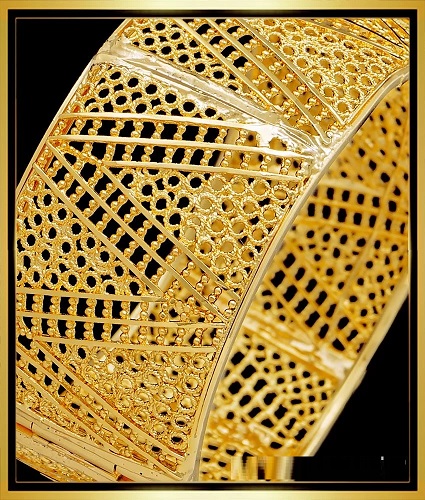 What is a Kada?
Kada simply means bangles or ornaments worn on the wrist. Sikhs (Sikh is a religious community )wear an iron bracelet known as the Kara. Above all it is a symbol of commitment to God according to the Sikh faith.
Available at Delhi:– Meharee di Hatti (Delhi), Mehra Jewellers, TBZ, Tanishq, Amrapali
Shop in  Jaipur at :- Shri Jewellers(Jaipur), Shri Jewellers
Available at Chennai:– Prince Jewellers, Jugal Kishore 
 Gold Kada bangle
Gold Kada is a thick solid bangle, generally sold in pairs. As a matter of fact, they can be very simple or embellished with designs or stones. Thin gold bangles are generally not referred to as Kadas. In other words, it is the thick gold bracelet or bangle that is referred to as the Kada.
For instance, gold bangles are an essential part of the jewellery collection of Indian women. Married women wear gold bangles. As a matter of fact, it is a symbol of marriage, similar to the Mangal sutra or sindoor.
The thickness, the weight and the designs on the Kada vary from region to region. In South India, the bangles are traditionally about a quarter inch in thickness whereas in North India they could be as thick as 1 inch. Further, embossing work is done on bangles made in North India. Chains, beads and small bells are added to make the bangle interesting. At times, rubies, emeralds or coloured glass or metal pieces are added to the bangle.
Bangles in Kolkata traditionally have a lot of filigree work on them as the goldsmiths are accomplished with filigree work.
.
Check our videos
SIGN UP FOR NEWSLETTER
Be the First to Know. Sign up to newsletter today
7 views