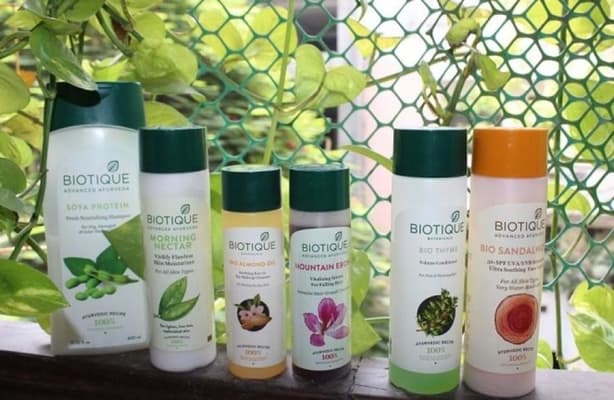 Personal Care Products-Ayurvedic products
What is Ayurveda
Firstly, Ayurveda means science of life in Sanskrit. For instance, it is a Hindu system of medicine and is mentioned in the Atharva Veda. It is a 5000 year old science. Ayurveda lays emphasis on the holistic approach to wellness & beauty. It is a way of life that includes diet, meditation, yoga and use of herbal medicines for the face & body. In addition, Ayurvedic products for wellness and Ayurvedic cosmetics have also  become popular lately. They include herbal cosmetics.
The god of Ayurvedic science in Lord Dhanvantri. He is considered an avatar of Lord Vishnu.
Available at Delhi:–Forest Essentials, Biotique, Kama Ayurveda(Delhi) and Shahnaz Hussain 
Ayurvedic Treatments
There are many Ayurvedic practitioners in India. Further, some of the big hospitals offer Ayurvedic treatments in addition to Allopathic treatments. Kotakkal Ayurveda is a popular clinic for Ayurvedic treatments. They are headquartered in the State of Kerala and have branches in several Indian cities.
Special massage oils are used in Ayurvedic body treatments. Ayurvedic oil massages for back pains and knee pains are very effective.  For instance, wellness packages with special massage oils are popular in resorts & retreats in several Indian towns & cities. Ayurvedic medicine is the science behind all of this.
Ayurveda-Beauty Products & Cosmetics
Everyone wants to look their best at all times. The potential of herbal cosmetics and Ayurvedic cosmetics has finally been tapped by leading companies the world over. The Body Shop is one such Company.
Grandmothers & mothers used turmeric, rosewater, aloe vera, honey & curd on their faces. This was a way of life in olden times.  Ready made & packaged creams were not available. They are available in packaged & ready to use form now. Several leading brands are actively manufacturing and marketing  beauty products  based on Ayurveda today. As a matter of fact, the domestic & export market for these products is huge.
The products include face cleansers, face creams, moisturisers, shampoos, conditioners, body oils, massage oils and cosmetics based on the ancient science of Ayurveda.
For example, some of the well-known brands for Ayurvedic beauty products  & Herbal cosmetics are Forest Essentials, Biotique, Kama Ayurvedic(Delhi) and Shanaz Hussain 
Shanaz Hussian Products
Shahanz Husain was a pioneer in setting up Ayurvedic products and cosmetics in India. Shagrain, is a  dead cell remover. and is a popular product. Other products are Shalife and Shaskin tonic that are face moisturisers.
Kama Ayurveda
Kama  Ayurveda is a much loved brand in India. Kumkumadi skin oil is a skin moisturiser and one of their best selling product. In addition, Bringadi  hair oil, their night cream and hair conditioners are also popular.
Forest Essentials
The Soundarya Radiance Cream from Forest Essentials and the Ojas glow replenishing night cream are definitely worth a buy. They also have additional range of face creams, moisturisers, shampoos & conditioners. The range of products is very  vast & impressive.
Biotique- Herbal Cosmetics
Biotique's Sandalwood cream, Saffron Dew moisturiser ,Morning Nectar moisturiser, Soya protein shampoos and Sea Kelp conditioners are certainly some of their best sellers. In addition, their clove and tulsi toothpaste and bio Kajal are also very popular. They have introduced lip balms & lipsticks now.
Finally, to reiterate, Ayurvedic products do not use chemicals in the formulations. There is no use of chemicals in Ayurvedic products. As a matter of fact, they are made from natural herbs. Hence, these products are extremely popular and do not cause any damage to the skin & hair.
Check our videos
SIGN UP FOR NEWSLETTER
Be the First to Know. Sign up to newsletter today