11 Eponymous Silk Sarees from Indian States
Kausy M
21714 views
add comment
Shopkhoj pays tribute to the Indian weavers for producing exquisite and amazing silk sarees.The Banarsi Silk saree, Kanchipuram silk saree and Cotton silk sarees are world famous today.
INDIA & SILK
 Firtsly, the earliest references to silk in India was probably in Valmiki's Ramayana which refers to the kingdoms of the east as  "the country of cocoon rearers"(wiki) .The production of silk from Kamrupa, present day Assam and other regions in Bengal have references to Tussar & Muga silk. For instance, the Mogoloid race in Assam traded in silk with Tibet, China & Central Asia. Further, according to research by Harvard University, silk production dates back to the Indus Valley Civilization.
India was hence at the centre of the silk route. Let us understand the rich tradition of silks In India. Several Indian States/regions produce an amazing range of silk varieties. For instance, silk sarees and silk fabrics are a tradition, culture & identity of the State. Hence the fabrics are named as such. Let us explore the silk route in India from Assam to Tamil Nadu. It is fascinating.
1. Muga Silk & Endi Silk Sarees-Assam
Assam is known for its golden coloured Muga silk, Eri  or Endi silk which is in light/beige cream in colour and pat silk which is white in colour.
Muga silk  has a natural golden colour and a shiny texture. They are  extensively used for sarees and mekala chador, the tradition dress of Assam. Further, they are also used  to make shirts & kurtas. In addition, they were patronised by kings and royalty. The silk is  known for its extreme durability. Muga silk can be washed and dyed. Eri silk is from the cocoon of the eri worm. In addition, the muga silk & eri silk from Assam are also referred to non-violent silk or Ahimsa silk. The silkworm is allowed to leave the cocoon before the silk is produced.
SILK WEAVING CENTRE in ASSAM
Sualkuchi is a silk weaving village,30 kms from the capital city of Guwahati ,on the banks of the river Brahmaputra. In other words, it is well known for silk textiles, both mulberry and muga silk.
The Muga silks are available in Delhi at  :- Pragjyotika, Assam Emporium
2. Balucheri Silk Saree-West Bengal
Balucheri sarees  are rich silk sarees woven in Murshidabad and Bishnupur villages in West Bengal.  Baluchar in Murshidabad district was the region where this saree weaving technique was originally practised.  Weavers from Dhaka were brought to Murshidabad to aid in crafting these sarees. However, they moved to Bishnupur later.  The sarees are characterised by the  depiction of  Hindu epics and mythology in the designs. Scenes from the Mahabharata & Ramayana adorn the pallu of this saree. Further, the designs are drawn on paper and subsequently transferred to wooden frames, called Naqshas. Finally, they are then transferred to the loom to be woven into the main fabric. For instance, Tussar silk is woven in jacquard looms to create this beautiful saree with human forms.
Available in Kolkata :- Kalika , Priyo Gopal Bishoyi
Available in Delhi  Manjusha West Bengal Emporium
3.Banarasi Silk Saree-Uttar Pradesh
Varanasi ,Benares or Banaras is an ancient Hindu holy city on the banks of the river Ganges. The sarees produced here are known as Banarasi sarees.  Silk weaving is a highly skilled tradition in Benaras. Further, the silk weaving techniques were patronised by royalty. It is said that the Mughal ruler Akbar invited Gujarati weavers to this city to be employed in the silk trade. For instance, silk brocade weaving was started in the 17th century and developed excellence. Above all, floral designs and rich tapestry with a lot of zari or gold thread work are characteristic of Banarasi sarees. The finest of silks and intricate designs with zari or gold and silver threads are used to weave the saree.
In addition, a Banarasi saree is typically a  part of the bride's trousseau. For example, the popular varieties of the Banarasi saree include the Kora Organza, Katan silk and the Banarasi georgette.
Shops Available at Delhi:- Banaras Ekaya, Ushnak Mool Chand Madan, Laffaire, Gangotri Emporium,
Available at Kolkata:- Banarsi Kuthi, Priyo gopal
Shop at Chennai:- Man Mandir, Varsidhi
4.Kota Silk-Rajasthan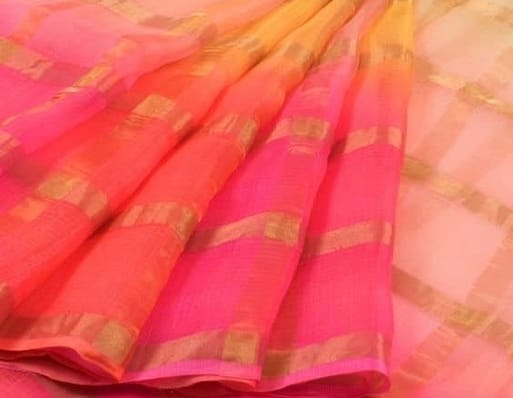 Firstly, the town of Kota is in the state of Rajasthan. Kota or Kota Doria is the speciality saree that is characterised by a chequered pattern all over the body. For instance, small squares or checks are very transparent and apparent in the design. It is woven in the town of Kota and its neighbouring villages in Rajasthan. Kota in cotton & silk is very popular for sarees, salwar suits, kurtis and dupattas. In addition, they are available in a multitude of pleasing colours. Further, Kota silk with mixed gold threads ( zari) and block prints have been introduced in the simple Kota fabrics. Above all, the Kota saree is absolutely light weight and hence can be easily worn in the summer months. Further, it can be worn by both young & old women.
Traditionally they were made only in cotton. However, today t the Kota cotton silk saree is equally popular.
Available at Delhi:-Rajasthali
Shops in Chennai:-Signora Sarees, Man Mandir
 Available at Jaipur:-Ranas, Rattan Deep
5.Patola Sarees-Gujarat 
These are sarees  from Pattan in Gujarat
They are expensive sarees once worn by aristocratic families in Gujarat. They are known as double Ikkat sarees woven in Pattan. In addition, they are also woven in Ahmedabad & Surat. Popular designs are said to be woven by the Salvi families, who kept the traditions alive. Warp & the weft  threads are woven using the tie & dye technique. It is a special tie & dye method of weaving. The Ajanta caves depict Patola weaving  tie & dye designs. It is hence an  age old weaving technique practised in that region. Patola sarees use distinct design techniques and the white colour is intricately woven in the designs. The ikkat designs can be found all over the body and the pallu. Gold thread designs are being added to the border & pallu for a grander look.
 Patola sarees available at
Delhi:-Gurjari, L' affaire 
Chennai:-Nalli Silks, Sundari Silks, Varsidhi
 Mumbai at :-Hastkala
 Kolkata:-Gurjari
 Bangalore:-Rangoli, Angadi Silks, Ladies Wear House, Fazals and sons, Priya-Simran's
6.Chanderi Silks-Madhya Pradesh
The Chanderi town is in the State of Madhya Pradesh and is 215 kms from Gwalior. The town is surrounded by forests & hills. The Chandela king KirtiVarma was the founder of this town. The Chanderi fabric is from this city. Chanderi silk & cotton are both popular. It is a sheer fabric. It is light and transparent.  Silk, golden zari & cotton yarn are woven together to create this stunning fabric. Block printing is also done in Chanderi fabric. The Chanderi fabric was developed from fine muslin which came with the weavers from Dakka. Chanderi sarees are woven with this fine silk material in beautiful colours and with zari.
Chanderi has become a very popular fabric in the last decade. Sarees, dupattas, salwar kameez are all popular in Chanderi. Chanderi cotton silk sarees are also popular.
Available at Delhi :- Mrignayani, Print Center, Kalpana Sarees, Tulsi by Neeru Kumar Kilol
Available at Chennai :- Signora(Chennai), Nalli( Chennai), Varsidhi
Shops in  Kolkata :- Benarasi Kuthi, Kalika
Available at Bangalore :- Gaurang,
7. Paitani Silk Saree-Maharashtra
This is a Maharashtrian saree from the town of Paithan in the Aurangabad district of the State. The Paithani sarees are made in pure silk. They have been produced for over 2000 years and are an essential part of the Maharashtrian bride's trousseau.
Vibrant & colourful silks with gold in the borders signify the Paithani. For instance, they have contrasting colours on the border with a lot of gold thread work. Floral & brocade motifs ,peacocks and other animal motifs are popular. Further, the plain saree has buttis (dots) in the body. Finally, the saree presents a kaleidoscopic effect. This is due to the double colour used in the weaving technique. The silk is  sourced from Bangalore. Yeola town in Nashik district, Maharashtra is the largest manufacturer of the Paithani.
Available in Marathi Maharashta State Emporioum
8. Sambalpuri Silk Saree-Odisha
This is a traditional handwoven ikaat saree wherein the warp and the weft are tie-dyed before weaving. They are woven and manufactured in the Sambalpur District of Odisha. It is a double ikaat saree, similar to the Patola saree from Gujarat. Sonepuri, Pasupali, Bomkai and Bapta are popular varieties of the Sambalpur Ikaat saree.  They are very expensive. The striking border patterns distinguishes the Sambalpuri sarees. Several prominent statesmen from Odisha have contributed to the revival of the Sambalpuri saree. In other words, Government patronage has contributed to the promotion of the Odisha Ikaat. The chaupad (which consists of squares)  is a traditional design with fish  & elephant motifs in the borders. Further there are cotton silk sarees as well.
In other words, there is a distinct focus on flora & fauna in the design. Available in Utkalika Emporium
9.Pochampally Ikaat-Telegnana
 There is a small town of nearly 80 villages near Hyderabad in Telengana known Pochampally. In this town, a small community of weavers which works on the handloom pits in their homes. Ikaat is the distinct fabric produced here. It  is a dyeing technique that is created by binding yarns. The dyeing is done keeping the final  patterns in mind. Further ,the yarn is dyed and left to dry outside the homes. This is a handloom industry & the weaving is done in homes. The traditional Pochampally is also known as Pochampally ikaat. Gujarat & Odisha are the other States  known for Ikaat weaving patterns. However, the contrasting play with  colours with intricate designs is what distinguishes the Pochampally ikaat saree.
The sarees are available in silk & cotton. In addition, Colourful  fabrics in cotton & silk for salwars and dupattas are also available.
Bhoodan Movement
Further, Pochampally is also famous for the Bhoodan movement (land gifting movement). For instance, Acharya Vinobha Bhave started this movement to persuade wealthy landowners to gift a small piece of land to landless farmers in the State.
Available in Lepakshi Emporium
10.Mysore Silk Saree-Karnataka
The State of Karnataka produces the maximum amount of Mulberry silk in the country.
 For instance, Tipu Sultan is said to have founded the silk industry in Karnataka. The Maharajahs of Mysore continued their patronage in promoting  silk production. Further, Mulberry silks are exported to other States in the country from Karnataka. Mysore silk  is light weight and is soft and supple as compared to the Kanjivaram silks that are heavy. Mysore silks come with zari borders. Further, they can be used as dress material to make salwar  suits as well. The saree has silk saree blouse design as well.
Available at Chennai:- Prasiddhi Silks, Deepam Silks,  Angadi Silks, RMKV, Tulsi silks
Available at Delhi:- Nalli 
Shop in Bangalore at :- KSIC Mysore Silk, Vijayalakshmi Silks & Sarees, Prasiddhi Silks , Deepam
Available at Kolkata:- Benarasi Kuthi
11.Kanchipuram Silk Saree-Tamil Nadu
The  temple town about 70 kms from Chennai is Kanchipuram. It was the capital city of the Pallava kingdom. There are several beautiful temples in this town built during the 7th C-10th C. Kanchipuram is also known for its exquisite  Kanchipuram silk  sarees. Saree weaving is a handloom industry. Several prominent shops in Chennai have their own weaving units in this town. The silk procured from Bangalore is woven into exquisite sarees is range of amazing colours. The saree borders have beautiful zari designs. Further, designs of peacocks, swans, elephants or beautiful flowers  adorn the sarees.
In addition, geometric designs are also used. Further, the gopuram or temple borders still remain in fashion. Red  is the preferred colour of the saree for the bride.
 In addition, the body & the pallu are woven separately and then interwoven. Further silk embroidery or jacquard embroidery is embossed on to the saree.  The fabric for the blouse is typically attached to the saree .Hence silk saree blouse designs for this saree is not an issue.
Best shops for Kanchipuram silk sarees 
Available at Kolkata:-Savera Sarees, Ananda Sarees, Rupahali Sarees, Traders Assembly, Benarasi Kuthi
Tribal Communities & Weaves
In conclusion, as we have seen, the amazing varieties of Indian silk sarees is the result of the craftsmanship of the tribal communities and weavers. For instance, they have contributed to the rich tapestry of Indian silks & textiles. The silk saree remains the most elegant garment for an Indian women. Moreover, silk saree blouse designs are always in demand as fashion keeps changing.
 Further, Delhi has
State Emporiums in Baba Kharak Singh Marg
. They are government run emporiums & the  range of textiles & handicrafts are  truly awe inspiring. In other words, Indian crafts and craftsmanship is on full display in these shops. Above all, all the sarees referred to above are available in their respective State Emporiums.
Read Our Other Blogs on Sarees and Indian Fabrics
---
View our videos
SIGN UP FOR NEWSLETTER
Be the First to Know. Sign up to newsletter today