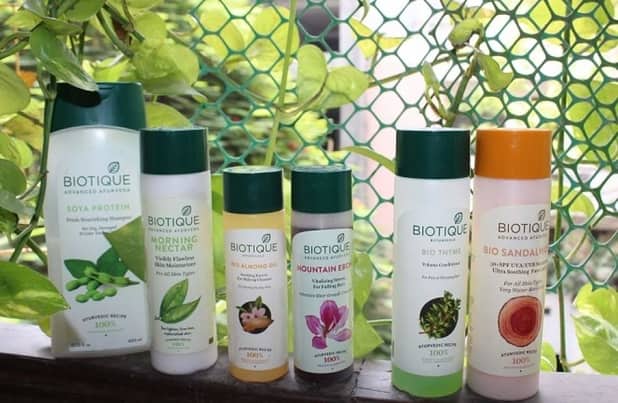 Top 5 Organic Beauty Brands In India for that 'Au Natural' Look!
Jun 06, 2019
Monika Chauhan
1975 views
add comment
Natural and organic beauty is not new to India. Indians used turmeric, curd, multani mitti (fuller's earth), honey, gram flour and aloe vera on their skin and shikakai and amla to clean and nourish their hair. This was before the entry of packaged beauty products from global brands. Organic and natural products that are good on the skin and hair are a way of life in India. For the uninitiated, organic beauty brands are the ones without synthetic fertilisers and pesticides, and natural products are derived from nature.
For example, raw coconut cream, rose coconut oil body polish, scalp revival charcoal and coconut oil shampoo, brightening hydrating coconut gel mask, coconut + argan oil face wipes and coconut lip gloss are some of the popular coconut-based products the world over.
Long before the world found its love for coconut and became obsessed about its beauty benefits and SPAs and massage oils became popular, Indians were regularly using coconut oil as a hair and body cleanser. Coconut oil has cooling properties as well. However, there was a science behind this.
Influence of Ayurveda
According to Ayurveda, coconut is not only good for external application but internal consumption as well. The prominent use of Ayurvedic references in several global brands and products is not a trifling matter.
Quote "Himalayan Charcoal Purifying Glow Mask by The Body Shop. Inspired by Ayurvedic traditions, this 100% vegan tingling clay mask is infused with bamboo charcoal, green tea leaves and organic tea tree oil."
The emphasis on Ayurvedic formulations is certainly here to stay. Ayurveda has roots in India and it means knowledge of a long life. Further, Ayurveda therapies are based on herbal compounds and intensive oil massage treatments.
Interestingly, The Body Shop by Anita Roddick was one of the first companies to use plant ingredients, organic and natural ingredients in a big way in their products.
India finally has more than 10 leading brands that manufacture and sell organic and natural beauty products and cosmetics based on Ayurvedic formulations.
Here's a  look at the top 5 brands in the organic beauty segment which work wonders for your skin and hair…
1. Maroma by Auroville
Maroma Products at Auroville, Pondicherry, India | Shopkhoj
Set up in 1968 by Mirra Alfassa ("the Mother"), Auroville is an experimental township near Pondicherry. This serene place is dedicated to people living a peaceful life irrespective of their cultures and nationalities. Further, they promote sustainable development through commercial activities.
However, you could certainly shop here at their community shops too. Naturally Auroville, the lifestyle store established by the Foundation, stocks the best of personal care products besides scented candles, home decor and handicraft items.
Starting from charcoal body scrubs to apricot scrub soaps, organic coconut oil, turmeric serums, kokum butter soap bars, tea tree shampoos and lavender body deodorants, they have it all. Although prices start from Rs. 150/piece, most products are priced above Rs 1,000/piece. Although not very easy on the pocket, these exquisite organic products are definitely worth the money spent.
Our Pick: Maroma Natural Clay Face Mask
Do you have oily skin? Do you really find it hard to combat excess oil? We recommend that you try their Natural Clay Face Mask for some amazing results. Apart from natural clay, it is enriched with the goodness of organic cold pressed oils along with pure essential oils. These include lemon oil for cleansing, sweet orange oil for clear complexion and rosemary oil for rejuvenating your skin, among others.
Moreover, they have a branch in Chennai and have a great online presence also.
Shop here: Auroville Products Shop in Nungambakkam, Chennai
No.8, Khader Nawaz Khan Road, Nungambakkam, Chennai-34
+91 44-28330517
2. Biotique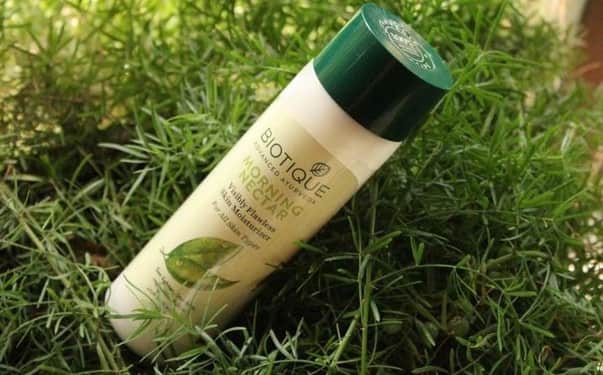 If we are talking about natural products, we definitely can't miss out on the premium Ayurvedic brand Biotique. Founded in 1992 by Vinita Jain, the all-natural beauty brand is popular for using R&D as well as innovation for its strength.
Exemplifying the ultimate in Indian traditional medicine, Biotique sells formulations derived from botanical extracts. With 100% natural botanicals,  products from Biotique are filled with natural goodness for your health and beauty.
Besides, they have a wide range of skincare and hair care products. Right from innovative cleansers, skin protection creams, replenishing night creams to hair oils, shampoos and conditioners, they have amazing preservative-free solutions for everyone.
All these products certainly smell (and of course work) great. We particularly liked their sandalwood and morning nectar moisturizers, green apple and soya protein shampoos along with watercress conditioners. And yes, they offer value for money as well.
Our Pick: Biotique Bio Morning Nectar Flawless Skin Lotion
It is important to nourish and moisturize your skin to keep it looking young, radiant and beautiful. We tried using this skin lotion from Biotique and the results were definitely awesome.
Abundant in pure fruit and vegetable extracts, this cleanser makes you smell great as well. Enriched with natural ingredients like Baheda, Methi and Madhu, the lotion helps cleanse face dirt and impurities (thereby reducing acne). What's more, the product doesn't interfere with the natural pH balance of your skin.
Key Ingredients:
Baheda (Terminalia Belerica), Methi (Trigonella foenum graecum), Madhu (Honey Mel), Ankurit gehun (Triticum valgare), Kusumbhi (Carthamus tinctorious), Vach (Acorus calamus), Lotion Q.S.
Shop here: Biotique Cosmetic Shop in Khan Market
29-A, Khan Market, New Delhi – 110003
Phone: 011 – 24622056
3. Forest Essentials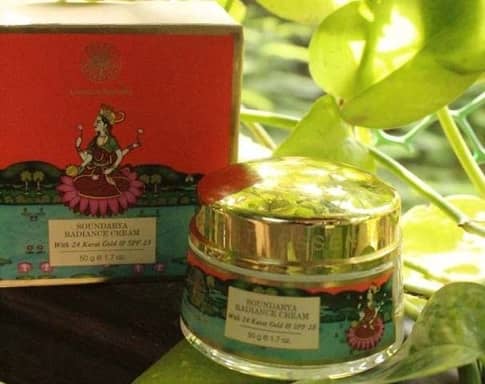 They offer handmade products across four categories: facial care, body care, hair care and wellness. First and foremost, the beauty of these products is that they are not made in factories in industrial areas. They are in fact extracted from natural products in the Himalayas. What we eventually get are fresh seasonal formulations using rare plant extracts, pure cold pressed oils and herb infusions.
If you are looking to give your skin some fresh pampering, we recommend you to get started with some super calming oils from Forest Essentials. The Chandan and Camphor body massage oil, for instance, are very relaxing. Likewise, the Soundarya radiance cream has gold flecks in the formulations and is light and delicate on the skin. As a result, the skin feels ultra soft after constant use.
Our Pick: Intensive Eye Cream With Anise
So you have tried everything to reduce dark circles and puffy eyes? But nothing seems to have worked so far? We recommend this eye cream from Forest Essentials to alleviate the problem.
This innovative eye cream comes with delicate herbs as well as active extracts of papaya and potato starch. When applied regularly, it surely helps deliver hydration and moisture around the delicate eye area.
Key Ingredients
Aqua (Water), Prunus Amygdalus (Almond) Kernel Oil, Olea Europaea (Olive) Fruit Oil, Triticum Vulgare (Wheat Germ Oil), Aloe Vera Leaf Juice, Cucumber Fruit Extract, Papaya Fruit Extract, Potato Starch, Anise Seed Extract, Vitamin E
Shop here: Forest Essentials
N-18, N block Market, GK Part-I, New Delhi-110048
Phone: 011-46528984
4. Kama Ayurveda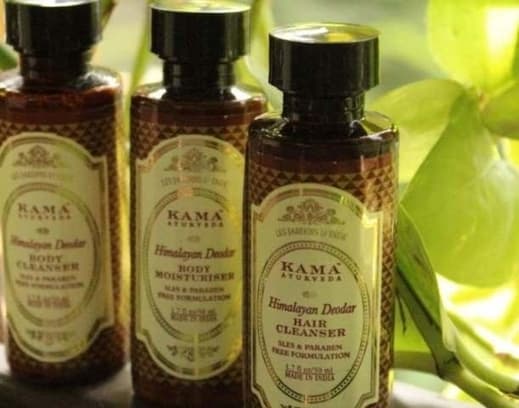 This is yet another tried and tested brand that blesses your skin and hair with epic results. Set up in the year 2002, Kama Ayurveda is well-known for its iconic beauty treatments. They offer a complete range of body care and aromatherapy products. Soap free face cleansers and natural plant masks, for instance, are made with organically grown herbal ingredients to enhance beauty and well being. They have a great fan following owing to their exquisite range of products.
You may certainly stock up on their Bringadi Intensive Hair Treatment and Kumkumadi Miraculous Beauty Fluid and Organic Coconut Oil.
We absolutely love their pure skincare range because it actually helps undo all the harm our hectic lifestyle inflicts on our skin.
Our Pick: Organic Sweet Almond Oil
Feel free to indulge yourself in this time-tested organic beauty oil treatment from the house of Kama Ayurveda. This feels very light and gentle on your skin. We particularly liked the delicate sweet smell resulting from the ripe seeds of the Sweet Almond tree.
The rich oil promises multiple benefits. Right from lightening dark circles, spots and marks, this herbal cleanser helps control hair fall besides adding lustre to your damaged hair. Yes, it's just perfect for baby massages as well.
Key Ingredients
Amygdalus Communis (Almond)
Shop here: Kama Ayurveda Khan Shop at Khan Market
22 A, Khan Market, New Delhi – 110003
Phone: 011 – 24654886 , 43061303
5. Shahnaz Husain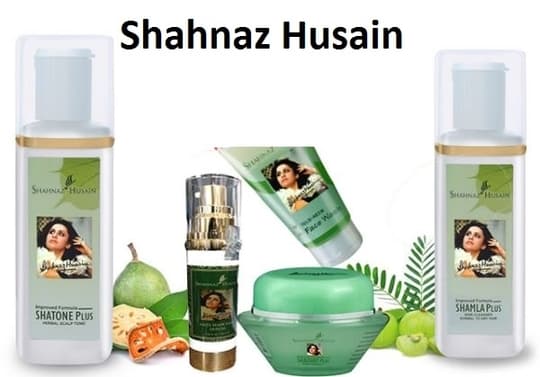 The pioneer of organic beauty care, Shahnaz Husain entered the herbal market in India four decades ago.
What sets the brand apart is how it uses the ancient herbs to make it relevant to modern customers. Shahnaz Husain boasts of nearly 375 innovative formulations for general beauty care, treatment of skin and scalp disorders, health and fitness.
For instance, in its products, the brand makes use of 100% ingredients from botanical sources. These include honey, cucumber, rosewater, flower extracts, neem and sandalwood. We particularly liked products such as Shaglow, Shalife and Shamask as they palpably do wonders for your skin.
Our Pick: Lip Balm Lip Care & Shine
The brand mantra is: It's not just care – its repair! Try out their Lip Balm Lip Care & Shine to sooth your dry and chapped lips. This Ayurvedic lip balm is enriched with natural emollients like Shea Butter, Almond oil and Vitamin E. Besides, it is available in two colors: orange and purple.
Key Ingredients
Finally, Beeswax (Cera alba), Butyrospermum parkii (Shea Butter), Prunus amygdalus dulcis (Sweet Almond) Oil, Fragrance (Parfum)
Shop here: Shahnaz Husains Shop in Khan Market
12-B Khan Market, New Delhi – 110003
Phone: 011-2469 0610
4 Critical Facts You Should Know About Organic Products
# "Organic" or "Natural" does not mean that it is too expensive. 
# Organic farming is also more environment-friendly. So that makes an even stronger case for you to opt for organic products.
# Organic products are just as powerful as their non-organic counterparts.
# Additionally, organic beauty products open the way for a healthy lifestyle.
---
View our videos
SIGN UP FOR NEWSLETTER
Be the First to Know. Sign up to newsletter today