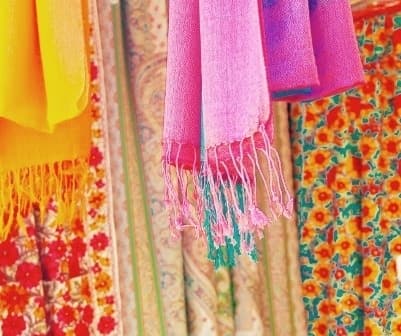 Shawls & Scarves
What is a Shawl?
Be it a casual function or a special occasion during winters, women simply love to keep themselves stylishly warm with this finished piece of wool fabric called "shawl". In other words, lengthwise, a shawl is large enough to be easily wrapped around the shoulders and upper body parts. As a matter of fact, it usually comes in rectangular shape (approx. 100 x 200 cm in dimensions). Other available shapes are square and oval. Above all, shawls & scarves are compulsive accessories in today's world.
Shawls & Scarves Available at Delhi:-Kate Spade, Christina, Zara, H&M, Zara in Ambience Mall ,
Available at Chennai:-Zara,Marks & Spencer
 Bangalore shop for Shawls & Scarves :-Fab India  and Salone Silks  
 Mumbai shop for Shawls & Scarves  at :-Palladium Mall 
While plain shawls are mostly used by men, women choose embroidered and embellished shawl to add a touch of elegance & style to complement a casual outfit.
To keep yourself warm and stay comfortable, there are a variety of shawls to choose from ranging from woollen shawls, pashmina shawls, embroidered shawls, jamawar shawls, Kantha shawls, plaid shawls and fur shawls, among others.
Scarves
A symbol of femininity, a scarf is a piece of fabric usually made of fancy silk. This fashion accessory is worn around the neck by women for warmth, elegance and religious purposes.
Besides silk, scarves are also available in other materials such as linen, cotton or wool. Long and thin scarves, square-shaped scarves, or pashmina scarves, they come in a wide variety of shapes and styles.
Small square scarves or bandanas are quite easy to carry. They are made up of cotton or silk. Whereas neck scarves are a bit larger than bandanas.
Long or oblong scarves are in the shape of rectangles but less wide than shawls. Made from wool, they can be either draped over the shoulders or worn around your neck.
No matter what they are popularly called, these finished pieces of fabrics always come in handy to up your style quotient.
In winter, stoles and shawls come in handy. You can wear it on the head or around your neck too.
Read our blog
Check our videos
SIGN UP FOR NEWSLETTER
Be the First to Know. Sign up to newsletter today