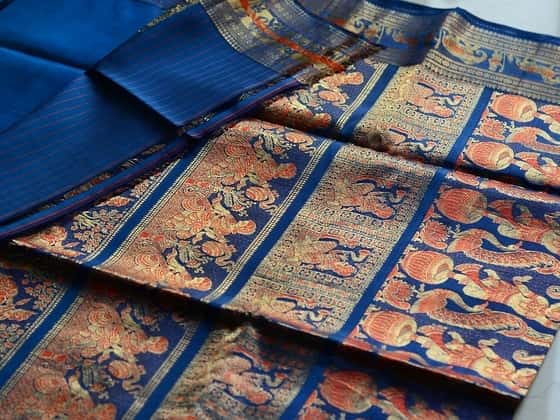 Baluchari Sarees
Balucheri in West Bengal
Baluchari sarees are popular in Bangladesh and Bengal. The name Baluchari is derived from the small village of Baluchara located in Murshidabad, West Bengal. It is believed that the Baluchari sarees have their roots in the Jamdani sarees of Dhaka.
Available at Delhi:- Manjusha
Available at Kolkata:- Traders Assembly, Vermilion, Priyo Gopal Bishoyi
Where are Balucheri sarees woven
Baluchari sarees are woven in Murshidabad in Bengal. They are distinct because of the mythological figures woven in the pallu of the sarees. They are now being produced in Bishnupur and in other surrounding areas also. The most well-known of Bengali silk is the Baluchari sarees – a product of exquisite design and fabulous weaving technique. constant Royal patronage encouraged the weavers and helped to keep the weaving traditions alive. they are woven in Tussar silk.
Firstly, the silk is extracted from the cocoons, and the durable yarn is manufactured for the saree fabric.
Mythological motifs in Balucheri sarees
Further, mythological motifs are drawn on the graph paper and an initial sketch is done on the fabric. In addition, Jacquard weaving is undertaken to complete the designs on the sarees.
Baluchari can be made from simple threads, known as Resham Baluchari. there are meenakari baluchari sarees that have colourful meenkati patterns in them and finally Baluchari in gold and silver threads that are said to be very expensive.
Check our videos
SIGN UP FOR NEWSLETTER
Be the First to Know. Sign up to newsletter today
12 views