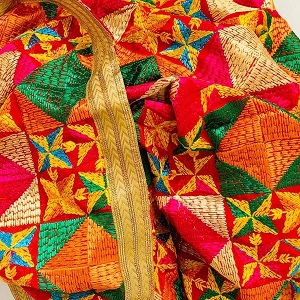 The colourful and vibrant embroidery that is done in the State of Punjab is known as Phulkari. It is a specialised embroidery. Firstly, Phulkari means flower craft or art with flowers. Colourful silk threads are used to create flower patterns on the fabric. In other words, the embroidery as the name signifies is restricted to floral patterns. The end result is a rich tapestry of beautifully woven colourful flowers.
It is available in Delhi at:- Cottage Emporium, Dilli Haat, Phulkari-Punjab Emporium 
The base fabric is typically cotton cloth. In addition, silk & polyester fabrics are also being used now. Further, the stitch is done on the wrong side of the cloth to give a beautiful finish on the top. The mix of colourful silk threads creates a beautiful and exciting design. It is hand embroidered and the women in rural areas are active in producing this design. The Punjab region is known for its festive colours, loud Bangra music & dance, hearty Punjabi meals & warm hearted & folksy people. Above all, the Phulkari embroidery is embodiment of that rural & earthen  Punjabi spirit. Hence, it is full of life & colour.
is worn by women on festive occasions and on marriages. Dupattas, veils & dresses with phulkari embroidery are very popular.
It is essentially part of the bridal trousseau. Phulkari is an ancient craft and there are references in the Vedas & Mahabarata about Phulkari.
The Punjab Government Emporium in Delhi is known as Phulkari. Such is the popularity of this embroidery.
Also Read https://www.bbc.com/news/av/world-asia-india-56290631
Check our videos
SIGN UP FOR NEWSLETTER
Be the First to Know. Sign up to newsletter today