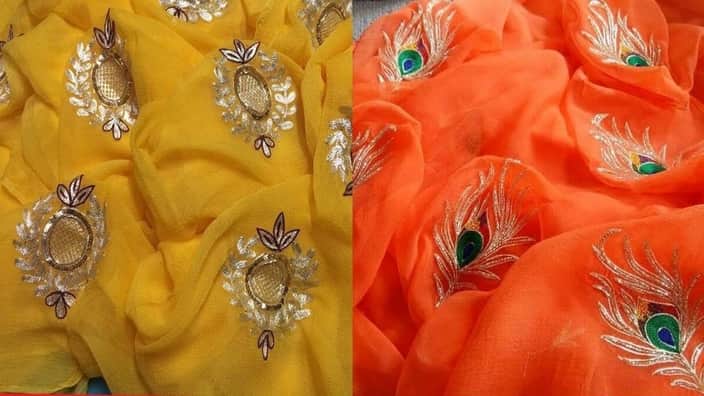 Swarovski Fabrics
Daniel Swarovski founded the Swarovski brand in Austria. He patented the art of crystal cutting. The idea was to bring affordable diamonds to everyone. Ever since Swarovski Crystal has been incorporated in Indian Dresses.
Available at Delhi:- Janavi, Frontier Raas, OPJawahar, Meena Bazar, Ramji Sons Fabric store
Since then, the eponymous brand has taken the world by storm. Swarovski stores can be found in many of the cities around the world. They have jewellery, watches, accessories and home decor pieces made of Swarovski crystals.
Swarovski Crystals & Indian Wedding Wear
Indian wedding wear and bridal wear dresses incorporate a lot of crystals also called Swarovski crystals. This enhances the beauty of the embroidery. Crystals lend shimmer and glamour to the attire.
Swaroski crystals are sewed on to the wedding lehengas, the blouses and the dupattas along with the original embroidery designs. It adds a touch of opulence and sparkle to the dresses. More often than not, it is the designers who use Swarovski in their designs as it is expensive and is not used normally.
Bridal lehengas that are made with Swarovski are no doubt very grand and beautiful.
Check our videos
SIGN UP FOR NEWSLETTER
Be the First to Know. Sign up to newsletter today