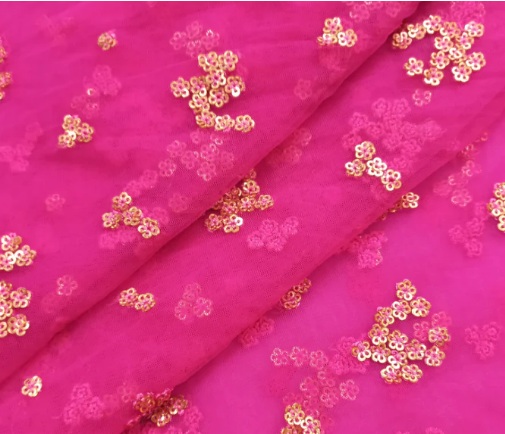 Sequins Fabrics
Firstly, Sequins are disk-shaped beads used for decorative purposes. For instance, they were originally made from shiny metals. However, today they are most often made from plastic. In fact, they are available in a wide variety of colours and geometrical shapes. Further, Sequins dresses are popular as they enhance they dress.
Available at Delhi:- Chhabra 555,  Frontier Bazaar, Nargis, Lajpat Nagar, Ram Chandra Krishan Chandra (RCKC), OP Jawahar Lal, Frontier Raas, Kinari Bazar , Ushnak Mal Mool Chand, Ahujasons Shawl Wale Pvt. Ltd.- Karol Bagh
Available at Chennai:- Karishma, Kay Fashions, Ritu Kumar Designer Wear
Available at Bangalore:- Tamana, Karishma Silks, Qlue, H2O Cu, Kalanikethan
 Kolkata:- Savera Sarees, Kanishka's, Indian Silk House
Available at Jaipur:- Vandana Creations, Pratapsons Jaipur ,Vasansi Jaipur, Rana's,
Available at Mumbai:- Neeta Lulla
Bangalore:- Sakhi
Available at Kolkata:- Prapti, Kanishka's
Sequin Dresses
They are shiny and give a very starry & shimmery effect when sewed onto the clothes. For example, they are normally used in creating Indian bridal wear lehengas, blouses, salwar suits and sarees. For instance, Rana's in Jaipur, for instance use a lot of sequins in their dresses. They are grand. Sequins are now stitched onto tops, gowns & dresses to make them more appropriate for a gala evening. It is popular way to accessorize garments, shoes, bags and other decorative pieces.
Janpath Shopping Market has a lot of tops with sequins dresses.
Designer wear stores in Delhi & Mumbai stock a lot of gowns with crystals. Marks & Spencer & Zara store stock western dresses with sequins.
Check our videos
SIGN UP FOR NEWSLETTER
Be the First to Know. Sign up to newsletter today
4 views