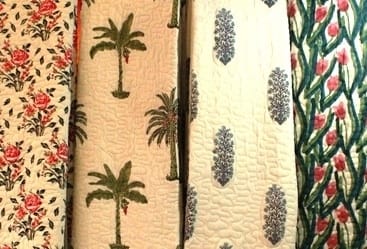 Home Furnishings
Home furnishings
The home furnishings segment has got new wings as Indians become more conscious than ever about quality and aesthetics.
Therefore, upholstery, bed linens, curtains, bath linens, bedsheets, pillow covers, mats, cushions, quilts, bathroom accessories, blankets, towels and curtains are manufactured to international standards and designs in India. The availability of fine cotton and other indigenous fabrics makes it possible to manufacture a wide range of home furnishing products.
Available at Delhi:-Jagdish store, Good Earth, Fabindia, Anokhi
Available at Chennai:-Anokhi, Fabindia
Shop in Bangalore :-Mother Earth
Available at Mumbai:-D'decor
 Furnishings-Bedsheets
You can check out the ones with sustainable fabrics and wrinkle-free, fresh look. It's no longer about the colour and the pattern that you go for, but also how it benefits your individual well-being on the whole.
The demand for organic cotton as well as bamboo as bedsheet fabrics is on the rise these days. Modern customers usually prefer materials that help regulate temperature besides promoting a good night's sleep.
Colour coordinated bed sheets and duvet sets are in demand.
 Furnishings -Curtains
Curtains offer an easy way to enhance the tone and mood of a room. It is always advisable not to look at the purchase of these drapes as an afterthought.
Whether it is lightweight cotton, heavy velvet, sheer lace or polyester, they are essential for the house. Readymade curtains are available in standard sizes in several the shops. Tailors are also available in the shop to deliver bespoke curtains.
Bath Towels
To lend a refreshing touch to your bathroom, you can opt for accessories like towels, hand towels, towel sets, bathrobes, bath mats, pool towels, laundry bags and shower curtains.
You can either opt for cotton towels which are available at low prices or eco-friendly bamboo towels which are naturally antibacterial. Egyptian cotton towels are known for their softness and durability whereas the ones made with Turkish cotton are soft, durable as well as very absorbent.
A well-placed hand towel makes for a decorative bath accessory (especially with a decorative trim).
Talking about dining and kitchen accessories, you can explore products like table covers, table mats, aprons and napkins.
Fabindia, Anokhi, Good Earth and Lifestyle are some of the popular stores for home furnishings products.
Check our videos
SIGN UP FOR NEWSLETTER
Be the First to Know. Sign up to newsletter today