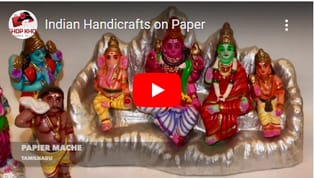 Papier Mache
What is Papier-mâché?
Firstly, Papier-mâché or Papier Mache literally means chewed or pulped or mashed paper. This composite material is made up of paper pieces or pulp, either moulded with wire or textiles or bound with glue or starch. They are certainly very colourful.
Available at Delhi:- Kashmir Emporium(Delhi), Panthoibo Manipur Emporium, Mehra Bros, Central Cottage Industries
Available at Bangalore:- Central Cottage Industries
Shop in Chennai at:- Kalpa Druma Handicraft
Available at Pondicherry:- Treasure
Indian Handicrafts on Paper
Papier Mache
-History
Further, since ancient period, artists were involved in the making of Papier Mache objects in places like China and Tibet. The Georgian and Victorian periods (1720-1900) also bore witness to the popularity of this art form.
From being used to make decorative materials like cards, small boxes, wall brackets, decorative ceilings, and inkstands, Papier-mâché has come a long way. Now, artisans make use of machine-driven techniques to make even 'japanned' furniture.
Papier Mache in Kashmir
In India, Kashmir sourced this exquisite handicraft from the land of Iran. Decorative pieces such as trays, book covers, lamps, toys, mirror cases, and flower vases continue to be made by artisans in this part of the country in bright colours like red, yellow, blue, green and brown. They are spectacularly beautiful.
Further, Craftsmen from Orissa, Bihar, Madhya Pradesh and Uttar Pradesh are also known for making a variety of decorative papier-mâché items.
Check our videos
SIGN UP FOR NEWSLETTER
Be the First to Know. Sign up to newsletter today
8 views