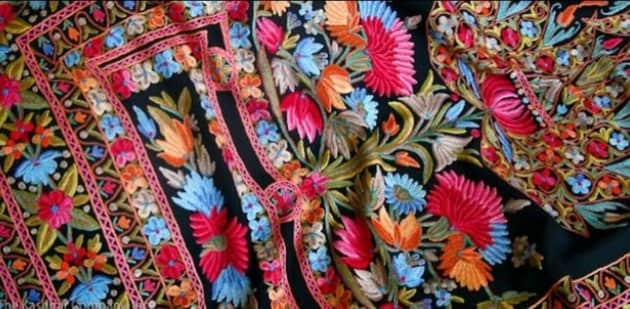 Kashmiri Embroidery
What is Kashmiri Embroidery?
India is a land of diverse cultures and religious beliefs. As a matter of fact, this has promoted some wonderful art and craft forms that are admired all over the world. Above all, one such craft is the Kashmiri Embroidery or Kashida embroidery. In other words, it is a popular needlework technique from the Jammu & Kashmir region.
Available at Delhi:- Kashmir Emporium, Shaw brothers, Bharati Delhi Emporium, Wrap, Ahujasons Shawl Wale
Avaiable at Chennai:- Central Cottage exposition
Further, craftsmen make use of this particular type of embroidery to beautify outfits of both men and women. For instance, the embroidery is done on , shawls, kurtas, jackets and dupattas. In addition, this form of embroidery can also be seen on carpets, rugs, stoles & wall hangings, and bags.
History-Kashmiri Embroidery
The Kashmiri embroidery gained ground under the patronage of Persian and Mughal rulers. It is said that a Persian sufi saint introduced this as a skilled craft in Kashmir. above all, as extreme cold weather makes farming difficult in winter season, Kashmiri embroidery soon became a favourite with locals. It provided domestic employment and livelihood.
Popular Motifs in Kashmiri Embroidery
Material used is a black wool for winter wear or cotton cloth for summer wear. Craftsmen take inspiration from the scenic locales of Kashmir to produce beautiful motifs in a single-stitch style. These include a wide variety of birds, blossoms, fruits and trees (particularly chinar) which are portrayed in different colours and shapes.
Firstly, the design is traced on the fabrics. Craftsmen use charcoal or chalk powder to leave a trail of dots. The stitches are superimposed on these dots.
Some of the well-known stitches are: a simple running stitch with stem stitch (kanigar) in a darker shade, buttonhole stitch, chain stitch, herringbone stitch, satin stitch, slanted darning stitch, stem stitch and straight stitch. Colourful needlework is what sets apart the Kashmir embroidery.
Check our videos
SIGN UP FOR NEWSLETTER
Be the First to Know. Sign up to newsletter today