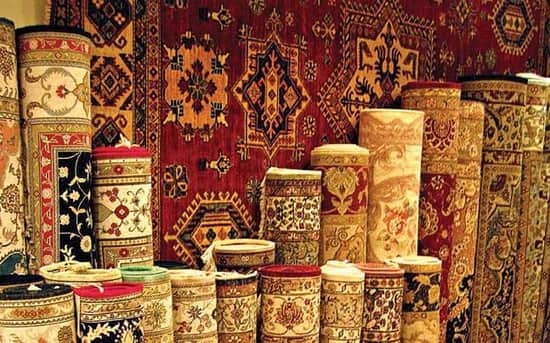 Kashmiri Carpets
Introduction to Kashmiri Carpets
Kashmiri carpets or Carpets from Kashmir are celebrated world over. They are handmade and they epitomize beauty, luxury and aesthetics. They are primarily made in pure wool, pure silk and occasionally wool and silk blends.
For example, the Kashmiri carpets are appreciated the world over for their exclusive designs and elegant finish. In other words, it will not be an exaggeration to say that a carpet from Kashmir brings a sense of elegance and beauty to your home. If you own one, you know what we are talking about!
Available at Delhi:- Kashmir Emporium, Shaw brothers, Bharati Delhi Emporium , NCEOriental Rugs 
Available at Chennai:- Central Cottage exposition
History of Kashmiri Carpets
It is believed that King Budshah introduced the concept of carpet weaving in Kashmir in the late 15th century. He is said to have brought Persian artisans in India to up skill Kashmiri people in spinning and weaving carpets.
This traditional craft is passed on from one generation to another within a family. In other words,  the son inherits the skills and techniques involved in this art form from his father.
Carpet Making
In Kashmir,  for instance, locals generally refer to the carpet factory as the Karkhana. In other words, this is the place where weavers gather to create the masterpiece. On an average, it takes around 2 years to complete a carpet depending on its size and design.
Above all, the three-step process necessitates the involvement of many people right from the designer to the dyer and the weaver. The knots in the carpet define the intricacy and thickness of the carpet. One has to turn the carpet and take a look at the back to understand the knots per square inch.
They are available in a wide-ranging colours, designs and sizes. Akin to the famed Persian (Iranian origin) carpets, the Kashmiri carpets are widely seen as an investment for a lifetime.
Finally, apart from the floor covering, they can be used as wall hanging as well.
Carpet Blogs
Top 9 Exquisite Carpets From India
Check our videos
SIGN UP FOR NEWSLETTER
Be the First to Know. Sign up to newsletter today
6 views