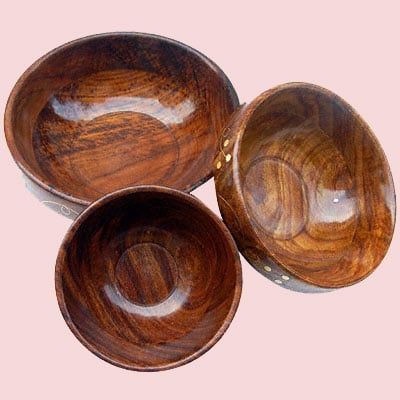 Sheesham
Sheesham Wood -The Origins
Sheesham Wood  or the Indian Rosewood comes from a tree called Dalbergia Sissoo. These trees are predominantly seen in the Sub-Himalayan areas.US, Africa and Australia are some of the other countries where this tree is grown.
This tree is also known as Indian Dalbergia, Sheesham tree, Himalaya Rain tree, Penny Leaf Tree, Shishan, as well as Sissoo.
In dry areas, the Sheesham tree can reach a height of 10-15 meters. Whereas in wet regions, it can grow as tall as 30 meters.
Besides Sheesham wood, this tree is also a good source of medicine for the locals. It comes in handy while treating stomach issues as well as skin-related problems. The twigs of Sheesham tree also help in improving oral care.
Available at Delhi:- Cottage Industries Emporium, Utkalika
Shop in Jaipur at:- Mangalam Arts
Available at Chennai:- The Museum Company
Available at Kolkata:- Kashmir Gift House
Sheesham Wood – Ideal for Furniture
What makes the Sheesham wood perfect for furniture is the fact that the wood is heavy and highly durable.
In terms of colour, it varies from golden brown to deep reddish brown with darker streaks.
Perfect for Wood Carving
Artisans also widely use the Sheesham wood for carving and engraving purposes as it is hard and is coupled with medium coarse texture and high tensile strength.
Moreover, it is popularly used in cabinets as the wood does not easily split or bend like most of other varieties of wood.
This wood  is also highly resistant to dry termites and natural decay.
Check our videos
SIGN UP FOR NEWSLETTER
Be the First to Know. Sign up to newsletter today
1 views