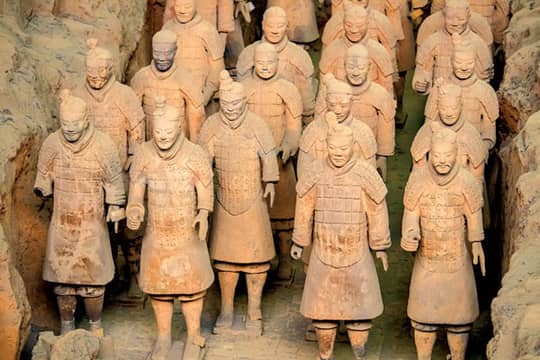 Terracotta
Terracotta: Word Origin
Firstly, the word "terracotta" means "baked earth". Above all, terracotta refers to the clay based earthenware. For instance, the word is sometimes used to elucidate a terracotta product's natural brown-orange tint as well. Terracotta articles & tiles are very popular.
In other words ,one of the key reasons why the use of terracotta is so widespread across all continents is that the clay is easily available everywhere. Though not entirely pure, the clay has elements of minerals and iron oxide.
One may determine the rich history of this material by the fact that archaeologists have found some of the oldest pottery  from this material dating back to 24,000 BC.
Available at Kolkata:- Dakshinapan shopping Centre
Shop in Chennai at:- Poompuhar 
Available at Delhi:- Dilli Haat, Central Cottage Industries, Assam Emporium, Moha
How is Terracotta made
Clay is moulded into the desired shape and is placed in a kiln after it is dried. In other words, the iron content & oxygen reacts to give the reddish colour to the fired object.
In addition, it can be painted. It is first covered with gesso before the painting is done.
Articles & Terracota tiles
Horses, also popularly known as Bankura horses and jewellery from this material are popular in Kolkata.
The Bankura horse is a horse with a unique design, produced in Bankura district West Bengal. It has been praised for "its elegant stance and unique abstraction of basic values." Originally used for village rituals, it now adorns drawing rooms across the world as symbols of Indian folk-art. It is the logo of All India Handicrafts.
Many civilisations worked with terracotta. The terracotta art of Asharikandi, a little village in Assam's Dhubri district, has enticed people from all over the country. What set it apart from any other  pottery are its unique aesthetics and design which are perfectly in sync with the region's cultural characteristics. Their accomplishment is well reflected through their toy called Hatima Putul which is a mother elephant with a baby elephant. Over 300 artisans of this village work tirelessly to keep the spark alive in the ancient craft of  pottery.
Terracota Tiles are also very p
Finally, the popularity of terrecota is known from the fact  that the well-known Terracotta Army from the land of China is a splendid work of craftsmanship. It is a stunning display of  figures comprising over 8,000 life-sized soldiers, 520 phenomenal horses, and 130 staggering chariots along with 150 cavalry horses. The First Emperor of China is believed to have made skilled artists give shape to the  Army to protect him in the next world.
Check our videos
SIGN UP FOR NEWSLETTER
Be the First to Know. Sign up to newsletter today
7 views