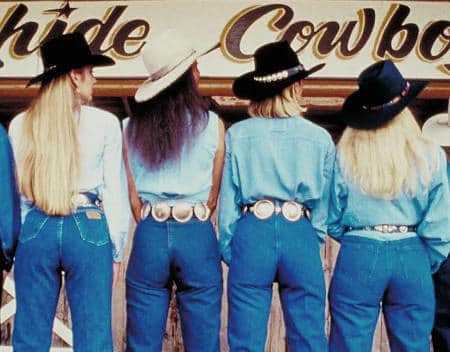 BLUE JEANS-RUGGED,RIPPED & REBELLIOUS
Ananya Madhavan
1455 views
add comment
Why Are Jeans Popular?
Jeans are casual wear trousers. They are also known as denim jeans or blue jeans. While they are available in multiple colours, typically, they are in indigo blue.
 It is not difficult to understand the popularity of this garment, as it is difficult to find an alternate garment that is as comfortable. Above all, they are worn because they comfortable, cool & classy. In addition, people from all walks of life seem to covet these trousers. Preteens, teenagers, middle aged folks & senior citizens all love to wear it. Further, the jeans suits all body types. Tall, short, fat and slim people can carry off the jeans.
They are a classic symbol of the American cowboy attire which has been adopted the world over due to their comfort. One can spend hours in a pair of jeans. People embrace this apparel in almost all the countries. This garment symbolises an exceptional level playing field where clothes are concerned.
How Did It All Begin ?
 Jacob Davis was a tailor in Reno Nevada, who used to stitch  denim work pants  for miners & other workmen in mid 1800s. They were basically heavy duty work wear trousers for the working class. Uniforms & workmen's overalls used denim cloth which was  sturdy & long lasting. The term "denim" derives from the French "serge de Nimes", meaning "serge (a sturdy fabric) from Nimes". WIKI . As a matter of fact ,it  was first  produced as  serge de Nimes in France in the seventeenth century.  It is the twill weave that gives denim its character. Two weft threads go under 2 warp threads. It is diagonally woven. Denim is subsequently coloured with indigo dye.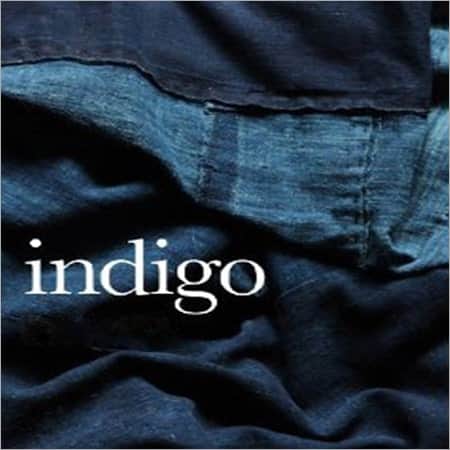 Denim Jeans
It was Jacob Davis who  hit upon the idea of introducing  metal rivets in the denim trousers that he was sewing. This was to reinforce vulnerable patches & make them sturdy. This gave the durable trousers a vital character. He used to purchase the  denim cloth from one Levi Strauss who was a German immigrant & who had a trading business in San Francisco. He subsequently partnered with Strauss to patent the product. The jeans, as Wikipedia says was conceived & created  by Jacob W. Davis  & Levi Strauss in 1871.
1873 – Strauss & Co. and Jacob Davis received a U.S. patent for an "Improvement in Fastening Pocket-Openings." by adding metal rivets to work pants, which would be known as blue jeans. They created stronger pants for working men.
With the patent for riveted jeans set to expire in 1890, the company came up with the idea of using a simple image to convey the toughness of the pants. The two horses trying in vain to rip the jeans would become a trademark of the company and appear on patches since its inception.-WIKI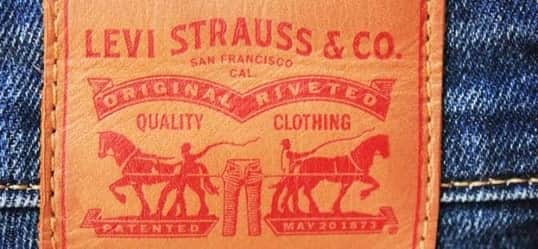 Blue Jeans Era
However, it was not until movie stars made it popular  that  the blue jeans era unfolded.  Marlon Brando in the film, the Wild One (1953) , was a young motorcycle club gang leader. James Dean in the film, Rebel Without A Cause , was a rebellious teenager. Both Marlon Brando & James Dean wore blue jeans. These films  popularized these pants  as a pair of rugged, macho trousers for youngsters. The actors  apparently wore jeans outside of  the films too. Bad boys in films were always dressed in jeans. Hollywood  also started the trend of clothing all actors in  blue jeans in Western action films. The jeans, in addition to being the clothing of the western cowboy,  was  a clothing of the American GIs (American soldiers).  It soon  became a sought after apparel.
Moreover, the versatility of the jeans was appealing– it was anti-establishment, rugged & cowboy in appearance. You did not have to wash or iron the jeans. This caught the imagination of the teenage generation. Teenagers took to it in a symbolic way. It was gender neutral, bold, fashionable, stylish & did not define you. It was a symbol of youth, freedom, independence & style.
How Did Jeans Become The Talking Point ? 
It is  well known that jeans is  an essential part of a man's attire  and a woman's wardrobe as well.  The denim jeans are comfortable, stylish, rugged, and can practically  be worn every day . No questions . As a matter of fact, you can get away by just owning a pair of jeans. It is particularly useful during travel. It is also acceptable to be worn at workplace in many offices.  What made it a talking point was the constant innovation in styles. The shift from being workwear to fashion wear is something very remarkable. Who would have ever thought that a simple pair of jeans can lend itself to constant innovation & styling ?
Denim Jeans Market
The  global denim jeans market  was valued at at USD 64.62 billion in 2018 and is expected to grow at a compound annual growth rate (CAGR) of 6.81% from 2019 to 2025. Growing target population across the globe and rise in consumer disposable income levels, especially in emerging countries like India and China, are projected to be among the key growth-driving factors for the market.( https://www.grandviewresearch.com/industry-analysis/denim-jeans-market)
 Growing Popularity of Jeans for girls 
Some of the reasons for the growing  popularity of the denim jeans  are :
New designs & innovations flood the jeans market every season. Flared, boot cut, baggy, low waist & now ripped  & distressed. The new innovations are exciting to the youngsters
Levi's & other major  fashion brands such as Benneton, Lee, Wrangler, Calvin Kline, Tommy Hilfiger & Diesel  continue to storm the market with their innovations, thus  attracting  stylish customers. Jeans for girls is a growing market.
Improving standards of living across the world
 Further, local manufacturers  flood the  local markets and make it affordable.
 Finally WFH(Work from home)  culture during the pandemic has made the jeans a daily home office garment.
Emerging New Styles
New styles are being designed and produced every season.  However, jeans in shades of blue are much sought after and they can  be frayed, distressed, baggy or fitted.  Everyone is obsessed with trends. Youngsters in particular cannot be caught out in outdated  styles. The ripped jeans, for girls  that are in vogue right now are confusing & puzzling. Why would anyone spend good money to wear torn denims ?  In addition, jeans for girls was an emerging market.
Let us  just go over  some of the latest styles – The Levis 501 was one of the first to be produced by Levi's Strauss. They were simple ,straight and had pockets with rivets.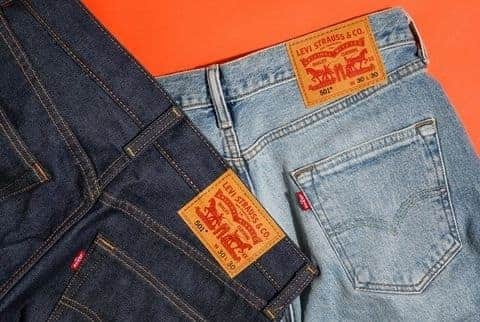 1.    STRAIGHT LEG 
The straight leg  means just that. It is  the one that go straight down to the ankle.  Further, it has a  normal trouser fit. This has been the mainstay for several years. Men's denim are mostly straight leg  jeans.
2.    SLIM FIT
Slim fit is a bit narrower than the straight fit  and  this style too goes all the way till the ankle. Further, this style strikes the perfect balance between the skinny ones and the straight fits.  It is sculpted to the hips and thighs and offers a slim look .
3.SKINNY 
Firstly, they are skinny and figure hugging and made of stretchable material. They go right up to the ankles.
4.BOOT CUT
This is fitted around the thighs and flares out a bit towards the bottom.  In other words, as the name indicates ,they are supposed to  be easily worn with big boots. Hence the broad legs.
5.FLARED 
Flared jeans have flared bottoms  that is  much more wider than boot cut jeans for girls. They are  similar to  the  bell bottom style .
6.WIDE LEGGED
Wide legged are kind of loose  & baggy which is in vogue now. They are loose from the top to all the way down.  As a matter of fact, they appear like palazzo pants.
7.HIGH RISE
High rise starts from the waist, mid rise from the midriff & low jeans start below the naval.
8.DISTRESSED
Distressed  & torn jeans for girls are the latest craze. Above all look tampered & worn out. They are  in fact altered during  the manufacturing  process to appear so. The fabric may have patches on it or permanent creases  or scratched patterns.  Further, they could look worn out or frayed at the edges. However, the most popular are the ones that are frayed at the knees. As a matter of fact, they are quite comfortable giving the wearer the liberty & legroom to bend the knees without hindering any movement.
To conclude, you can own more than one style of course. As a matter of fact, jeans is available in white, cream, brown & in a multitude of colours. However, the blue jeans has something particularly attractive & has universal appeal.  Above all, whatever is your style, make sure you are just as comfortable as is possible in your pair of jeans. That is the primary purpose of this invention.
Jeans are available in Zara, Marks & Spencers, levis, Benetton ,H&M,  Vero Moda
Blue jeans is so popular that the best communication platform from Verizon is named Blue Jeans. Fancy that.
---
View our videos
SIGN UP FOR NEWSLETTER
Be the First to Know. Sign up to newsletter today