Rattan Deep Sari Shop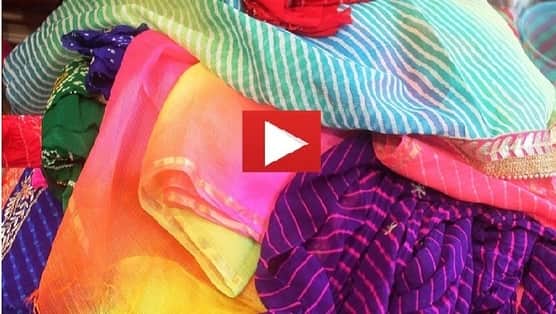 The Rattan Deep shop in Jaipur is a trusted and well-known shop. Located in Johari Bazar shopping Market, this is a small shop. However, they  are popular for Jaipur leheriya sarees with gota pati ,Jaipur Kurtis and other varieties of Jaipur sarees
They have a stock of cotton, Kota, georgette, crepe and chiffon sarees and unstitched salwar suits with leheriya and bandhej (tie and dye) prints. They mainly stock traditional sarees. The selection is limited but extremely elegant and beautiful. Moreover, they introduce new designs quite often. The prices are fair and reasonable too.
Jaipur Sarees in Bandhej@ Rattan Deep
Gotta Patti is kind of appliqué work in gold or silver ribbons that is attached to the fabric. This is a very popular kind of saree and is quite unique to Rajasthan. The Gotta Patti is attached to the bandhej saree which comes in bright and festive colours such as red, fuchsia pink and orange. Further, the gold or silver work is done on the borders and on the pallu. Bandhej is a tie and dye saree with dots. Gotta Patti sarees are available from Rs 8,000/saree.
 Jaipur Sarees@ Rattan Deep
Kota Sarees are a kind of transparent gauze like sarees with checks. Besides, they are super light fabrics and perfect for the Indian summer. Kota sarees with beautiful Zari work is available in stylish pastel shades in this store. Additionally, they are available at a very reasonable price in Rs 1,000-Rs 2,500/saree range.
Gharchola are sarees with Zari (golden threads) as the integral part of their creation. Weavers mostly use Gaja silk or georgette to make Gharchola sarees. These sarees are distinguishable by their typical grid pattern. Moreover, Gharchola sarees are ideal for wedding or festive occasions. They come in bright colours and cost upwards of Rs 12,000/saree.
 Jaipur Kurtis @ Rattan Deep
The Rattan Deep store has some of the most beautiful kurtis in leheriya with a bit of gotta patti work on the neck. Again, they are very light weight and ideal for summer. They look very elegant too. Purple, pink, red and blue are attractive colours for the Kurti.
Dupattas
Dupattas with Gotta Pati borders in dark shades add a dash of colour to any simple Kurti or salwar kameez. You can also find some Kota dupattas. Dupattas have become very trendy now. For instance, they can be worn with both western clothes  such as kurtis & jeans and with Indian salwar kameez dresses. As a matter of fact, the Rattan Deep Store has a beautiful collection in chiffon, cotton, chinon and they come in very attractive colours.
Salwar Suits in Cottons
Jaipur is famous for block printed cotton fabrics.  For example ,cotton fabrics are ideal for the  summer season. Further, they can be made into a dress, salwar suit or skirt too. One can easily find beautiful block printed salwar sets in the store for Rs 100-Rs 1,500/piece.
Check out our blog:Top 5 Shopping Places in Jaipur