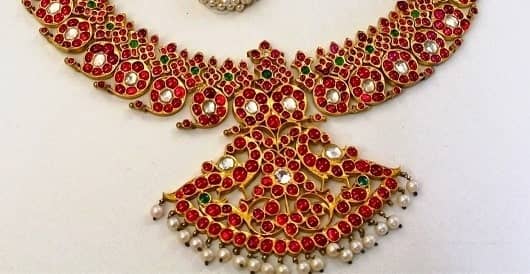 Temple Jewellery
What is Temple Jewellery?
South Indian Temple jewellery or dance jewellery is of 2 kinds. One is made in pure gold and the other one is made with a mixture of 5 metals, known as Panchaloha  or pachadhatu. It is made up of gold, silver, Copper, zinc & iron. Tin or lead could replace zinc too. The idols in the South Indian temples are also made of this alloy. The alloy is mixed as per rules set out in the Shilpa Shastra or the sacred texts.
Shops  for real gold Temple Jewellery Kirtilals Jewellery  and Sayar Jewellery 
Dance  Jewellery Available in Chennai at :-Shanti Tailors , Sukra
For instance, real & precious  Temple jewellery  is made with solid gold pieces  and looks heavy and grand. The pendants are typically large and have the deities of gods and goddesses such as Goddess Laxmi, Shiva, Parvathy, Radha and Krishna, or Ganesha the elephant god. They can be a long necklace or a short choker.
South Indian Temple Jewellery
This kind of  jewellery  has rubies, kemp stones and pearls. The appearance is mostly in red colour.  Further, the jewellery used in Bharatnatyam dance and Kuchipudi dance is  also commonly known as Temple jewellery.
Goldsmiths and craftsmen were employed by the royal courts to create the temple Jewellery for Royalty. The Cheras, Cholas and the Pandya Queens are said to have coveted and glamorised this form of jewellery.
 Items of Temple Jewellery
For instance, the head adornment, also known as Maang Tikka also forms a part. The maang tikka comes in a set of two. For example ,one covers the forehead and the centre parting, while the other one has the image of the sun & the moon on either side of the parting. In addition, the ornaments for the hair, and the plait are all available.
Further, the rakodi is worn on the back of the hair and the braid accessory is known as jadai alangaram.
The jumki and mattal (jumka and the chains from the earring) belongs to this type of   jewellery.
Mangai Malai (mango shaped necklace) is the chunky necklace that is worn with rubies and pearls.
Vangi is an amulet.
Udyanam is hip chin or a belt that is worn to adorn the waist.
Finally, thick bangles  or Kada and bracelets complete the set.
Check our videos
SIGN UP FOR NEWSLETTER
Be the First to Know. Sign up to newsletter today