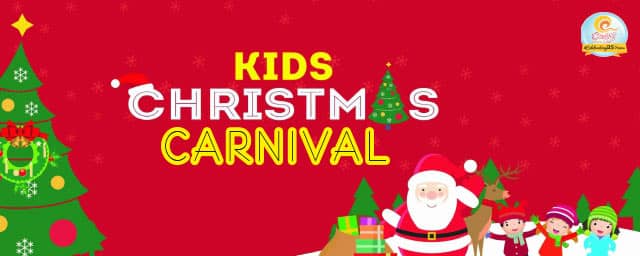 Christmas Carnival and Christmas Shopping in Delhi
Dec 17, 2018
Akanksha
1553 views
add comment
Frosty days and ice-still nights,
Fir trees trimmed with tiny lights,
Sound of sleigh bells in the snow,
That was Christmas long ago….
Anonymous
Winter is here & we have lots of reasons to celebrate. Weddings, Christmas parties, New Year parties, family get together, brunches in the sun, wine & cheese parties, the celebrations never stop.
Christmas
Christmas is particularly an exciting time for children. Glittering Christmas trees, Santa riding reindeer sleighs, Christmas cakes,,, it is time to put our hands together, clap & sing "Jingle bells, Jingle bells, Jingle all the way "and wait for Santa to come down the chimney and deliver the gifts.
While Christmas Day is still a few days away, shopping markets and shopping malls are gearing up for Christmas.
Celebrating Christmas
Christians across the world celebrate Christmas. It marks the birth of Jesus Christ. A huge Christmas tree is erected in important city squares. For example, there is one in Times Square and in the Rockefeller Center in New York. In addition, there are typically depictions of the Nativity scene, with Mary, mother of Christ, and the 3 wise men in  the manger where Jesus Christ was  supposed to have been born.
A special Christmas Mass is held in churches and other religious places. Christmas carols are sung in praise of the Lord.
Shopping malls and shopping markets have special programs such as live music performances, games & competitions for children and mouth watering food stalls.
Enjoy your Christmas Evening in Delhi
Go Christmas Shopping in Malls
Every year, the Delhi shopping malls get all decked up for Christmas. The huge Christmas trees, the bells and baubles and Santa Claus all usher in the spirit of Christmas. People flock to the shopping malls to see the decorations. There are special programs and performances that happen during Christmas in the malls. Special stalls are put up in the malls and music bands perform in the premises. Further, magic shows and costume parties are all organized for the children. It is one big party.
1. Select City Walk Mall, Saket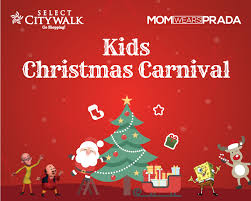 It is one of the popular malls in South Delhi where people enjoy shopping for garments, cosmetics, bags& imitation jewellery, as also for dining and visiting the movie theatres. What's more, Select City Walk Mall has one of the best Christmas carnivals in town. The huge mall is seen decked with Christmas trees, bells, a sleigh with reindeer and a Santa Claus. The management organizes celebrations outside the mall in the lawns and inside the premises as well.
Select City Walk Mall is organizing a special Christmas carnival for children. There will be workshops, storytelling sessions, donuts decoration competitions, role play zone, fun with cartoon characters and a mouthwatering spread of food.
Timing: 11 am-9 pm
Venue: A-3, Saket District Centre, District Centre, Sector 6, Pushp Vihar, New Delhi, Delhi 110017
2. DLF Promenade Mall, Vasant Kunj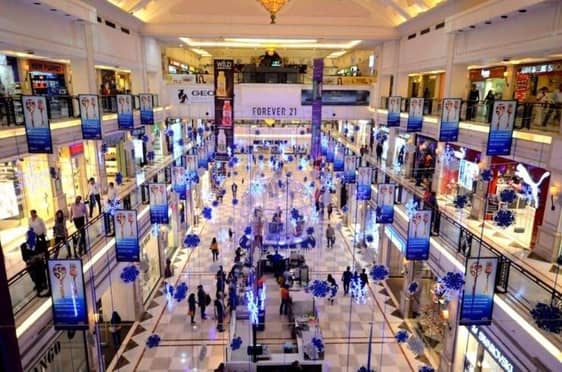 The Promenade Mall is located in Vasant Kunj, Delhi. It is an exclusive Delhi shopping mall for Indian and International brand of stores. It will be a special Christmas week as they are organizing a six day long Grand Christmas Carnival from the 21st Dec 2018 to 1st Jan, 2019.
Promenade Mall invites people to celebrate Christmas in the German way this year as they plan to recreate little Germany in the mall. The carnival will have Christmas carols, delicious food stalls and a special Christmas market! Special joy rides and activities are also being planned for the children.
Timing: 11 am-9 pm
Venue: 3 Nelson Mandela Marg, Vasant Kunj Mall Road, New Delhi, Delhi 110070
3. MGF Mega City Mall, Gurgaon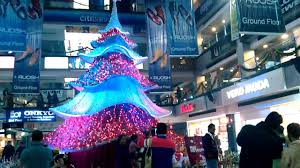 MGF Mega City Mall in Gurgaon has exclusive stores for children's fashions and an exclusive kids play zone. The mall is decorated with lights, a huge Christmas tree and snowflakes, inviting children for a gala evening filled with activities, games and joyrides.
As soon as one enters the mall, one can find shops that offer party glitter such as streamers, stars and other Christmas decorations including Santa caps, snowflakes and decorated Christmas trees. Pick up all the things you need to decorate your home, garden and office from these stores.
As New year is fast approaching, it is also the best time for shopping for new winter wear collections. There is a mid season & year end sale in several stores this mall.
Timing: 11 am-9 pm
Venue:- Metro Station, Mehrauli-Gurgaon Rd, Near, Sikanderpur, DLF Phase 1, Sector 28, Gurugram, Haryana 122002
Christmas Carnivals in Delhi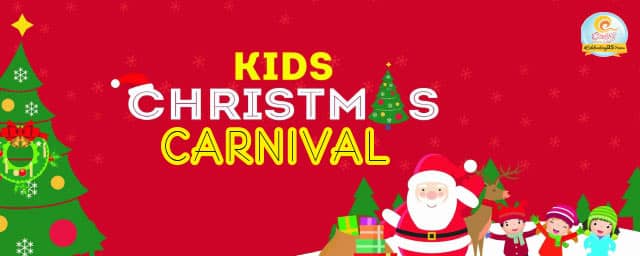 1. German Christmas Mela
Celebrate Christmas in Indo-German style at the German Christmas Mela organized by Indo-German Chamber of Commerce, Chanakyapuri, Delhi. The German Christmas Mela is organized every year and with each year the popularity of this event is getting bigger. Last year there were more than 10,000 visitors at this mela and more than 100 stalls. A wide range of amazing shops, live music, carols and excellent food stalls make this mela a happening one.
Timing: 11:30 am-7:30 pm
Venue: Bikaner House, Pandara Road, New Delhi
2. Christmas Carnival
If you have some other plans around Christmas and you also do not want to miss out on Christmas shopping, then the Carnival which happens at the Apparel House in Gurgaon a week before Christmas is meant for you. Gurgaon shoppers will have a carnival for special apparel, jewellery, home décor and handicrafts. There's more than shopping in this carnival. You can savor exotic dishes from different cuisines such as Thai, Indian and Chinese food. You don't have to leave  the kids at home as activities are being planned, organized to keep kids equally busy and entertained in this carnival.
Timing: 11 am-8 pm
Venue:- Apparel House, Sector-44, Gurgaon
3. Delhi Christmas Affair
Delhi Christmas Affair is an event to look forward to if you happen to be in Delhi on Dec 23, 2018.It has some great food, wine, chocolates, stand up comedy and great theatre to brighten up your festive mood. The Delhi Christmas Affair is celebrating the spirit of Christmas at The Akshara Theatre, Baba Kharak Singh Marg in Delhi.
Tickets:- ₹ 250 per person
Timings: Sun 23rd December 2018 12:00 pm -10:00 pm
Venue: 11-B Baba Kharak Singh Marg, Beside, Ram Manohar Lohia Hospital, Exit, New Delhi, Delhi 110001
4. Winter Carnival
For the shopaholics, it is time to gear up for the annual carnival in Delhi at one of the popular shopping destinations- Dilli Haat. The handloom and handicraft exhibition with a lot of emphasis on special winter collections can be seen during  the days from December 23-25, 2018. Exclusive camel rides for kids are being organized while the adults can indulge in shopping for apparel, accessories and home decor items. Relish the regional cuisines from the various Indian States and do not miss out on the cultural performances. It will be a day well spent.
Timings: – Sun Dec 23 2018 at 11:00 am to Tue Dec 25 2018 at 10:00 pm
Venue :- Dilli Haat, Janakpuri, Lal Sai Marg,opp. Virender Nagar, New Delhi, New Delhi, India
5. Dastkar Winter Mela
Dastkar – a society for craftsmen in association with Delhi Tourism has organized a winter Mela at Kisan Haat, Chattarpur. If you are planning to do some serious winter shopping and want to explore good handicrafts then this one is for you!
One gets to enjoy a festival that has winter fabrics. Tussar Silk Weaves from Chattisgarh and Bihar, Dana-weaving or Tangalia textiles from Gujarat and Kullu and Kinnauri fleece shawls from Himachal Pradesh are on display here.
You can also shop for hand-woven blankets and handmade sweaters, tops, gloves and socks. This year, there is an emphasis on items from Kashmir like Pashmina shawls, beaten Namda floor covers, gems, stoles and saris in Ari and Sozni weaving. You can also find popular Kashmir saffron, nuts and dry organic products.
Days: – 14th-December- 15th December' 2018
Venue: – Kisan Haat, Andheria Modh, Anuvrat Marg, Chattarpur
Christmas Mass & Carol Performances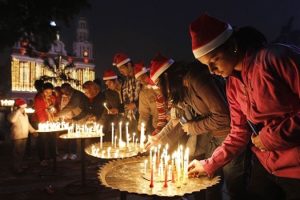 Christmas is incomplete without witnessing a Christmas Carol performance. Delhi has some beautiful churches that are wonderfully lit up with lights during Christmas.
Almost all the churches have a Christmas Mass and carol singing. We have listed two churches for you to visit.
1. Sacred Heart Cathedral
It is near Gol Dak Khana, New Delhi. Since this Church lies in the centre of Delhi and witnesses a major crowd specially during the Christmas, try to reach there early to avoid traffic.
The Church is conducting Christmas Mass & carol singing, and other events at St. Columba's School (Gol Dak Khana) grounds, both on Christmas Eve and on Christmas Day.
Timing : 6:30 am – 6:00 pm
Carol : 24th December'2018 at 11 pm
Christmas Eve Mass : 24th December'2018 at 11:45 pm
Venue : 1, Near, Gol Dak Khana Roundabout, Ashok Place, Sector 4, Gole Market, New Delhi, Delhi 110001
2. Cathedral Church of Redemption
Away from the hustle and bustle of busy streets of Delhi, Cathedral Church of Redemption lies at Church Road, North Avenue. It has great architecture and is a peaceful place to pray and meditate.
When it is adorned with Christmas embellishments and beautiful lights the view is gorgeous.
Timings : English – 8:30 am, Tamil – 10:05 am, Hindi – 11:45 am
Venue : Cathedral Church of the Redemption Delhi Address: 1, Church Road, North Avenue, North Block, Rakab Ganj, New Delhi, Delhi, 110001, India.
While Delhi is being painted in red and white for Christmas, do not miss out on the chance to do some fantastic Christmas shopping in the malls and listen to carol singing.
Image courtesy : Pratibha & Vanshita.
---
View our videos
SIGN UP FOR NEWSLETTER
Be the First to Know. Sign up to newsletter today