Rakhsha Bandhan 2022: The festival of Raksha Bandhan /Rakhi 2022 is to celebrate the  everlasting bond  between  brother & sister. It is all the more joyous to celebrate family & the bond between siblings  after the pandemic.  The rakhi is a  simple thread tied on the brother's wrist by the sister.Rakhi gifts for the brother & Rakhi gifts for the sister are also exchanged.
We may not prefer to go to crowded bazaars for Rakhi shopping. However, we can either check out nearby markets or order Rakhis and gifts online from the comfort of our homes.
Practicing social distancing should not dampen the festive spirit altogether. Right?
Rakhi in the time of COVID-: Considering the current situation, we have listed a few options for you to shop for a rakhi online. Sisters certainly have choices galore to wish for their brother's safety with these 10 trendy sacred threads.
Raksha Bandhan 2022: Celebrating the Bond of Love & Protection
This is a bond of love, care & a bond of togetherness
               It's a thread that binds our life and our hearts…
The highly auspicious month of Shravan is finally here. The Shravan month (aka Sawan Mass) holds special significance in the Hindu calendar. A number of festivals lining up the calendar gives us a perfect way to reclaim the festive spirit. Some of the popular festivals celebrated in Shravan are Krishna Janmashtami, Hariyali Teej as well as Raksha Bandhan. All these festivals  are celebrated with the family & help in strengthening the bond within our family. However, the amazing bond between sisters and brothers is certainly the most beautiful of them all. Yes, we are inching closer to celebrate Raksha Bandhan 2022 .
You just have to look back at your childhood and you will find so many wonderful memories with your siblings come rushing back to you. The memories of silly arguments and hiding your favourite toy from your sibling, the memories of guarding the most important secret together from the rest of the family, and above all, the memories of the warmth of love shining through all the frustrations and fights.
The deep affection and the care that this relationship symbolises gets strengthened on the day of Raksha Bandhan every year. This year, Raksha Bandhan, or 'the bond of protection', will be celebrated on August 11, 2022.
It is a Hindu festival celebrated across the country (primarily North India) as well as abroad regardless of  community/religions.
Rakhsha Bandhan 2022: The Sacred Thread of Rakhi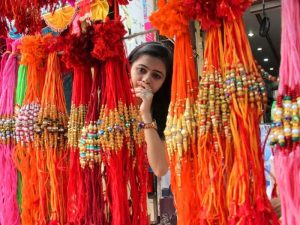 Wondering about the importance of the Rakhi thread? Well, it is actually an emotional moment when a girl embellishes her brother's wrist with the sacred thread of Rakhi. While this holy thread signifies  a sister's love and affection for her brother, it also reminds of the vow the brother takes to protect his  sister for his whole life. Moreover, the sister chooses this auspicious occasion to pray for the happiness and prosperity of her brother.
No wonder the thread of Rakhi goes on to strengthen the invincible & invisible bond between the siblings in the most beautiful manner.
Rakhi 2022: History of Raksha Bandhan
As with other popular festivals in the country, Raksha Bandhan finds its mythological roots in a number of interesting folk tales and legends. Let us take you through some of the most popular stories behind the much-loved festival…
Draupadi & Lord Krishna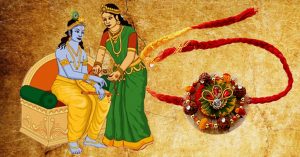 One of the most popular stories from Indian mythology is linked to that of Lord Krishna and Draupadi. The wife of the five Pandavas once tore a strip of her sari to tie on Krishna's bleeding finger. Krishna was so touched by her act that he promised to protect her as his sister in future.
Later, he answered Draupadi's call for help promptly when she was being disrobed by the Kauravas. Krishna protected her by divinely elongating her saree, thus saving her the humiliation in the assembly hall.
Alexander The Great and King Porus
This story is considered as one of the oldest references to Raksha Bandhan. When Alexander invaded India in 326 BC, his wife Roxana got a sacred thread delivered to King Porus. The message to Porus, the king of  the Kaikeya kingdom, was not to cause any harm to her husband. Moved by the gesture, Porus accepted Roxana as his sister. He even refrained from killing Alexander when he got an opportunity.
Rani Karnawati and Emperor Humayun
One of the significant narratives in the history of Raksha Bandhan goes back to the medieval era. This was the period when Rajputs were fighting invasions from Muslim rulers. Rani Karnavati, the widowed queen of the king of Chittor, sent a rakhi to Emperor Humayun when Chittor was under the attack of Bahadur Shah. The Emperor not only appreciated the gesture but also started off with his troops to give protection to Chittor. However, Karnavati had to set herself on fire as Humayun couldn't make it on time. Things turned full circle later when Humayun was able to restore the kingdom of Chittor to Karnavati's son.
Raksha Bandhan 2022: Best Markets for Rakhi Shopping in Delhi
With the festival of Raksha Bandhan knocking on the doors, there is not much time left now to start purchasing the beautiful Rakhi and gifts for your siblings. Delhiites usually prefer to shop at the wholesale markets as the choice is abundant and prices are reasonable. During the pandemic period, it is better to maintain social distance and wear a mask and visit the market when it is not too crowded.
From street stalls to popular shops like Gyan Chand and Prem Collection, Chandni Chowk is certainly the popular hub of festival shopping in Delhi. This is where you can make your day exciting by shopping for a wide range of rakhis in multiple designs.
Kamla Nagar, the much-loved market of North Delhi, can help you explore some quirky, fun as well as elegant rakhis.
The Central Market in Lajpat Nagar has everything from designer rakhis to bracelet-like rakhis to kids' rakhis to lumba rakhis. So hop over to this market without any second thought.
Another market which will leave you wanting for more is Karol Bagh Market. The street shops here are sure to liven up things with a great deal of beautiful rakhis.
As mentioned before, the current situation is likely to take the shine off the traditional markets for Rakhi shopping this year. People are planning to order rakhis online keeping personal safety in mind.
Rakhsha Bandhan 2022: Online Shopping
You may pick a Rakhi from the great selection available at popular online stores.  For instance ,they include Amazon India, Flipkart, Rakhi.in, ArchiesOnline and Rakhibazaar.com, Ferns & Petals  among others. The online Rakhi delivery usually takes around 3-5 business days. So it is advisable to plan out and order accordingly.
Rakhsha Bandhan 2022: 10 Trendy Rakhis to Buy Online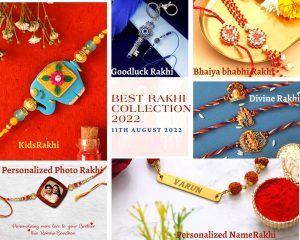 1.Kids Rakhi
It's time to indulge  the kids and live their fantasy. Let your little one celebrate sibling hood with his/her favorite character. You can go for Rakhis designed with the shape or image of Bheem, Ganesha, Spiderman, and more.
2.  Bhaiya Bhabhi Rakhi
So you think your brother and his wife are one of the most beautiful couples around? Well, it's time to choose a perfect rakhi combo for them.  The symmetric Rakhis will help make this festival a memorable one for them.
3. Good Luck Rakhi
Attracts good luck & abundance. What can be  better than wishing  good luck with a  rakhi. This rakhi can be worn as a lucky charm always.
4. Divine Rakhi
Diivine rakhis  have images of divinity.Here's your chance to make this festival even more auspicious with the beautiful Divine Rakhi.
5. Personalised Name Rakhi
Let your siblings know how special they are with these customized rakhi.
6. Personalised Photo Rakhi
A Rakhi with a personalised picture is beautiful.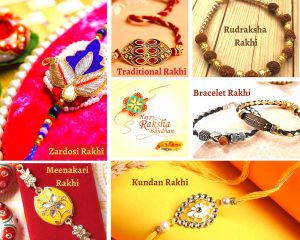 7. Zardosi ,Kundan & Meenakari Rakhi
The Zardosi Rakhis are beautiful and elegant. Moreover, there are kundan rakhis & Meenakari Rakhis too.
8. Bracelet Rakhi
The bracelet rakhi can be used as one later too.
9.Rudraksha Rakhi
Rudraksha beads are considered auspicious to Lord Shiva .
10. Traditional Rakhi
Sandalwood,pearls & beads are traditional Rakhis
Raksha Bandhan 2022: Sweetening Up the Festival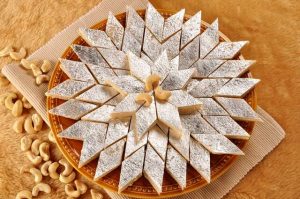 What makes Raksha Bandhan special are the sweets and chocolates that are exchanged among siblings. They certainly help add a lot of jovial moments to the celebration. You may choose to go with any of these traditional Indian sweets — Kaju Katli, Kaju Kalash, Rasbhari, Doda Barfi, Petha, Boondi Ladoo, Gulab Jamun, Kaju Anjeer, Balushahi, Soan Papdi and more.
Dry Fruits and Chocolates are all-time favorites too. Alternatively, you may choose to make rice kheer (rice pudding) with condensed milk, raisins and cardamoms at home. If you haven't made this before, try one this Raksha Bandhan to add extra sweetness to this festival.
Raksha Bandhan 2022: Decorate the Aarti ki Thali at home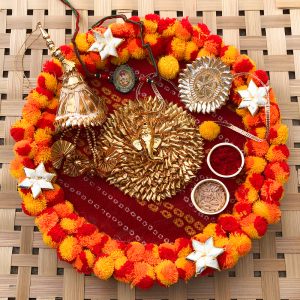 One of the most important parts of the Raksha Bandhan festival is  the Aarti ki Thali. In this plate, we keep the rakhi, diya, some kum kum, rice and sweets which are all required during the rakhi tying ceremony. You can buy a pre-decorated one from the market or simply make one at home.
In other words,take a simple plate and place a red velvet cloth in it to cover the open space. Then add a gajra made of jasmine flowers and place it all around the edge. Then place the rest of the things in the centre and your thali is ready!
 Gifts for Rakhsha Bandhan 2022

 RAKHI GIFTS FOR BROTHERS on Rakhsha Bandhan 2022
indibni Ceramic Coffee Mug And Cushion Cover – 1 Piece, White, 325 ml

Beardo Assorted Premium Perfume Gift Set With Rakhi for Men 4X8ml 

Urban Forest Zeke RFID Blocking Vintage Blue Leather Wallet & Casual Grey Leather

Multicolor Rakhi/Bracelet with Effete LCD Writing Pad/Tablet |Rakhi + Tablet 

 RAKHI GIFTS FOR SISTERS for Rakhsha Bandhan 2022
Bhaidooj Rakhi Gift Combo for Sister ( Cushion Cover with Filler + Coffee Mug + Key Ring) 

Gift Jaipur Sister Personalised Wooden Photo Table Top 11 X 9 in – Rakhi Rakshabandhan Bhaidooj Birthday Return Gift for Sister Behen

ShopyVid Girls 3-PCS Mini Leather Backpack Sling & Pouch Set for Women's/Rakhi gift for Sister

24 Pcs (Premium) – Chocolate Gift Pack – Chocolate Hamper, Gift Basket, Rakhi Gift for Brothers, Sister
Shopkhoj.com wishes you all Happy Raksha Bandhan 2022!