Krishna Janmashtami 2022: Here's All You Need To Know
Monika Chauhan
346 views
add comment
India is all set to celebrate the popular Krishna Janmashtami on August 19, 2022 with the melody of Raasleela (the divine dance of love) and the enthusiasm of Dahi Handi marked by chants of "Govinda aala re". Lord  Krishna is popular not only as the principal power  in Mahabharata but also as an adorable prankster and a charming lover.Several hymns, poems & songs have been written to glorify Krishna .
Krishna Janmashtami 2022: Story
The festival of Janmashtami or Gokulashtatami marks the birth anniversary of the 8th incarnation (avatar) of Lord Vishnu as Krishna. According to the Hindu mythology, Lord Krishna was born on the 8th day of the auspicious Shravan (Saavan) month.
It is believed that Mother Earth once approached Lord Brahma to seek help from the raging persecution and utmost turmoil. Brahma, in turn, requested Lord Vishnu to intervene and restore 'Dharma'. Vishnu thereupon promised to take birth as a mortal and defeat the evil forces reigning on the Earth.
Yada yada hi dharmasya glaanihi bhavati bharat | 
Abhyutthaanam adharmasya tadaa aatmanam srujami aham ||  
Paritraanaaya saadhoonaam vinaashaay cha dushkrutam | 
Dharmsamsthaapanaarthaya sambhavami yuge yuge|| 
Lord Krishna says in Bhagavad Gita, "Whenever righteousness declines and unrighteousness grows in this world, the Almighty reveals His presence! The Supreme, though unborn and undying, becomes manifest in the human form to overthrow and defeat the forces of ignorance and selfishness."
There was a time when Kansa of Mathura had imprisoned his father in order to become the king. He also used to torment innocent people of the kingdom. Once he heard an Akashvani (heavenly voice), saying, "Kansa, your days of tyranny will soon be over, you will be killed by the eighth child of Devaki (Kansa's sister)".
Fearing for his life, Kansa immediately put Devaki and her husband behind bars. He vowed to kill every child of Devaki and Vasudeva. But as prophesied, Lord Krishna was born as the 8th child to Devaki and Vasudev in Mathura to slay Kansa. And the pious day is celebrated as the festival of Janmashtami by Hindus all over the world.
The Birth of Lord Krishna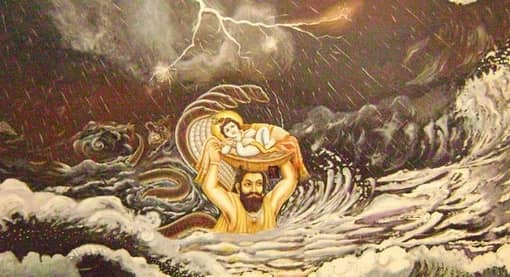 Krishna was born around 3,228 BCE. His birth denotes the passing of the Dwapara Yuga and the beginning of the Kalyuga.
When Krishna was born, Vasudeva got magically freed from the prison as well as chains. Moreover, Lord Vishnu helped him in reaching out to a safer place in Gokul. Vasudeva exchanged Krishna with a new born baby of Yashoda and Nanda. When he returned to the prison with the girl child, Kansa tried to slaughter the child.The infant, however, transformed into the goddess Yogamaya and rebuked Kansa, "O foolish Kansa! What will you get by killing me? Your nemesis is already born."
Meanwhile, Krishna grew up in Gokul amongst the cowherds of Gokul. Later, he killed the tyrant Kansa and restored the kingdom of Mathura to his father.
Krishna was a cowherd who played and teased his mother Yashoda by stealing butter. Further, he was the eternal lover & he hid the clothes of the women when they went to bathe. He was the rescuer who came to the aid of Draupadi when she was being disrobed in public. In addition, he was the charioteer(sarathi) of Arjuna in the Mahabharata war. He is hence called Parthsarathy.
Bagavad Gita in Mahabharata was spoken by Lord Krishna. This is known as GITO UPADESAM.(Advice )
Krishna Janmashtami 2022: It's Celebration Time
For Krishna Abhishekam, people first bathe the idol using milk, ghee and water. After this, the idol is adorned with new garments, colourful jewels and fresh flowers. Then a special bhog is offered to the deity.
Devotees keep fast until midnight, sing devotional songs, and visit Krishna temples to celebrate the grand festival.
Lord Krishna is also widely known as Nandlala or the adorable child of Nanda. On this special day, the idol of Krishna is made to rest in a cradle. Devotees take turns to rock the cradle while performing religious ceremonies in the temple. There are innumerable bhajans on Lord Krishna.
Community celebrations include breaking the Butter pot (Handi) hung high on ropes. Children form a pyramid and break the pot to the sounds of  joyous celebrations.
Makhan Mishri Bhog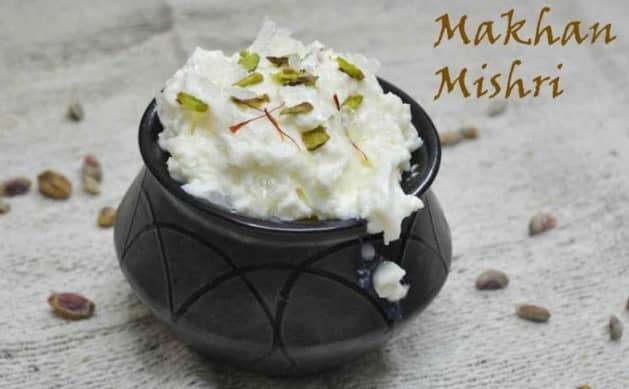 Do you know the enchanting tale about the little Krishna as the butter thief (Maakhan Chor)? The eternal ruler of hearts, Krishna, was quite a mischievous child. He used to steal pots of Makhan Mishri (sweetened white butter) from gopis all across the Vrindavan village. (For the uninitiated, the little lord was nurtured by Yashoda and Nanda at Vrindavan right from the time of his birth.)
The playful act earned him this popular name Maakhan Chor. This is also the reason why devotees lovingly offer a special bhog of Makhan Mishri to the little krishna.
It is also part of the Chappan Bhog (56 food items) made for Lord Krishna. This is later shared out among the devotees when they break the ritualistic fast.
Krishna Janmashtami 2022: Make Makhan Mishri Bhog at Home
It is quite easy to make Makhan Mishri at home. So let's help you with a quick recipe!
The cream collected from the full cream milk is the main ingredient here. You may gather the cream over a few days and when you have an adequate amount, you can churn the cream well in a mixer. We suggest you to add some cool water too so that the cream turns into a buttery form instantly.
You may stop the churning when the butter starts separating from the whey. Next, refrigerate the butter thus obtained for about an hour. All you need to add now is the crystallised sugar lumps or mishri dana along with some nuts.
The delicious Makhan Mishri Bhog is now ready for your much loved deity Krishna.
Dress Up Your Little Boy As Krishna
It is a common sight to see little kids dressed up as Radhas and Krishnas on the day of Janmashtami. Here's how you can deck up your little one as Lord Krishna…
Krishna is usually portrayed as wearing a yellow dhoti. So you can buy a readymade dhoti for your little one. Next, wrap a nice silk stole on your little one or across his shoulders. They are easily available in different sizes in all popular markets.
An attractive crown with a peacock feather can help you accentuate his look. You can also explore shopping for some lightweight head-gears at a nearby market.
Pearl necklaces (in different color combinations), arm bands, bracelets, earrings and anklets are the other accessories to go for. To impart an authentic look, apply a kasturi tilak on your young one's forehead. You can easily make it using fresh chandan paste and some kumkum.
Flute is also a critical part of Krishna's attire. If you have a simple one at home, you can try making it attractive by wrapping some golden paper and beads too. Lastly, you can see your little Krishna glow carrying a mud pot in his hand.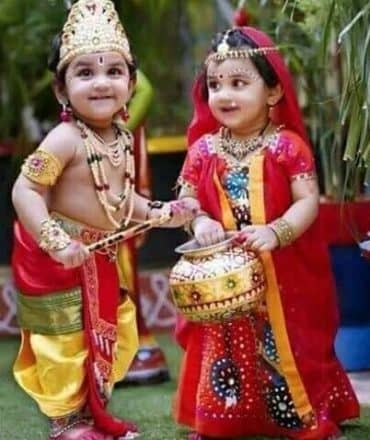 Doll Up Your Little Girl As Radha
Is your little angel looking forward to the festival of Janmashtami too? And you are planning to dress your little girl as Radha too?  We are sure she would look as beautiful as Radha in her new avatar. Take note of these simple tips…
Go for a lehenga choli or ghaghra choli to make your daughter look gorgeous in the traditional outfit. To accessorize her looks, you can adorn her with pearl necklace, silver anklets, armlets as well as shining bangles. You may also opt for fresh jasmine flowers for her hairdo.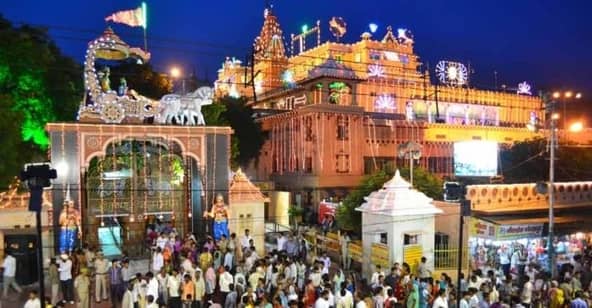 Wish you all a blessed Krishna Janmashtami 2022!!!
Legends & Mythology such as the Mahabarata is kept alive with Janmashtami.
---
View our videos
SIGN UP FOR NEWSLETTER
Be the First to Know. Sign up to newsletter today