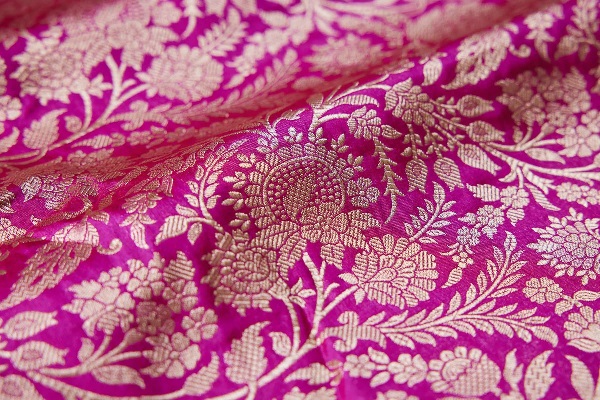 Brocade Fabric
Brocade  is a rich Indian textile that is extensively used  on dresses for weddings and festive occasions. Brocade blouse designs are very popular.It has a lot of gold and silver thread embroidery on it.
Available at Delhi :- Ramjisons, Monolisa, KC Creations, Nalli Silks Saree, H.P.Singh Agencies,
Available at Chennai :- Prakash Silks & Sarees
Brocade Shop in Bangalore at :- Sterling House, Show Off Fashion Coulture
Available at Kolkata :- Savera Sarees
How is brocade blouse design fabric created
To create brocade, a shuttle woven fabric and the base is coloured silk material. Gold and silver threads are used as additional weft yarns in addition to the silk yarns. This creates a fine 2nd layer to the fabric.
Tissue brocade is a very expensive fabric. This is used to make expensive sarees and fabrics.A few centuries ago, this kind of work  was used widely all over the saree. However, with the high price of gold, it is now used exclusively on the borders.
Check our videos
SIGN UP FOR NEWSLETTER
Be the First to Know. Sign up to newsletter today
1 views