Fabric Shop in Lajpat Nagar
As one walks through the lane which is adjacent to the canal in Lajpat Nagar, one cannot help notice that there are several fabric shops in this particular lane. It is a quiet lane as compared to the noisy and crowded part of the Central Market, Lajpat Nagar. Monolisa is one of the largest, oldest and well established shops here. They have been in the fabric business for the last 20 years. It is a fairly large shop. The shop is in the basement and as one walks down the stairs to reach the shop, there is a sense of awe and wonder at the sheer variety, colors and textures on display. Monolisa source its fabrics from Surat, which is a town in the State of Gujarat, from Chandini Chowk & from China.
Banarsi Fabrics
We start with a colorful range of Banarsi fabrics. Banarsi fabrics are gold threads woven in silk. Pure Banarsi fabrics start at Rs. 850/meter and the semi pure used to stitch a pair of palazzos or a salwar shirt or can even be used as a fancy dupatta. The pink and red Banarsi fabrics were particularly gorgeous.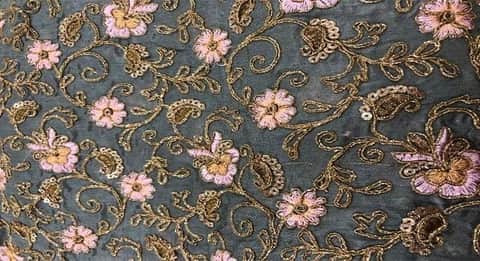 Brocade Net Fabrics
Adjacent to the Banarasi fabrics is a pile of brocade net fabrics. Net fabrics are sheer and very light. There are net emchootfabrics in gold & dull gold. They would cost Rs. 550/meter approximately. There are also heaps of brocade net fabrics without any embroidery in a variety of colours that will cost about Rs. 150/meter.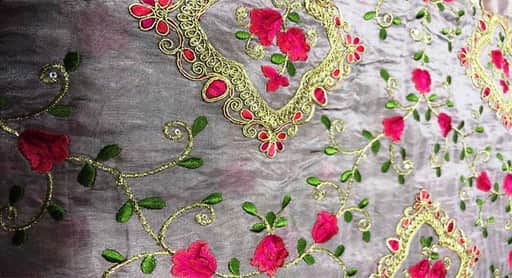 Chanderi fabrics have become very popular now. They are very versatile and lige town of Chanderi. Chanderi fabrics are used to stitch salwar kameez or a kurti. The Monolisa store has a stock of printed Chanderi fabrics. Prices start from Rs 295/meter.
Cotton, Georgette & Lycra
They stock heaps of simple embroidered cottons, cotton silks, lining, lycra, handloom and finally georgette & chiffon fabrics. There are georgette fabrics with mocash work. Mocash is a small silver Swarovski kind of stones that is seamlessly hemmed on the fabric.
Silk & Satin Fabrics
Monolisa stocks plain Uppada silk fabrics. The Uppada weaving technique is similar to the Jamdani weaving technique. Uppada silks are woven in a tiny fishing village known as Uppada near the town of Vishakpatnam. They also stock imported satin fabrics. We were informed that Uppada silks and satin fabrics are used to make gowns by designers. Uppada silk and satin silk cost approximately Rs. 300/meter.
Tafta, Viscose & Leather Fabrics
The store also has a stock of tafta fabrics viscose fabrics and leather fabrics. The tafta fabric would cost Rs. 150/meter whereas the leather fabric which is imported would cost Rs 550/meter.The leather could be used in patch work on dresses, on the sleeves or as tight leggings.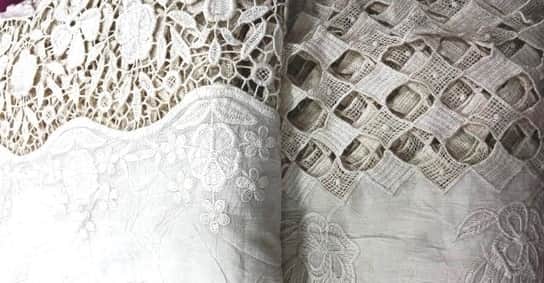 Crochet Borders and Lucknowi Chikan Borders
Apart from running material and fabrics, they stock borders as well. Crochet borders @ Rs 450/meter, cotton borders@ Rs. 150/meter and chikan worked borders @ Rs. 150/meter are all available in the store. Monolisa has both wholesale & retail client's. Typically, designer boutique owners are their prime customers.
Printed Kalamkari Fabrics
There are fabrics with Kalamkari prints @Rs. 150/meter, they are good for kurtis and salwar shirts and as dupattas also.