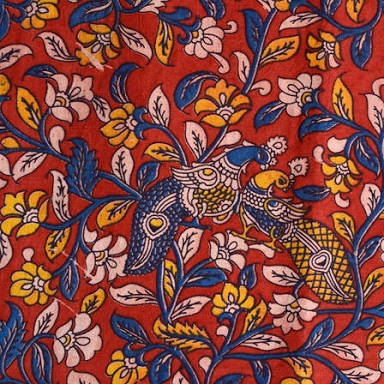 Kalamkari Fabric
What is Kalamkari
Kalamkari is first of all a technique of printing on textiles.
It literally means drawing with a pen and is certainly a unique and distinct product.
It is an ancient method of block printing done on soft cotton fabrics and was originally done in Andhra Pradesh. in addition, dark vegetable dyes are used in the kalamkari work. Hence they are varied and interesting as compared to normal block printed textiles.
Available at Chennai:- Kalpa Druma, Rangachari Cloth Store
Shop in Delhi at:- Dilli Haat, Monolisa, Lepakshi (Andhra Pradesh Emporium), Prapun
Available at Bangalore:- Salonee Silks N Cotton, Gaurang, Prasiddhi Silks
Origin
In ancient India, storytellers went form one village to the other to entertain people with the stories of epics. Also, they used colourful drawings to illustrate the stories. Kalamkari painting was used to enhance the story telling.
Freehand drawing and vegetable dyes were used in the colourful drawings. Bold colourful block painting signify  this kind of work.
Tales from Ramaya, Mahabarata and other Puranas are painted in this method. The can be used as wall hanging as well.
However, Fabrics, sarees, salwar kameez, dupattas and furnishings are created with beautiful patterns.
In addition, figures, flora & fauna are used as subjects in this method.
Fabrics and dresses in this design are available at.
Check our videos
SIGN UP FOR NEWSLETTER
Be the First to Know. Sign up to newsletter today
4 views