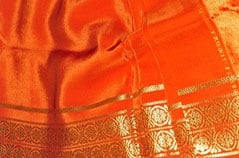 Mysore Silk Sarees
What is Mysore Silk
Mysore Silk Sarees  are very soft silk as compared to the stiff Kanjivaram silk, also known as pattu. The sarees come in rich colours and have zari borders. In addition, there are Mysore silk fabrics and shirt pieces that are also available.
We recommend the following shops for purchase of Mysore Silk.
Available at Chennai:- Prasiddhi Silks, Deepam Silks,  Angadi Silks, RMKV, Tulsi silks
Available at Delhi:- Nalli 
Shop in Bangalore at :- KSIC Mysore Silk, Vijayalakshmi Silks & Sarees, Prasiddhi Silks , Deepam
Available at Kolkata:- Benarasi Kuthi
Mysore Silk Sarees – Manufacture
First of all, Mysore silk sarees are manufactured in the city of Mysore in Karnataka. Karnataka is the largest producer of Mulberry silk in India. It is mainly grown in the Mysore area. Further, Kanjivaram silk sarees which is woven in the town of Kanchipuram near Chennai also source silk from Karnataka.
The first manufacturing facility for Mysore silks was originally set up by Maharaja Krishna Deva Wodeyar of Mysore with looms imported from Switzerland. The Maharajahs of Mysore were  certainly  patrons of silk weaving. In 1980, the manufacturing facility was handed over to the Karnataka Silk Industries Corporation Ltd. (KSIC).  Hence, KSIC is the largest producer of these types of silk fabrics & sarees.
KSIC has several retail outlets in Bangalore and Mysore.
Check our videos
SIGN UP FOR NEWSLETTER
Be the First to Know. Sign up to newsletter today