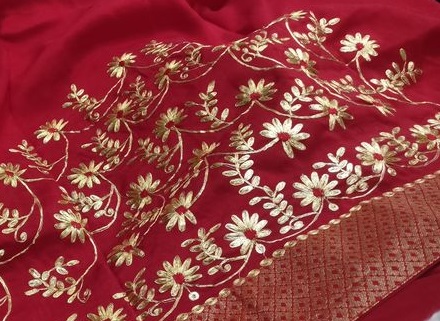 Pitta Work
What is Pitta Work
Pitta work or Pita work is popularly known as 'Dabke ka kaam' in Hindi. It is a flattened embroidery. Embroidery and zardozdi work are very popular in India. Bridal Lehengas, salwar suits and sarees, typically use zardozi and Swarovski crystal work. This is a small variation. In this work the sequins and embroidery threads are flat and not raised.
Available at Delhi:- Frontier Raas, UM Moolchand 
Available at Chennai:- Kay, Mokhsha
How is  the work done
Firstly, the designs are sketched on the fabric. Further the embroidery is done with sequins and gold threads. The gold threads are then hammered or pressed down to give an even finish. A small hammer is typically used to flatten the embroidery. This gives a very different finish to the design. Pitta is a popular embroidery design on saris, suits and designer lehengas. It uses intricate hand embroidery stitches that are almost flat at the surface. There are several shops Delhi that have Pitta embroidered dresses and sarees.
Check our videos
SIGN UP FOR NEWSLETTER
Be the First to Know. Sign up to newsletter today
44 views