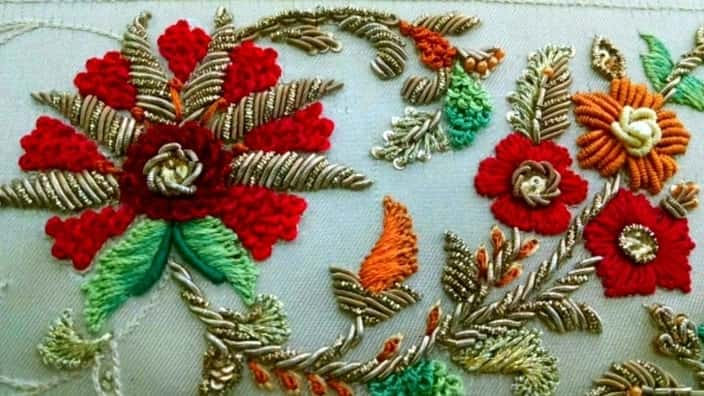 Resham Work
What is Resham work?
Embroidery on clothes is certainly a very popular craft in India. Printing with vegetable dyes and weaving colourful patterns are all very popular. However, hand-embroidered fabrics and garments are always a luxury. Resham work is embroidery made with colorful silk threads.
Although it sounds simple, Resham work embroidery is intricate and elaborate. It is definitely a highly skilled craft.
Available at Mumbai:- Hastkala, Neeta Lulla
Shop in Delhi:- Nargis
Available at Bangalore:- Show Off Fashion Couture
Resham Embroidered Sarees
Silk and georgette sarees with heavy Resham work was once considered a luxury. Further, Bollywood heroines of the 50s & 60s era typically wore Resham embroidered sarees on screen. Hence it became very popular.
Resham work uses colourful silk threads. The silk threads give a satiny sheen to the fabric. Artisans use Resham embroidery on sarees, salwar suits and dupattas.
Resham embroidery can be machine-made or handmade embroidery.
As part of traditional practice, artisans used to do resham embroidery with hand to add elegance to any outfit. However, they now practice it with the help of machines to design patterns on different fabrics. These include cotton, georgette, silk, and pashmina, among others.
At times, artisans use Zardozi embroidery along with Resham embroidery in the fabric. This helps add a lot of grandeur to the fabric.
Check our videos
SIGN UP FOR NEWSLETTER
Be the First to Know. Sign up to newsletter today
27 views