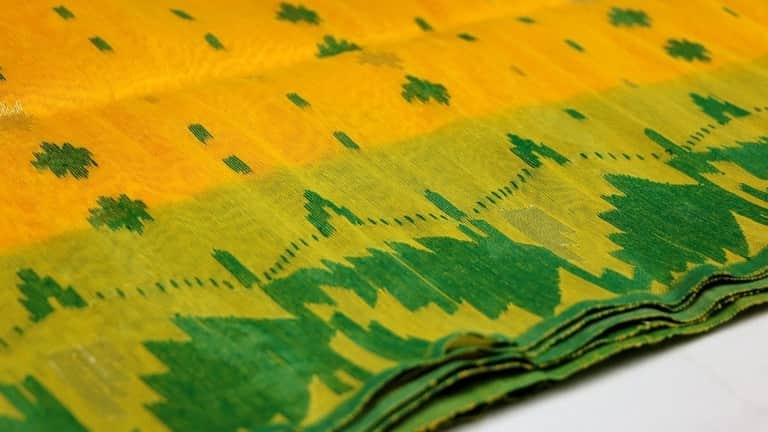 Tant /Jamdani/ Dhakai Sarees
The Tant is the one of the finest form of handloom products  from West Bengal. The Bengali saree is woven from cotton and is very famous for its lightness and transparency. Jamdani weaving is a rich intricate and traditional work on cotton or fine cotton (muslin). Today, Jamdani sarees are available in, muslin, cotton and tussar silk fabrics. Tant Jamdani sarees is a luxury saree.
Available at Kolkata:- Rajgharana Sarees,, Mabesha, Saarang, RMGC Basak, Adi Mohini Mohan Kanjilal, Benarasi Kuthi, Kalika, RMGC Basak,
Available at Delhi:- Purbasha –Tripura Emporium, State Emporiums CP
 Tant Jamdani sarees- Weaving 
For instance, Dhaka in Bangladesh was one of the ancient textile weaving centres. In other words, Jamdani sarees are popularly known as Dhakai Jamdani. Further, The raw material is a fine muslin textile that is produced in Bangladesh. In addition, Jamdani is intricate weaving on the fine muslin. Jamdani is a handwoven technique. The weaving technique is originally from Bengal.
In other words, the weaving is done with cotton, gold or silver threads on the base fabric with the help of looms. The cotton or silk weft threads are intermingled with thicker coloured threads to incorporate the Jamdani embroidery. The final product is a richly embroidered fabric or saree. Further, Jamdani fabrics are used for scarves and dresses.
Check our videos
SIGN UP FOR NEWSLETTER
Be the First to Know. Sign up to newsletter today