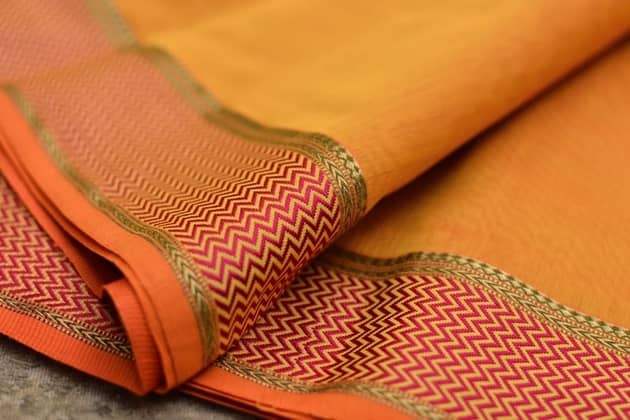 Maheshwari Sarees
Maheshwari sarees
The state of Maharashtra is well known for its indigenous textiles. The Pune cotton sarees, the Nagpur cotton sarees, the Maheshwari sarees and Paithani sarees. All of the above are manufactured in Maharashtra and are popular throughout India.
Available at Delhi:- Maharashtra emporium, Kalpana Sarees, Mrignanayani, Raw silk emporioum
Shops in Chennai:- Kalpa Durma, Kumaran Silks, Nalli
Available at Jaipur:- Kilol, Fabindia
The Nagpur cotton saree is made on pit looms and is a speciality of Nagpur region. The origin of these sarees in the town of Maheshwar  & dates back to the 18th century. It is believed that Queen Ahilyabai Holkar who ruled the State of Indore was a patron. The weaving of Maheshwari sarees flourished in the State.
For example, Maheshwari sarees are characterised by two horizontal stripes on the pallu. The pallu is typically in a different colour from the rest of the body colour. Further, there are no prints or any work done on the Maheshwar saree. It is left plain. As a matter of fact, these two are the distinct features of the Maheswari saree.
For instance, Maheshwari Sarees are in pure cotton or silk cotton. Further, the borders are in a contrasting colour and are left plain. In addition, there is minimum thread work or zari work done on the borders. Above all, the prices are very reasonable.
Check our videos
SIGN UP FOR NEWSLETTER
Be the First to Know. Sign up to newsletter today
20 views