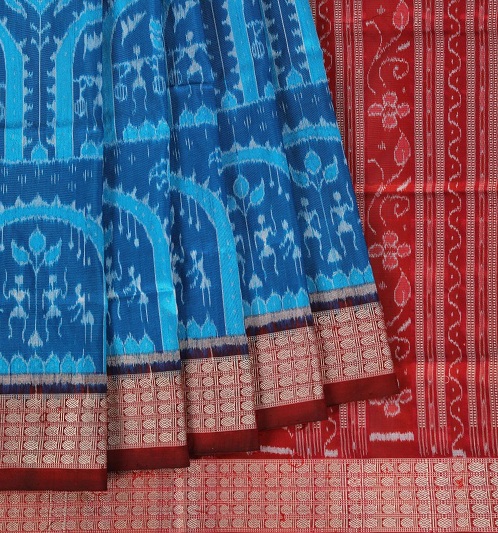 Sambhalpuri Sarees
Sambalpuri sarees are produced in Sambalpur district in Odisha. It is an Ikat saree. In an Ikat saree the warp and weft threads are dyed before weaving. Above all, the technique is known as Sambalpuri Ikat which is a double Ikat saree. Futher, The Ikat sarees have distinct motifs and designs.
Available at Delhi:- Lepakshi
Available at Kolkata:- Priyogopal Bishnoyi
As a matter of fact, it is a handloom industry. Further, many villages are involved in creating the Sambalpur Ikat sarees. Finally, the local Cooperatives then markets the sarees. Sambalpur is famous for its double-Ikat textiles. They are known for their traditional designs with flora & fauna. Varieties of the Sambalpuri sarees include Sonepuri, Pasapali, Bomkai, Barpali, and Bapta saris. These are the names of the villages where the sarees are woven.
The Sambalpur sarees are colorful with distinct Ikat weaves and prints. The original style is known as Baandha. They are heavy cotton sarees when compared with a Chanderi saree that is very light and transparent.
At one time, the Sambalpuri saree weavers were living in penury. With the intervention of well-intentioned and resourceful statesmen such as Padmashree Kailash Chandra Meher, Padmashree Kunja Bihari Mehar, Padmashree, Padmashree Chatrubhuja Meher and Padmashree Krutharth Acharya, the craft was revived and a lot of effort was done to market the products.
Today, Sambalpuri sarees, dress materials, fabrics and furnishings are all available in silk, cotton & mercerised cotton.
Check our videos
SIGN UP FOR NEWSLETTER
Be the First to Know. Sign up to newsletter today
9 views