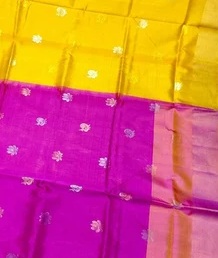 Uppada Sarees
Uppada is a tiny fishing village close to Vishakpatnam in the east Godavari district in Andhra Pradesh. Above all, Uppada is famous for the exquisite saree they weave in the  village. In fact, it is the special weaving technique that has made the Uppada saree a much sought after saree.
Available at Bangalore:- Vijayalakshmi Silks & Sarees, Priya-Simran's, Prasiddhi Silks, Rangoli, Angadi Silks Deepam Silks , Samyakk,
Available at Kolkata:- K. Bhojraj, Gaurang, Sundari Silks, Nalli silks, Tulsi Silks
Shops in Chennai:- Rupahali Sarees, Saarang
Available at Delhi:- Kalpana Sarees
Uppada & Jamdani
In addition, the weaving technique in Uppada sarees is called Jamdani. For instance, the word Jamdani is of Persian origin: For exmaple, Jam meaning flower and Dani meaning a vase. Uppada/Jamdani patterns are mostly of geometric, plant and floral designs and are said to originate from Persian and Mughal designs. In other words, during the early 19th century, weavers in the poor fishing village were trained in Jamdani technique.
As a matter of fact ,Jamdani is a weaving technique practised in West Bengal & Bangladesh. It is originally from Persia
Jamdani weaving takes about 1 to 2 months depending on the intricacy of the design. Silver  Zari  dipped in molten gold is woven along with silk thread to create interesting patterns on the sarees. Light silk from Bangalore is used. There are thousands of looms for producing these sarees. Women form the main workforce.
Uppada sarees are lighter than the traditional Kanjivaram sarees.
Check our videos
SIGN UP FOR NEWSLETTER
Be the First to Know. Sign up to newsletter today
8 views