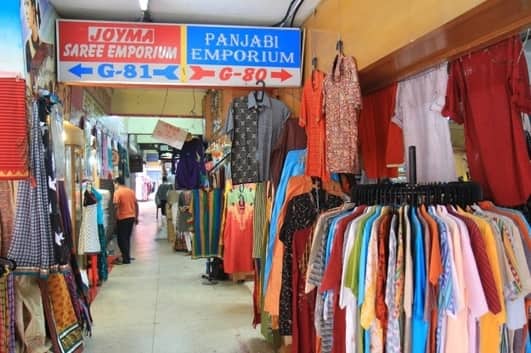 Dakshinapan Shopping Mall in Kolkata
Jul 12, 2018
nabadeepa
4397 views
add comment
Dakshinapan Shopping Complex
Dakshinapan is a shopping complex sans the opulence of the new age shopping malls. There is no glitz no glamour and it is not air-conditioned. It lacks the sophistication and planning of the typical mall. It has two floors of old style shops and an old style courtyard. There are no modern shops and international brands and showrooms. No glass and mirror and no fountains to make you relax with their calming effect of water.
But Dakshinapan is considered the ultimate shopping destination. In other words, If you are looking for Indian ethnic products you can go to this shopping complex. Above all,  they are products made by Indian artisans and crafts people. This is one place where you get products from almost all States in India.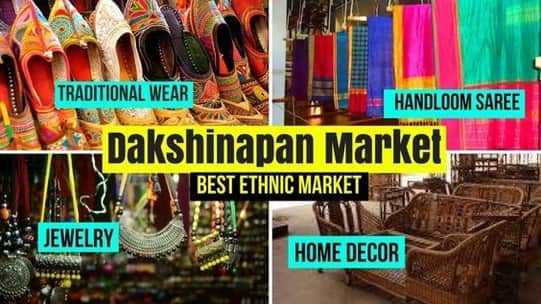 Opening of New Age Shopping Malls in Kolkata
We mostly frequented the New Market shopping area when we had to go shopping. Gariahat was considered too crowded for children. Soon, there were several Kolkata shopping malls coming up all over the City. The first real shopping mall came into existence in the year 2003 and it was called the Forum Mall. In fact, the newspapers were full of articles about the newly opened shopping mall in Kolkata . The first  Kolkata Malls was international and vastly different to a simple shopping complex.
Shopping Mall Vs Shopping Complex
As a matter of fact, a shopping mall and a shopping complex are buildings with multiple shops. However, the principal difference was a mall had to contain a large space for the shoppers. In other words, it was imperative to have places to relax (open air or enclosed), food courts, car parking and an entertainment center. It was even better if they were equipped with multiplex cinemas.
New Experiences in Shopping Mall
The Shreeram Arcade Mall and the Metro Plaza Mall that followed the Forum Mall were soon opened to the public. All glass & glitter with an artificial water body & a fountain. Above all it seemed that the Kolkata shopping experience had changed for good. One could shop in air-conditioned comfort and not be elbowed and jostled by crowds. In addition, you could have a lunch break and several coffee breaks while shopping. In fact one could spend the entire day in a shopping mall. You could watch a film, have dinner & enjoy the day with friends & family. The shopping mall opened a whole new world for the simple and until then conservative Calcuttans.
Dakshinapan Mall- The Desi Style Shopping Mall
But long before the birth of the modern day shopping Mall, Calcutta, as it was known earlier, had its own shopping mall. It was  sans the glitz & glamour. Gopal Krishna Gokhle had once remarked, "What Bengal thinks today, India thinks tomorrow". The very first Kolkata shopping mall at Dakshinapan in Kolkata, came about in the year 1986. It was much before the mall culture came to India.
The Dakshinapan shopping market houses a number of State Emporiums . They stock apparel, jewellery and handicrafts from several Indian States.  Gurjari (Gujrat State Emporium ), Tantuja(Bengal State Emporium ), Phoolkari (Punjab State Emporium ), Mriganayani (Madhya Pradesh State Emporium ), Pragjyotika (Assam State emporium ) to name a few.
State Emporium Shops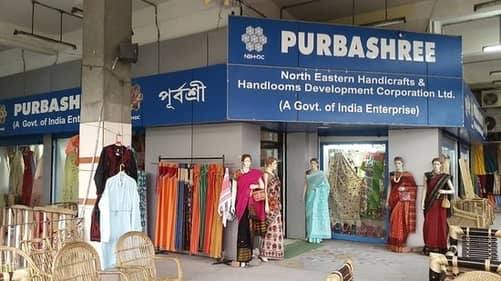 You can shop for signature style sarees, dress materials, kurtis, skirts, salwar kameezes and pallazo pants.
Ethnic garments are popular in Gurjari, Tantuja, Rajasthali and Pragjyotika Emporia. The Bengal Emporium which has been recently rechristened as Biswa Bangla, has a stunning collection of textiles, jewellery & handicrafts form Bengal. The store stocks fabrics & Bengal cotton saris, jewellery, wooden masks and one honed rhino souveniers. Pragjyotika, the Assam Emporium is also very popular. Assam is well known for its silk & teas. Muga silk sarees and the Mekla Chaddar ( half sarees, typical of the ones worn by Assamese women) are very well known here.
Many of these Emporiums also carry household items and home furnishings such as bedcovers, cushion covers& dining sets. Dakshinapan has several Khadi stores, that sell Khadi shirts & dresses.
Jewellery and Handicraft Shops
There are jewellery shops which sell dokra, terracotta  necklaces and other handcrafted jewellery. Typicall ethnic stuff. There is a  range of handicrafts and gift items in Emporiums such as Lepakshi ( Andhra Pradesh Emporium) and Mriganayani ( Madhya Pradesh Emporium ), who stock outstanding brass handicrafts. The Kashmir Emporium has furniture in walnut wood, carpets, shawls and cute little papier machie plates & boxes. One can shop for presents, paintings, marble handicrafts and bangles from Rajasthali ( the Rajasthan emporium). Apart form sarees and fabrics, the Gujarat Emporium has wall hangings and floor coverings made of colourful threads and mirrors.
'Silence' is an interesting store which sells items made by differently abled people. There are also a number of shops for western wear dresses, partywear dresses, shoes, bags and cosmetics in the Dakshinapan shopping complex.
 Alterations for clothes
If you need alterations and fittings for the clothes you had purchased in Dakshinapan, there are three tailors sitting at the ground floor to serve you instantly for a minimum expense of 20-40 rupees depending on the amount of work and they deliver the altered garments on the same day.
Eating Joints in Dakshinapan
Dakshinapan has Dolly's tea shop and two identical stalls (one selling fast food and another selling South Indian snacks). And there is Rajendra Phuchkawala whose mitha phuchkas are one of the most sought after delicacies in Kolkata. There is a huge open space inside the market where one can sit & relax and enjoy a hot sip of lemon tea.
Maduusudan Mancha 
Although there are no multiplexe cinemas in the Dakshinapan complex, they have the Madhusudan Mancha, which is one of the best auditoriums of the city. A variety of cultural programs (mainly theaters) are held on all the days of the year. Before planning a trip to Dakshinapan it will be wise to look up for the shows at Madhusudan Mancha.
Dakshinapan is listed as a shopping complex. But if we look deeply into the concept, it is actually a desi style shopping mall running since 1986; much before the concept of shopping malls came to India.
The Dakshinapan shopping complex is located at the southern end of Dhakuria overbridge.
---
View our videos
SIGN UP FOR NEWSLETTER
Be the First to Know. Sign up to newsletter today