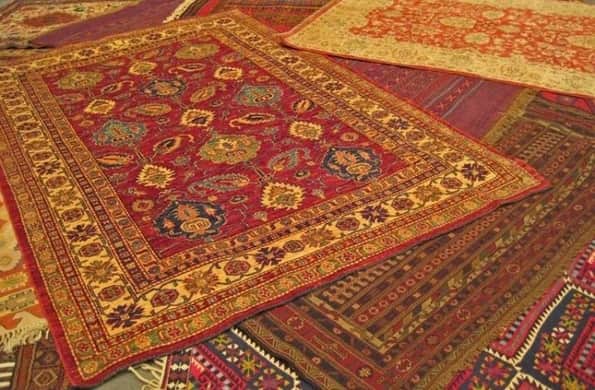 Indian Carpets
The Mughal Period
The art of manufacturing  Indian carpets in India goes back to the Mughal era. This is the time when India inherited weaving expertise from Persia, Afghanistan and China.
Shops Available at Delhi:- Kashmir Emporium, Shaw brothers (Delhi), Bharati Delhi Emporium, NCE Oriental Rugs, Shiva Oriental Rugs, Central Cottage Industries Emporium
Available at Chennai:- Central Cottage Exposition (Chennai), Rug Weave, Cottage Arts Emporium, The Museum Company, Kalpa Druma Handicraft
Shop in Bangalore at:- State Cauvery Emporium, Kashmir Cottage Emporium
Available at Jaipur:- Channi Carpets, Jaipur Boutique Carpet & Valintino Textiles
Available at Pondicherry:- New Cottage Arts, Treasure, Oriental Deco, Elegance
 Emperor Akbar sets up carpet weaving centers for carpets
Akbar introduced carpet weaving in 1580 AD in India. Akbar is said to have brought and established skilled Persian carpet weavers in India. He laid the foundation of this exquisite craft tradition at his Agra palace. The Mughal ruler set up  weaving centers at Delhi, Agra and Lahore to promote production of carpets (Persian styled).
The Indian carpets hence produced during the Mughal period were influenced by the designs of Herat, Kirman, Esfahan, and Kashan. And not just the Persian technique, Mughals also took inspiration from traditional Persian motifs and designs for the purpose of carpet weaving. These carpets were made of the finest sheep wool and silk.
In the following years, the art of carpet weaving flourished in the country with certain modifications to suit the royal taste. Carpet weavers also started imparting more aesthetic touch to these carpets by the addition of bright colors.
Major centers of carpet industry today are in Kashmir, Jaipur and Bikaner in Rajasthan, as well as Agra, Bhadohi, and Mirzapur in Uttar Pradesh.
Carpet weaving Centers in Agra, Bhadohi, and Mirzapur
These major hubs are  certainly popular for their  distinct designs and colors. Agra is particularly known for Persian style carpets, the use of natural vegetable dyes and vivid floral borders. Bhadohi carpets, on the other hand, are admired for their individual designs developed by the native weavers.
Weaving Centers in Kashmir
The oriental rugs and carpets from Kashmir are in great demand all over the world. They are a perfect mix of beauty, opulence and of course design . The Kashmiri hand knotted silk and woolen carpets are always loved for their unique craftsmanship, softness and aesthetics.
It is also  said that King Budshah introduced the concept of carpet weaving in Kashmir in the late 15th century. He is said to have brought Persian artisans in India to upskill Kashmiri people in spinning and weaving.
Carpet Weaving Centres in Jaipur, Ajmer, and Bikaner
The state of Rajasthan (Jaipur, Ajmer, and Bikaner in particular) is where you will come across fine hand-knotted woolen fibers. In the 17th century, carpets made their way in the State as Afghani weavers began settling down in the royal workshops. Even today, carpets with vibrant red and blue colors and geometric patterns from Rajasthan are popular across the globe.
Check our videos
SIGN UP FOR NEWSLETTER
Be the First to Know. Sign up to newsletter today
10 views