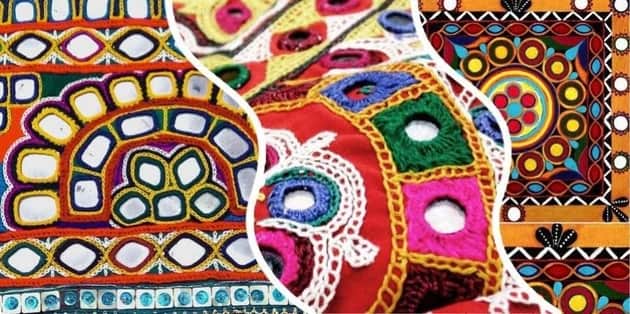 Kutch Embroidery
 Embroidery
Kutch Embroidery or Gujarati Embroidery is used in blouse designs & furnishings. This embroidery includes mirror work in the middle of the  colourful stitches.
Available in Delhi:- Gurjari Janpath Market Sitara 
Chennai Shop:- Kalpa Durma   Sanskrutie,Chennai 
Kolkata:- Gurjari Kolkata
Available at Bangalore:- Yuvathi   Salonee silks & Cotton 
Jaipur:- Johari Bazar , Bapu Bazar Saurashtra Impex
Kutch Embroidery
Garba  is a traditional dance  in Gujarat during the Navratra festival. The dancers, both men & women twirl to the rhythmic beat of the drums. Further, the Gujarati community is dressed in vibrant clothes embellished with Kutch embroidery. In fact, the  mirror-work clothing with a riot of colours, bring the festive spirit of Navratri festival (9 nights )to life.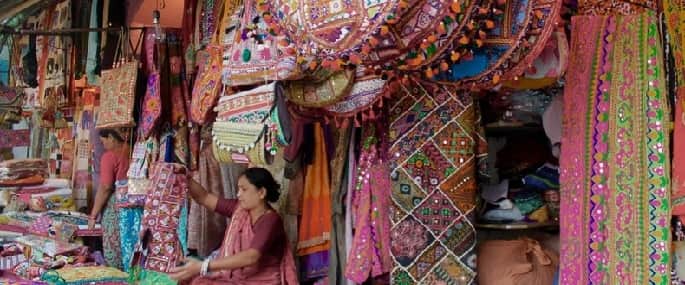 In addition, the versatility of this embroidery is unique. As a matter of fact, it is used in patchwork quilts, shoulder bags, clutches, Kolhapur chappals, dresses, jackets and wall hangings. Further, you will never get tired looking at this amazing embroidery technique.
As a matter of fact, India owes its rich heritage in embroidery work to the state of Gujarat. In addition, Kutch embroidery also known as Kachchhi embroidery or Gujarati embroidery. It has its roots in the Kutch and Saurashtra regions of Gujarat. Firstly, it is a lovely combination of vibrant colours, mirror work, silk threads and beads all embellished on cotton or silk fabric.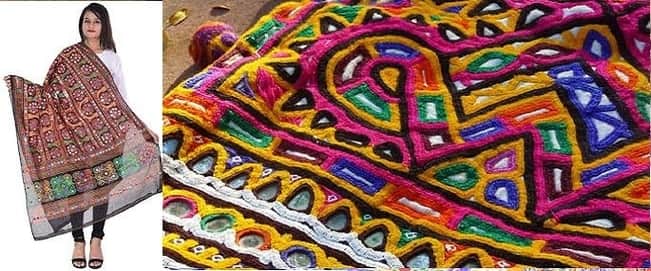 Hand embroidery Designs
In the first place, the origin of Kutch embroidery can be traced back to 'Kathi' cattle breeders. They later settled down to produce the fine needlework. Designs, themes, patterns and moods are important. It is also said that a Muslim wanderer in Sindh gave lessons to mochis (the community of shoemakers) on Kutch embroidery  This was around 300 years ago.
Blouse Embroidery Designs
One of the great influences on Kutch embroidery are the designs and motifs. Heer Bharat is another  speciality of this type of embroidery. Heer means silk threads. The Banni or Heer Bharat embroidery originated in Gujarat. Green, Indigo, Ivory, Deep red, Black, Yellow  are the primary colours.
Moreover, romantic motifs, human figurines, Persian and Mughal arts are at the center.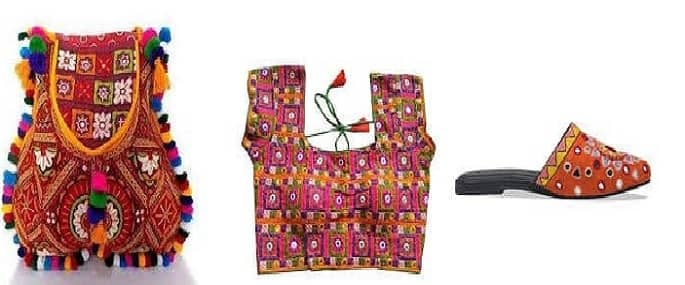 Styles of Gujarati embroidery
Finally, a total of 7 styles are associated with the –Kutch embroidery. These include Suf, Khaarek, Paako, Rabari, Garasia, Jat and Mutava.
Products –
Garments, including blouses, skirts and dupattas are made with this embroidery. Further, it is also used in bags, umbrellas, wall hangings, sandals and shoes.
Check our videos
SIGN UP FOR NEWSLETTER
Be the First to Know. Sign up to newsletter today