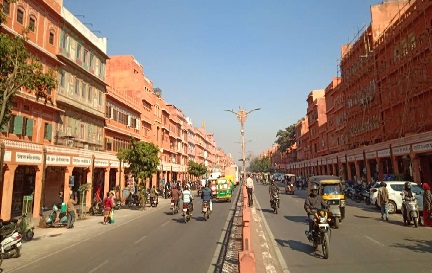 Johari Bazar Jaipur shops
Jaipur Shopping Market Johari Bazar literally means jewellers market. It is a long stretch of road in the old part of the town with shops on either side of the road. If you plan a visit to this popular market...Read more
Jaipur Shopping Market Johari Bazar literally means jewellers market. It is a long stretch of road in the old part of the town with shops on either side of the road. If you plan a visit to this popular market of the Pink City, be prepared for unruly traffic, blaring horns, busy pedestrians, and foreigners with a lost look on their faces.  Also, expect the most colourful display of mundane and luxury products in contiguous shops here.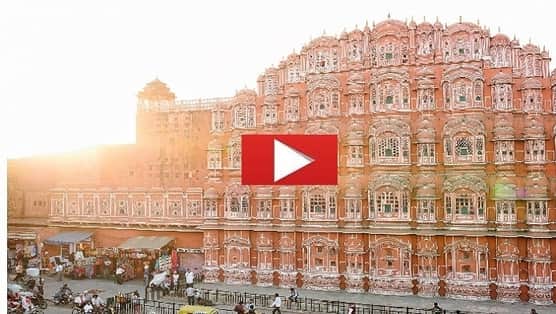 Hawa Mahal @Johari Bazar Jaipur
Furthermore, the famous Hawa Mahal and the City Palace are on this road although further away from the market.  For instance, about 200 years ago, this was the main road in Jaipur with a thriving shopping market  close to the City Palace. The Hawa Mahal is an extension of the City Palace.
Do you know there are 953 windows that cover the walls of the Hawa Mahal? These windows  helped ladies of the royal household to observe processions of the kings and nobles in the  street  below without being seen by the public. For instance, the royal women of the Palace were not to be seen by the outsiders.
Above all,  the Johari Bazar is a road filled with an astonishing variety of products. You will find grocery, garments, quilts, kites, turbans, bridal wear dresses, silver jewellery, gems and precious stone shops in this road. In addition, it is the most busy and interesting market in the Pink City of Jaipur. Are you ready to go shopping?
Johari Bazar Jewellery shops
There are several shops in this market that sell gemstones, silver and gold jewellery. For example, one can buy traditional jewellery, which includes includes Kundan jewellery (cut and polished glass/gemstones on pure gold or metal base) polki jewellery (uncut diamond in gold base) and enamel work jewellery, also known as 'Minakari', which is famous in Jaipur.
Strings of gem stones in rubies, emerald and jade are attractive and very reasonably priced here. In addition, check out the stores that sell imitation and fashion jewellery.
Imitation jewellery is especially useful during destination weddings when one does not have to take the risk of traveling with real jewellery. Women certainly prefer to wear them with ethnic Indian dresses.
Maniharon Ka Rasta-Johari Bazar Jewellery shops
Maniharon ka Rasta is the popular bangle makers lane. There are a variety of small bangle shops in this lane, besides the ones selling silver jewellery. The shops are few and far between. This is a famous lane. However, it has seen better days in the past. The variety of bangles in Bapu Bazar Market and the main Zohari Bazar market are certainly much better as compared to the shops in this lane.
Maniharon ka Rasta is parallel to Johari Bazar. A brisk 20-minute walk on a link Road will take you to Johari Bazar from Maniharon ka Rasta . This link Road is busy with dressmakers, lehengas shops and jewellery shops selling gems and gem stones. If you are looking for a reasonable priced lehenga dress, do visit this link Road.
Johari Bazar Jaipur Shops- Clothes Shopping in Jaipur
Apart from being the centre for jewellery, Johari Bazar also stocks bridal lehangas and sarees. Lehengas are traditional long skirts. Popular sarees are bandhej and leheriya style (tie and dye) sarees with Sanganeri prints. Ranas and Rooplaxmi are two well known shops that are sought after by people who wish to buy wedding trousseau. It is one of the best shops for traditional bridal lehengas as compared to other shops.
Clothes Shopping in Jaipur
In addition, there are several other shops that sell saris, salwar suit pieces, scarves, stoles, and home furnishings. The National Handloom Corporation is a Government owned shop that stocks everything under one roof.  Similarly, Rattan Deep is a well known shop for Gotta Patti sarees, Gharchola sarees, Kurtis and Kota wear sarees.
LMB Hotel
The famous LMB (Lakshmi Mishtan Bhandar) snack house, sweet shop and restaurant, is located on this road. It attracts a lot of locals and tourists alike. It is famous for chaat (spicy snacks), the Rajasthani traditional sweet Ghewar and special Rajasthani food.  In addition, Narayanji GajakWale is another famous sweet shop here.
Johari Bazar Jaipur shops-Handicrafts 
Finally, the bustling crowds, the colour and the vivacity make shopping in Johari Bazar a unique experience. Further, the rich cultural heritage and creative energy of the city is evident in the products on display and the shop owners enterprise. In addition, bright turbans, umbrellas, glass lanterns, puppets, skirts, kites and cloth bags with mirror work are a kaleidoscope of all things beautiful in Jaipur.
This is definitely Jaipur shopping at its best. If you are planning to go for shopping in Jaipur, Shopkhoj.com highly recommends you to visit Johari Bazar. It is  an experience not to be missed. Bargaining is allowed in the street shops.
Days Closed :- Open all days.  Many of the shops are closed on Sunday .
Timing :- 11 am-8 pm
---
333 views