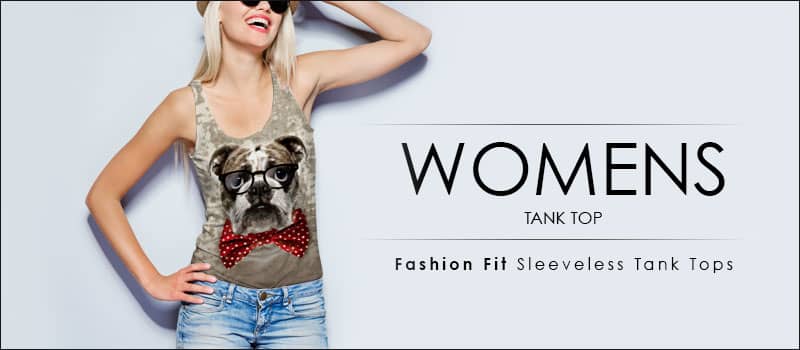 Get These 10 Stylish Tank Tops This Summer
Monika Chauhan
532 views
add comment
"Fashion is what you're offered four times a year by designers. And style is what you choose." – Lauren Hutton
Come summer and fashion girls love to revisit their wardrobe to pick one of those flattering tank tops to keep up their style game! While some prefer to team a tank with joggers for a flawless look, others are a big fan of the comfy one shoulder tanks. Moreover, a tank and denim combo when worn with a slouchy blazer goes on to deliver a polished silhouette.
For the unversed, tank tops were initially popular only for sporting purposes. However, the late 70's saw the rise of tank tops as a smart piece of clothing. And what you see today are fashionable tank tops that go pretty well in both formal and informal ways.
Whether for your workout session or relaxing beach walks, this versatile piece of clothing gives you plenty of options to pick from. Moreover, you can easily pair up one with your Bermuda shorts, trousers, skirts and jeans alike.
Shopkhoj.com has rounded up the best tank tops for you in a variety of styles and colors. Keep scrolling to find the one that suits your style…
Workout Tank Tops
A vibrant tank is what you need for a flexing selfie while working up a sweat. You can't resist the Workout tank tops as they are not just lightweight and breathable but stylish too. They certainly help your daily workout go the extra mile.
Featuring minimal seam thickness, these tops won't leave you with that baggy look that you find tough to stand. Ideal for summer workouts, you can choose to wear them with shorts, leggings or track pants.
Bollywood actress and fitness expert Shilpa Shetty has a special section meant for just gym outfits in her wardrobe. We often see her wearing workout tank tops, especially during her at-home yoga sessions.
Cami Tank Tops
If you are looking for a simple, no-frills top, Cami is what you should go for. Don't confuse these tight-fitting tank tops with a Camisole as the latter comes with more of an elegant ring to it.
Available in a selection of primary colors, Cami sometimes come with an embedded bra as well. Thanks to its simplicity, you can pair your Cami with a skirt, jeans and shorts too.
American reality TV superstar Kim Kardashian West has long been a cami-wearer. Check out her Skims site for details.
Backless Tank Tops
As the name suggests, these tank tops feature a very low twist back detail. The back strip is made from lace material to provide these fancy tanks a graceful look.
To feel attractive, you may wear this as a layering piece too under a leather jacket with skirts or skinny jeans. We suggest you to accessorize too by adding a necklace to dress up for any occasion.
High-Neck Tank Tops
You can trust a high-neck tank top not just for casual daywear but for summer workouts too. It won't disappoint you, especially for those gym-related worries such as cleavage issues.
There are plenty of high neck options available. You may try them with either leggings or your favourite pair of shorts.
Cut-Out Tank Tops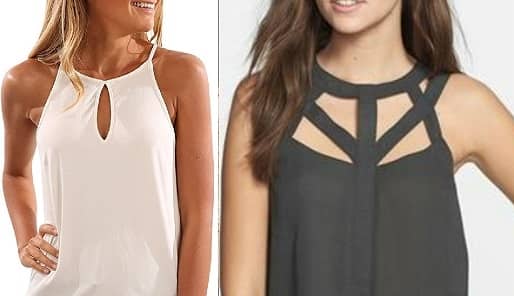 The ultimate summer trend, cut-out tank tops are available in a host of prints, colours and styles. As they come with loose cuts both on the sides and back, one is required to wear a top underneath too.
Combine them with leggings or stretched pants to achieve a stylish look. For workouts, don't forget to add a smart pair of sports shoes!
Double Layer Tank Tops
Looking to hit your stride in confidence? Well, the versatile double layer tank tops deliver just what you want with denim shorts. Some of these tanks are also available with strappy back design for unlimited mobility.
If you buy the one with soft fabric like a chiffon, it will certainly add a wow factor to your look.
Halter Tank Tops
Perfect both as a casual wear and party wear, the beauty of a halter tank lies in its Raglan pattern without sleeves. The two straps connecting the bodice to the neck is popular as the halter neckline.
This is quite similar to the halter that you see around the neck of the horse. Leaner women look best while wearing a sleeveless top with a halter neckline.
To look effortlessly beautiful, feel free to wear your halter tank with shorts, maxi skirts and denim..
Racerback Tank Tops
Most women are literally obsessed with Racerback tanks as they are breathable and fit to the body wonderfully. They are lightweight enough to make you feel comfortable during your most intense workouts.
Moreover, you will find moving arms easy with wider armholes and T-shaped straps on the back behind the shoulder blades. Feel free to pair one with shorts, skirts, and high waist pants.
One Shoulder Tank Tops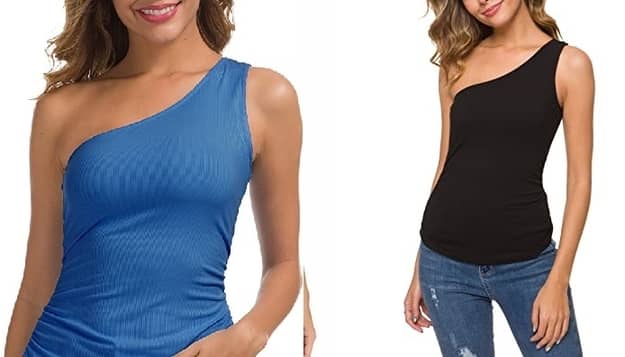 An all-time favourite with fashionable women, one shoulder tank tops are great for an evening hangout. These tops are particularly for women with toned shoulders and slender figure.
To nail the perfect look for special occasions, we suggest you apply a little illuminator on shoulders and collarbone. With a glowing effect, you will definitely be the glamour of any party.
Spaghetti Strap Tank Tops
First of all, don't confuse Spaghetti strap tank tops with camisoles. A fancier version of camisoles, Spaghetti tops have very thin shoulder straps. You may choose to wear these tops individually or even underneath sheer tops.
The best part about these tops is that they are great for layering. To keep up with the ever-changing fashion trends, you can team them with shrugs and jackets.
Add a denim jacket or cardigan on top in winters and forget about getting a chill. Given the variety of spaghetti strap tops, they always make dressing up a pleasure for women.
Style them with denim, shorts or skirts depending on the occasion. You also have the option to accessorize the whole look with a watch or a bracelet.
You can shop online at Myntra , Lifestyle , shopper stop from the comfort of your home and get your favourite tank tops delivered right to your doorstep.
If You are looking at International Fashion ,shop at Macy's
CHECK OUT RELATED BLOGS 
Top 5 Reasons to Spend a Day in GK M Block Market Delhi
---
View our videos
SIGN UP FOR NEWSLETTER
Be the First to Know. Sign up to newsletter today