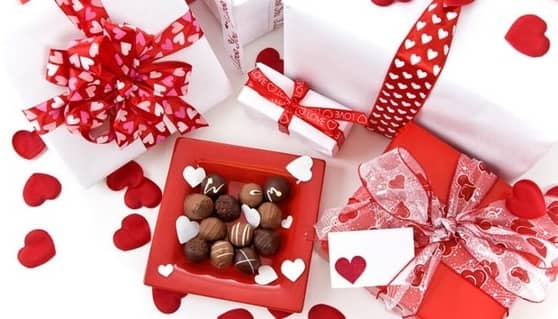 Top 10 Valentine's Day Gifts
Monika Chauhan
467 views
add comment
What does love mean to you? Does it mean being happy? And cherish surrounding yourself with people that make you happy? Valentine's Day, the day of true love, is just a few weeks away. "I love you and I know just how to make you happy too." Whether you have been together for 5 years or 5 months, you would certainly love to hear this from your significant other. These top Valentine's Day Gifts help you say just so…
If you plan on buying your special someone something this Valentine's Day, check out our pick of top gifts available online. 
1. Hand Heart Desktop Sculpture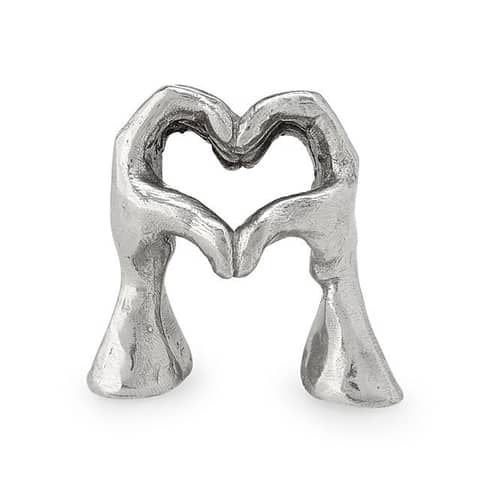 To start with, here's a perfect Valentine's gift with a perfect shape of the heart. Designed by artist Tamara Hensick, this charming handmade pewter sculpture is a daily reminder that you are loved. Whether newly entwined or a couple of lovebirds in the town, this hand heart sculpture will help breathe lots of positivity and love into each day. You may as well adorn your desk, dresser, or coffee table with this piece.
Cost: Rs 3,494
Shop Now
2. Customizable 3D Printed Moon Lantern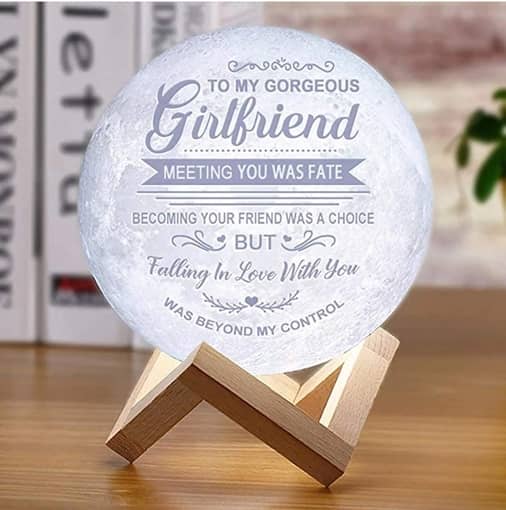 Here's another lovely gift option to consider for your pretty lady! The Moon has always been considered super romantic since time immemorial. So your lady love is certainly going to appreciate this 3D Printed Moon Lantern.
Made with eco-friendly materials, this creative piece will always remind your better half about the romantic moonlit night you spent together. She will surely love its enhancing colour feature with 2 brightness levels. Moreover, there is an option to customize this Moon Lantern with an interesting personalized message and photo too.
Cost: Rs 1,900 (15 cm)
Shop Now
3. Handcrafted Tower Of 3 Gifts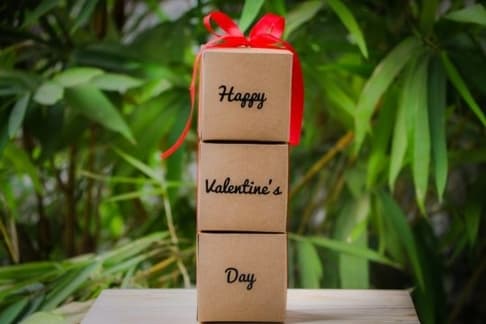 Step up your gifting game with this impressive handcrafted tower! This will certainly help you make a better impression on your Valentine this year. Why go about picking a single gift when you can surprise your Valentine with a tower of 3 gifts? These gifts are specially handcrafted to make her day a little extra happy.
The tower comprises five polaroid fridge magnets (customised with your favourite pictures), six homemade milk chocolates, and a romantic deed. Well, the deed legally binds your beloved to be your Valentine forever, remember every special date and go on lots of vacations together.
Cost: 1,250
Shop Now
4.

Love Couple Statue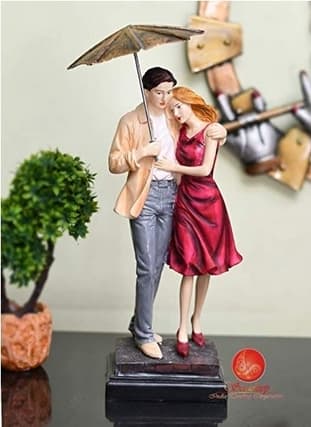 "When I am with you, I feel perfect." Is this exactly what you would like to convey to your gorgeous lady this Valentine? Well, it's time to immerse yourself in the magic of romance with this amazing Love Couple statue.
As you will notice, this showpiece features the loving couple standing under an umbrella during rain. Wish you a perfect romantic evening outdoors with your Valentine!
Cost: Rs 1,164
Shop Now
5. Photo on Heart Chocolates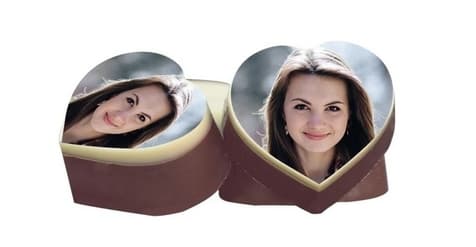 A universal favourite, Chocolates make for a perfect gift for any occasion. It certainly adds panache to something monotonous. Well, you may connect to that instant feel-good-factor that follows every bite. Moreover, they say that this soul-satiating delight is healthy for you too!
So for the love of chocolates and your sweetheart of course, it's time to send some romance with a custom-made chocolate with her photo printed on the chocolate itself. Wow! She will simply love them.
Cost: Rs 495 (4 Chocolates Box)
Shop Now
6. Happy Valentine Box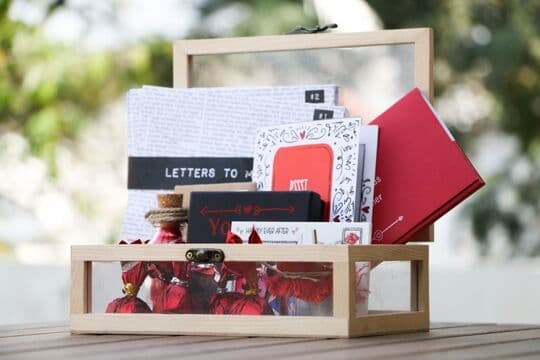 Have you told your Valentine lately that you love him/her to the Moon and back? This handcrafted wooden box from Oye Happy should help you express your feelings easily. The box comes with 9 Valentine's Day gifts.
The box, made of classy pinewood, includes Valentine Contract. The formal brown folder comprises a contract binding your loved into being your Valentine for life. It also has a Magic Mirror Card. When your special person opens the card, he/she sees his/her own face on it. The front of the card says – 'Psst… how do you find my Valentine?' The inside of the card, with a mirror attached, says 'Adorable, no?'
If your loved one loves letters but you aren't into writing yourself, this box will deliver 7 adorable 'Reasons to stay mine forever' letters! Further, the box also includes a tiny jar fitted with an electronic light. Your better half would love to switch on the light in answer to your question neatly printed on the jar – 'Will you be my Valentine?'
Moreover, it comprises 5 heart-shaped milk chocolates. Besides a miniature glass bottle, the box also includes a fridge magnet designed in the shape of a postcard and customised with 4 of your favourite photos.
There are also a bunch of redeemable date coupons you can gift to your better half. From board game evenings and no cell-phone dinners to spontaneous dancing sessions and naughty dates – your loved one can choose to redeem any coupon from you whenever they want.
Lastly, the gift box opens to 5 photos and an envelope attached to each one. The box has 'Memories with my Valentine' printed on it.
Cost: Rs 2,990
Shop Now
7. Wings Of Love Photo Locket Necklace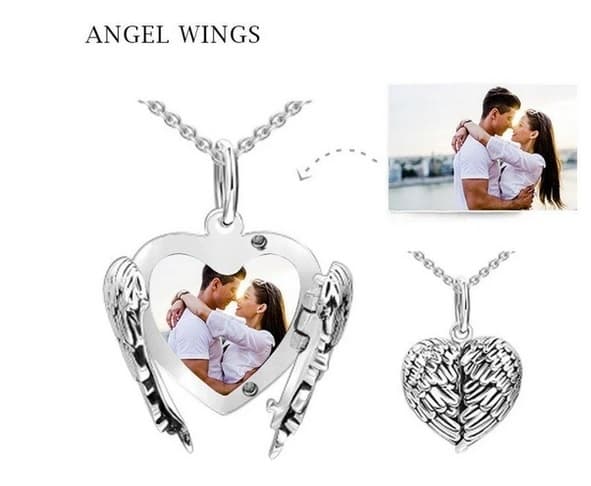 Add sparkle and shine to this Valentine's Day with this sterling silver photo locket necklace. This lovely heart-shaped necklace is handcrafted in 925 sterling silver. Moreover, it comes with beautifully sculpted angel wings.
The Wings of Love locket opens to hold a treasured photo. You have the option to engrave it with a special message or words of up to 20 characters. This exquisite gift, in a velvet jewellery pouch, is definitely a beautiful way to hold a memory close to your heart.
Cost: Rs 2,847
Shop Now
8. 12 Shower Steamers Set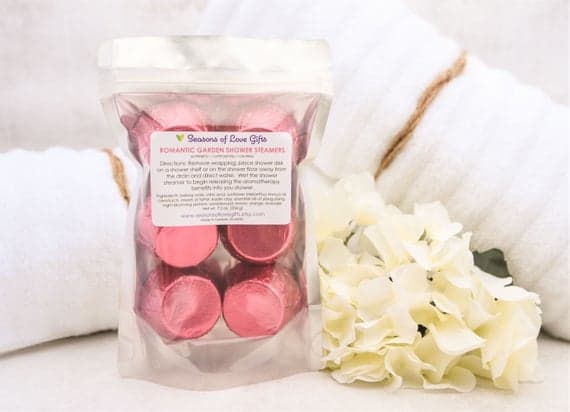 The set makes a lovely pampering gift for your sweetheart, especially if she thinks bath time should be a ritual. Boxed like a selection of sweets, these cubes fill your shower with soothing essential oil scents like lemongrass and lavender.
Your special someone may use them as a body scrub, or just place one in the corner of the shower. They are absolutely lovely to look at–and made with all-natural, vegan ingredients.
Cost: Rs 3,288
Shop Now
9. Mr and Mrs Coffee Mugs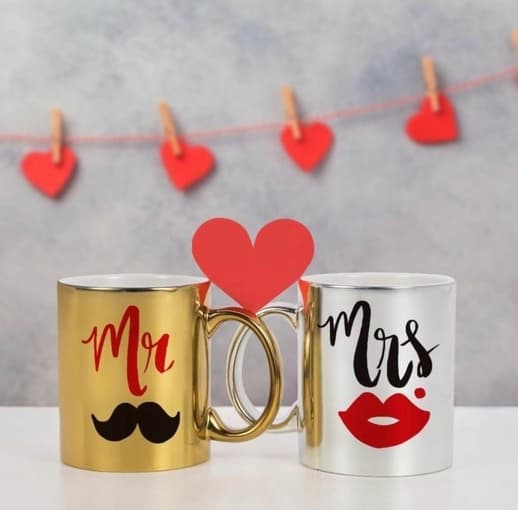 We have also got something for those who have already tied the knot! With these Coffee Mugs, it's time to celebrate being a couple. They gel together like you gel with your significant other.
It will be great to use them this Valentine's Day. Enjoy a hot drink with your special someone!
Cost: Rs 799
Shop Now
10. Romantic Dinner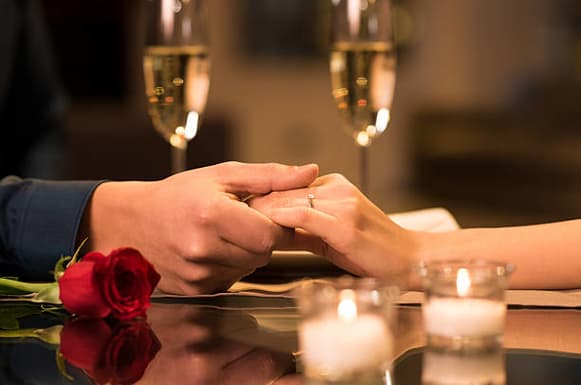 All said and done, there's nothing more beautifully than spending some quality time with your better half. Yes, you may have important things to attend to but it would be a great idea to make some time for your special someone. Memories are certainly what you both will cherish for a lifetime.
This Valentine, make it a night to remember over a romantic dinner and ignite the flames of passion. How about the perfect tablescape to start the perfect celebration? We suggest getting your table beautified with flirty pink roses or romantic reds. The addition of dimly lit candles will surely accentuate the whole ambience.
Check out 7 Romantic Places to Celebrate Valentine's Day in Delhi
Top 4 Valentine's Day Gift Ideas for Your Beloved
This Valentine's Day, let your relationship land high on the spectrum of love with these Valentine's Day Gifts. Happy Valentine's Day!
---
View our videos
SIGN UP FOR NEWSLETTER
Be the First to Know. Sign up to newsletter today