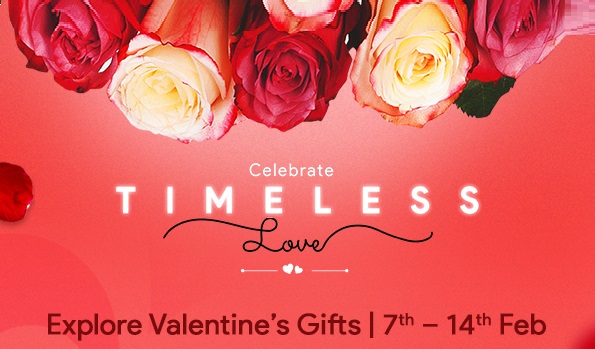 5 Uncommon Ideas for Valentine's Day
Jyoti
259 views
add comment
The Feast of Saint Valentine was established by Pope Gelasius I in AD 496 to be celebrated on February 14 in honour of Saint Valentine of Rome, who died on that date in AD 269 (WIKI).While all this may have started in Rome, Valentines' Day is celebrated universally today. In other words, throughout the world, lovers express their feelings in myriad beautiful ways befitting their local culture. It is more  important than ever that the messages of love be shared with loved ones. The pandemic has taught us how uncertain life can be & how important it is to appreciate & cherish the beautiful moments in one's life.
Saint Valentine
Valentine's Day Celebrations
Valentines' Day is celebrated annually on the 14th of February. While there are a number of stories associated with this day, an 18th century legend has it  that Saint Valentine wrote a letter to the jailer's daughter he loved dearly and signed it as "your Valentine" prior to his execution on the 14th of February. Hence , 14th February is celebrated as Valentine's Day.
Valentine's Day is soon approaching. One more reason to celebrate love & friendships. There are myriad things that couples  can do to make it  a special celebration. The practice of  gifting flowers & chocolates to loved ones and making  it a special occasion is definitely a customary thing to do.Ultimately, the idea is to make a person feel special & appreciated.
Valentin'e Day Gifts
Shops &  e commerce sites are full of suggestions on how  to make this day special. There are offers on  several appropriate gifts such as photo frames, charms, lamps, sculptures, boxes of chocolates, perfumes,  personal mugs and wine glasses.However, jewellery  pieces such as rings and pendants are the most popular gifts.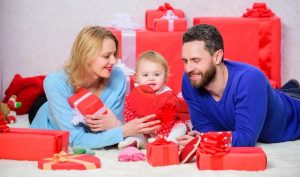 Further, hotels and resorts advertise  romantic  deals & staycations. Restaurants have romantic dinner nights lined up. While you can surely enjoy buying these  items or doing any of the above, we want to suggest something out of the ordinary.Memories – Let us think of unusual ways to celebrate Valentine's Day.
Valentines' Day is a time to sit back & enjoy your  partner's and  best friend's company. Remember, "All you need is love" !-Beatles
Do Something Crazy!
1.Tango  on Valentine's Day???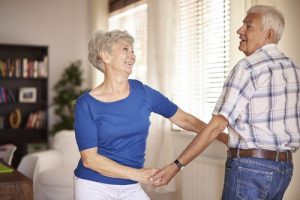 Have you watched  the film Scent of a Woman ?Al Pacino, a, blind army man does the Tango in the movie and it is so beautiful.Why not learn the Tango or Salsa or ballroom dance?Learn to dance with your partner. Switch on some romantic music. It can be in any language. The idea is to have some fun. Let your hair down and blow your blues away. There is no age restriction.
2.Go cycling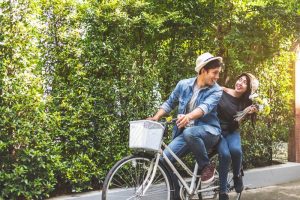 Choose a place nearby where you can cycle at your pace. Get some fresh air.
It could become a way of life for the two of you . It is also a good way to exercise and stay fit.
3.Watch movies together on Valentine's Day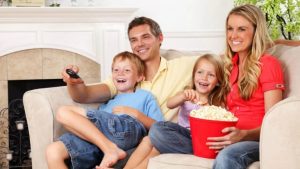 Binge watching and movie marathons. Netflix, Amazon Prime, Sony and  Disney Hot-star are all waiting to be explored.  Choose your pick from World War 2 films,
James Bond 007 films, travel videos, spy thrillers  and what have you. You can spend the entire day watching films and having popcorn.Watch a Korean, Spanish or even a Malayalam movie together. They all come with English subtitles.
4.Cook a special meal together on Valentine's Day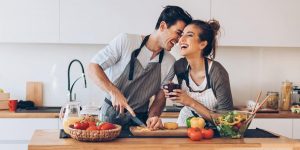 Enjoy the small things. Get a recipe from the Internet and gather all the ingredients to cook a great Italian meal or a Korean meal at home. If you do not like to cook, you can always  set up a romantic table in your veranda with a candle & order out your special meal.
Swiggy & Zomato will  be ever willing to assist you in your decision making.
5.You can learn to play bridge and other card games or board games. on Valentine's Day  Interesting ?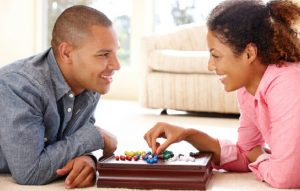 You may not have thought about this earlier. Learn how to play bridge on the internet or pick
up Scrabble or Wordle. It will help improve your memory & vocabulary for sure.
Just make sure you have loads of fun while spending time  precious together .
Happy Valentine's Day

10 Unique  Valentine week Gifts for him or her 
1. Personalized Caricature Gifts
Foto Factory Gifts Personalized Caricature Gifts for Boys (Wooden_9 inch x 5 inch_Multicolour) CA0157 (Design 2) : Amazon.in: Home & Kitchen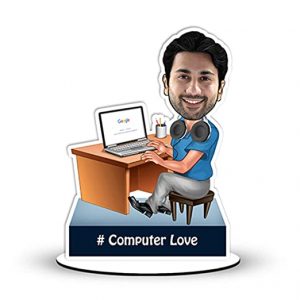 2.Marshal Tech Kit Organiser – Blue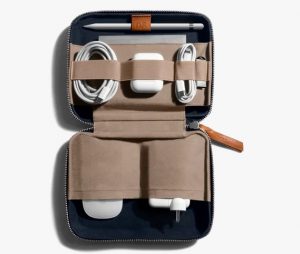 3. The Man Company Charcoal Gang
Buy/Send The Man Company Charcoal Gang Online- FNP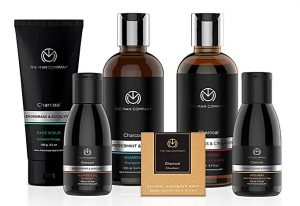 FOR HER
1. Wings Of Love Photo Locket Necklace
Personalized Photo Locket Necklace with Heart Engraved Angel Wings Sterling Silver | Custom Gold Photo Locket | Picture Locket Mom Necklace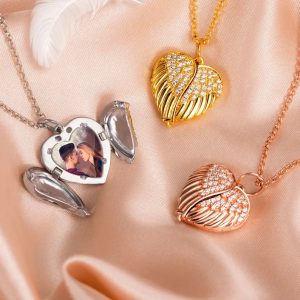 2. Laser Engraved 3D Photo Crystal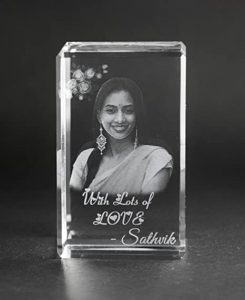 3.Kimirica Gift set For Women
Kimirica Gift set For Women & Men – Valentine's Special Gift Set | Love Story and The French Note Luxury Bath and Body Care Gift Box | Pampering Kit for Valentine's, Anniversary | 100% Vegan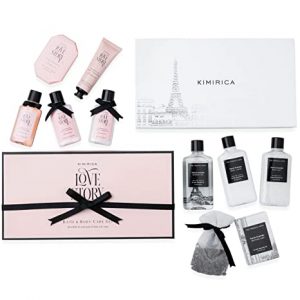 COMMON /GENERAL GIFTS
1. Indigifts Valentine Customize Gift Hamper, 5 Senses Kit
Indigifts Valentine Customize Gift Hamper, 5 Senses Kit- Gift Set For Lover Set of 5, Unique Gift For Girlfriend, Boyfriend, Couples, Romantic Gift For Husband, Wife, Valentine Gift Combo, Love Gift : Amazon.in: Grocery & Gourmet Foods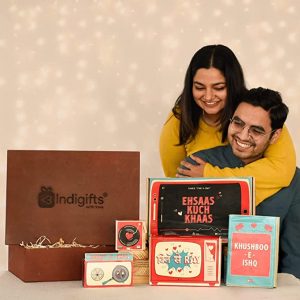 2. Mr and Mrs Coffee Mugs
Buy Ayat Retail | Premium Elegant Mr & Mrs Mug Set | Dishwasher Safe | Set of 2 Mugs | Perfect Gifts For Couples Wedding Or Engagement | Marble Print | Modern Art | Minimal Design Online at Low Prices in India – Amazon.in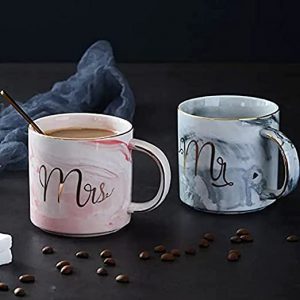 3. Hand Heart Desktop Sculpture
Hand Heart Desktop Sculpture | heart sculpture, hand heart sculpture | Uncommon Goods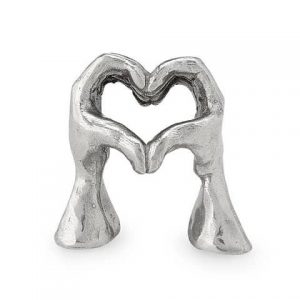 2. Personalized Proposal Caricature with Wooden Stand
ANUBHI STORE || Personalized Caricature " COUPLE PROPOSAL " || (9 inch * 5 inch , Multi-color , Wooden) : Amazon.in: Home & Kitchen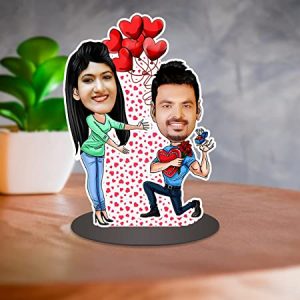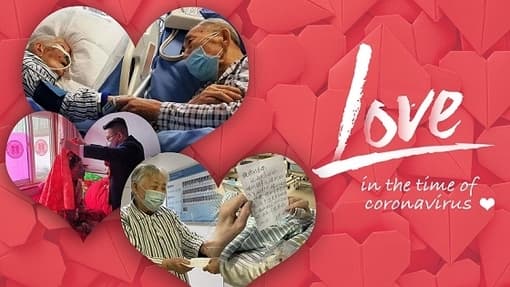 With the global spread of the Valentine Day festival, the Valentine Week has also been socialized and marketed  to surreal  heights. Companies are ready to sell you everything from roses to chocolates & soft cuddly teddys at the press of a button. While it is a marketing gimmick no doubt, it is perfectly fine to buy these beautiful items of love and share it with someone you love & feel romantic & young at heart.
Shakespeare said 'If music be the food of love, play on' and so played the Beatles Love love me do ,,,You know I love you ,,, . As a matter of fact several of the Beatle songs epitomized love during the 60s & 70s. Valentine Week is beginning.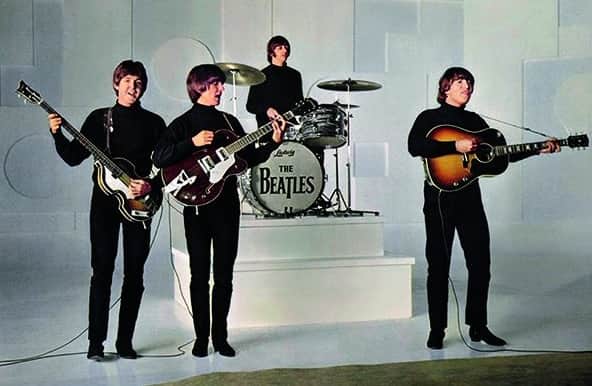 ---
View our videos
SIGN UP FOR NEWSLETTER
Be the First to Know. Sign up to newsletter today